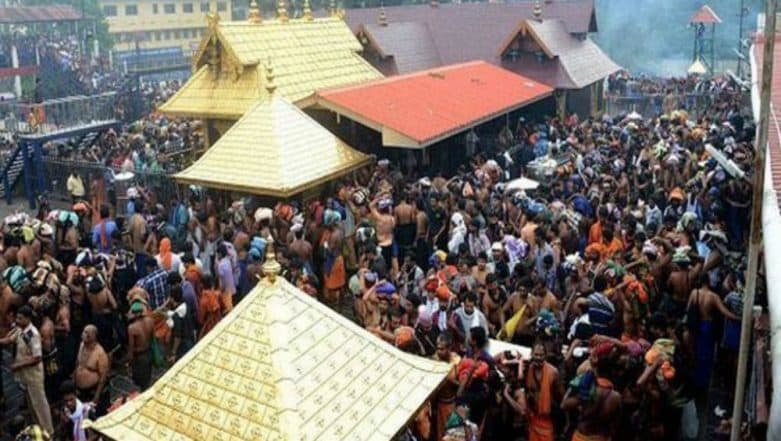 Thiruvananthapuram, January 5: Around 3,178 people have been arrested till now by the Kerala Police in connection with the violence across the state while protesting against the Supreme Court's decision of allowing women of all ages. Meanwhile, a total of 1,286 cases have been registered against 37,979 persons. In a crucial judgment on September 28, the apex court pronounced the verdict by 4:1 majority. The then Chief Justice of India (CJI) Dipak Misra, Justices AM Khanwilkar, Nariman, Chandrachud were in favour of allowing the entry, while Justice Indu Malhotra dissented. Sabarimala Row: Kerala DGP Ensures Strict Action Against Those Flouting Laws.
On January 2, two women, under the 50 years of age, entered Kerala's Sabarimala temple. The women both in their early 40s, entered the sanctum sanctorum of Sabarimala temple. They started their climb around midnight and reached the hilltop shrine after 3:45 am and left after praying to Lord Ayyappa. The women were identified as Bindu and Kanakadurga. They were accompanied by police personnel. They had made an unsuccessful bid to visit Sabarimala temple on December 18. Earlier, girls and women in the menstruating age group of 10-50 years were barred from offering prayers at the temple.
However, a day after the two women entered in the Sabarimala Temple, United Democratic Front (UDF) observed 'black day' in the state. Along with the UDF Sabarimala Karma Samithi also held a 2-hour long bandh. The right wing-outfits called the two women who entered the Sabarimala shrine on January 2 as "anti-social and feminist activists". A major section of the devotees, along with Travancore Devaswom Board, had opposed the order, pointing out that Lord Ayyappa is worshipped as a celibate God in Sabarimala.