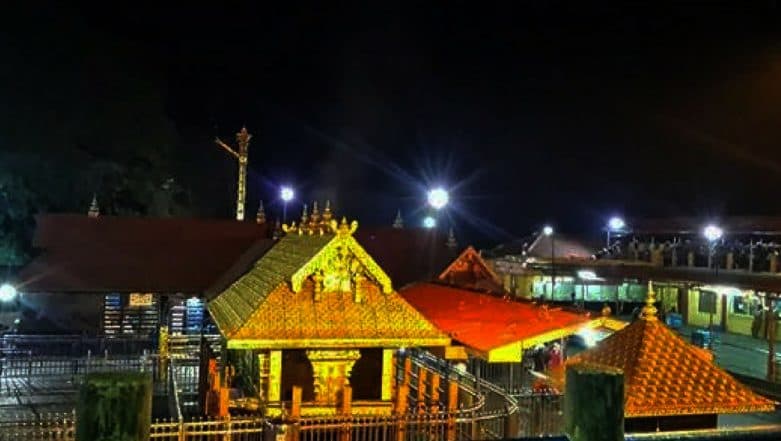 History was scripted at Sabarimala's Ayyappa temple with the entry of two women of menstruating age on Wednesday morning. Women in their 40s, Bindu and Kanakadurga, visited Sabarimala temple every morning post 3:30 am and left immediately after praying before the Ayyappa diety. Police checked the CCTV footage at the temple grounds and confirmed that two women entered the sanctum sanatorium at 3:48 am and left at 3:50 am.
Visuals which are being circulated widely on social media shows women entering the temple while it is still dark. They remained before the sanctum sanctorum for only two minutes. Bindu hails from Kozhikode and Kanakadurga is from Malappuram district in Kerala. History of Sabarimala: Why Women Weren't Allowed Into The Lord Ayyappa Shrine.
After the Supreme Court removed the ban on entry of women to the temple, the temple town of Pamba and neighbouring areas leading to the holy shrine witnessed massive protests. While multiple groups of women tried to climb the hill to get darshan of the deity, protestors shooed them away even with the police protection. Kerala Chief Minister Pinarayi Vijayan confirmed that two women entered the temple.
Watch the video of Bindu and Kanakadurga entering Sabarimala Temple:
#WATCH Two women devotees Bindu and Kanakdurga entered & offered prayers at Kerala's #SabarimalaTemple at 3.45am today pic.twitter.com/hXDWcUTVXA

— ANI (@ANI) January 2, 2019
According to TV reports, two policemen provided protection to the women. They did not take Pathinettampadi (18 stairs) which is generally taken by devotees to enter the temple. They were directed through a 'Staff Only' way up to the shrine. After apex court revoked the ban of entry of women, Bindu and Kanakadurga had tried entering Sabarimala temple, but were stopped by protestors.
This time they reached Pamba on Tuesday night and entered the temple during the wee hours of the early morning on Wednesday. Following the entry of women, priests have left the sanctorum and the temple has been shut for purification. It is nor sure when the temple will be opened for devotees again. The entry of women comes after Kerala became host to the 620-km historic Vanitha Mathil (Women's Wall) urging for gender equality.