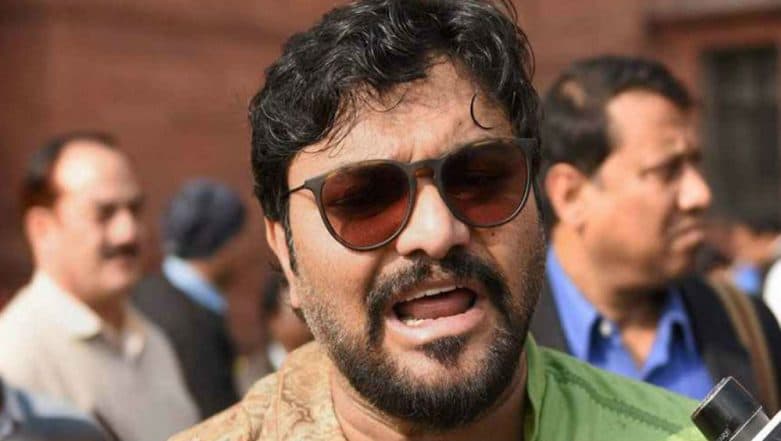 Kolkata, June 3: Union Minister Babul Supriyo on Monday took a dig at West Bengal Chief Minister Mamata Banerjee and said she is rattled by the presence of Bharatiya Janata Party (BJP) in Bengal. Amid political row over the 'Jai Shri Ram' slogans, Supriyo attacked Banerjee saying that from his constituency Asansol, he will urge people to send 'Get Well Soon' cards to the CM. The BJP leader said she is an experienced politician but her behavior is abnormal and bizarre. Mamata Banerjee Clarifies On 'Jai Sri Ram' Slogan, Says 'BJP Mixing Religion, Politics To Sell Hatred'.
Supriyo said the TMC leader is the cause for so many memes on social media.  "Something is definitely not well with Didi, and she needs to answer that. She should keep in mind the dignity of the post she holds. She should take a break for a few days.She's rattled by BJP's presence in Bengal", Supriyo added.
On Sunday, another BJP leader Mukul Roy took a dig at Mamata Banerjee for the way she is reacting to "Jai Shri Ram" chants. Roy said that the Trinamool Congress supremo has "lost her mental stability" as it is strange that someone is reacting against some chant. "If anyone says 'Ma, Maati, Maanush' (Trinamool's slogan) in front of me, will I lose my cool? By using undesirable words on hearing the slogan, Trinamool is destroying Bengal's culture," Roy added. Mamata Banerjee Arresting Those Who Are Chanting 'Jai Shri Ram', Says PM Narendra Modi.
On Saturday, BJP leader Arjun Singh slammed Banerjee for having 10 people arrested for shouting 'Jai Shri Ram'. Singh was quoted by ANI saying that since Mamata Banerjee had 10 people arrested for chanting Jai Shri Ram, let her arrest the 10 lakh people now. "The BJP leader also said that Mamata Banerjee has lost her mental balance", he said.
Reacting over the row, Banerjee on Sunday alleged that the BJP was mixing religion with politics by repeatedly using the  'Jai Sri Ram' phrase. "Jai Sia Ram, Jai Ram ji ki, Ram naam Satya hai etc have religious and social connotations. We respect these sentiments. But BJP is using religious slogan Jai Sri Ram as their party slogan in a misconceived manner by way of mixing religion with politics (sic)," she said in a Facebook post.
In the last week, Banerjee lost her cool and criticised a group of youth shouting 'Jai Shri Ram' in front of her convoy on way to Naihati in the North 24 Parganas district. Anguished by the people chanting slogans, the CM rushed out of her vehicle twice to confront the youth and issued them a verbal warning.  Earlier this month in West Midnapore district, a video showed Banerjee getting angry when some men chanted 'Jai Shri Ram' at her motorcade.