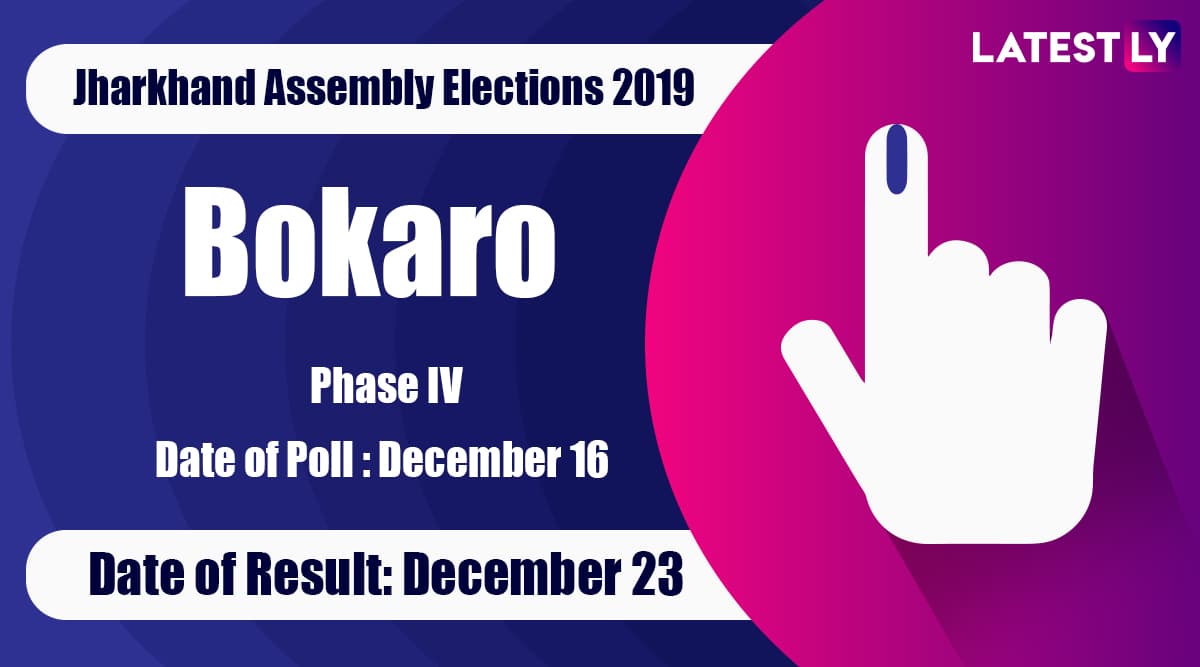 Jharkhand, December 11: Bokaro Vidhan Sabha constituency belongs to the Dhanbad Lok Sabha constituency and will have their 2019 General Assembly polls on November 16. As per the 2011 India Census, the city has a population of 564,319 and is referred to as the Bokaro Steel City. In the 2014 General Assembly Elections, Biranchi Narayan from the BJP party won with 11,4321 votes ahead of Independent candidate Samaresh Singh.
Bokaro is bounded on the east by Dhanbad and Purulia, on the west by Ramgarh and Hazaribagh, on the north by Giridih and on the south by Ranchi. The counting of votes and the declaration of the results will take place on the same day, which is December 23. Jharkhand Assembly Election 2019 Dates: Know Phase-Wise And Constituency-Wise Schedule For Vidhan Sabha Polls.
In the 2014 Jharkhand Assembly elections, the Bharatiya Janata Party (BJP) had emerged as the single largest party winning 35 seats. It formed the government with All Jharkhand Students' Union (AJSU) which won five seats.
A total of 15 constituencies will have their polls in phase 4 elections. The last date of filing the nomination papers was November 29 and the scrutiny was done on November 30. December 2 was the last date for the candidates to withdraw their candidature.
| MLA Candidates | Party | Votes |
| --- | --- | --- |
| Shweta Singh | INC | 99020 |
| Uma Kumari | IND | 914 |
| NAWAL KUMAR SHARMA | IND | 896 |
| PRADIP BURMAN | IND | 806 |
| MADHU SUDAN SINGH | IND | 532 |
| Nitay Dutta | IND | 502 |
| LALITA DEVI | IND | 445 |
| Renu Sharma | IND | 351 |
| SANJAY KUMAR | IND | 3148 |
| Jayanti Kumari | IND | 2226 |
| HARENDRA NATH | AAP | 1943 |
| Rajesh Kumar | IND | 1913 |
| Mahadeo Sharma | IND | 1741 |
| PRAKASH KUMAR | JVM | 13872 |
| PHALGUNI BHATTACHARYA | TMC | 1262 |
| Biranchi Narayan (Current MLA) | BJP | 112333 |
| Rajendra Mahato | AJSU Party | NA |
| ASHOK CHOUDHARY | Janata Dal (Secular) | NA |
| Krishna Kumar Kaushal | Peoples Party of India (Democratic) | NA |
| Niwaran Prasad Mahto | Hindustani Awam Morcha (Secular) | NA |
| Manoj Kumar Singh | SOCIALIST UNITY CENTRE OF INDIA (COMMUNIST) | NA |
| MASAKUR ALAM SIDDIKI | All India Majlis-E-Ittehadul Muslimeen | NA |
| RamaKant Verma | Swaraj India | NA |