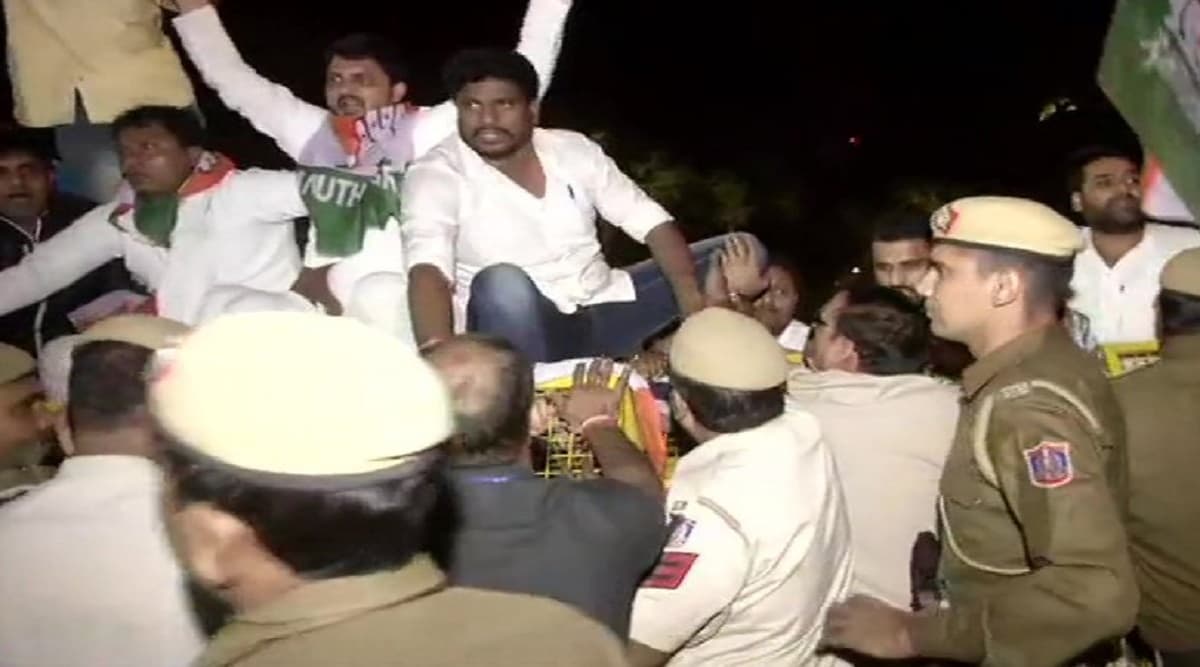 New Delhi, November 8: Shortly after the Ministry of Home Affairs (MHA) announced the withdrawal of Special Protection Group (SPG) security cover for the Gandhi family, the Congress workers staged a demonstration outside the house of Union Home Minister Amit Shah. Scores of party cadres assembled outside his residence located at Akbar Road and raised slogans against the Narendra Modi government. SPG Security Cover of Gandhi Family to be Removed by Modi Government; Downgraded to 'Z Plus' Security Provided by CRPF.
Additional teams of police personnel were sent to Akbar Road to control the situation and prevent the agitated Congress workers from breaching the security at the Home Minister's residence. The police resorted to force to move some of the protesters away from the gates of the house.
Visuals of Congress' Protest:
Delhi: Congress workers protest near Home Minister Amit Shah's residence against Govt's decision to withdraw SPG cover from the Gandhi family pic.twitter.com/OXy5WFFEef

— ANI (@ANI) November 8, 2019
Earlier on Friday, the Centre announced the decision to downgrade the security of Congress president Sonia Gandhi, her son Rahul Gandhi and daughter Priyanka Gandhi Vadra from SPG cover to Z+.
The degradation comes days after the government disclosed that Rahul Gandhi, the former Congress chief, had reduced his security cover during various public outreach programmes. The Gandhi scion had violated the security protocol on 100 occasions, former Home Minister Rajnath Singh had claimed during the tenure of the erstwhile Modi government.
The Congress leadership has condemned the Centre's decision to depreciate the security cover for the Gandhis. "Two former PMs of India, Indira Gandhi and Rajiv Gandhi were murdered and it was Atal Bihari Vajpayee who amended the law to give the family of Indira Gandhi and Rajiv Gandhi, the SPG cover. Modi & Shah have undone it now," said senior party leader KC Venugopal.
" PM Modi and Home Minister Amit Shah has been blinded by personal revenge and political vendetta. This is proved by unceremonious withdrawal of SPG cover of ma'am Sonia Gandhi, Rahul Gandhi and Priyanka Gandhi," he added.