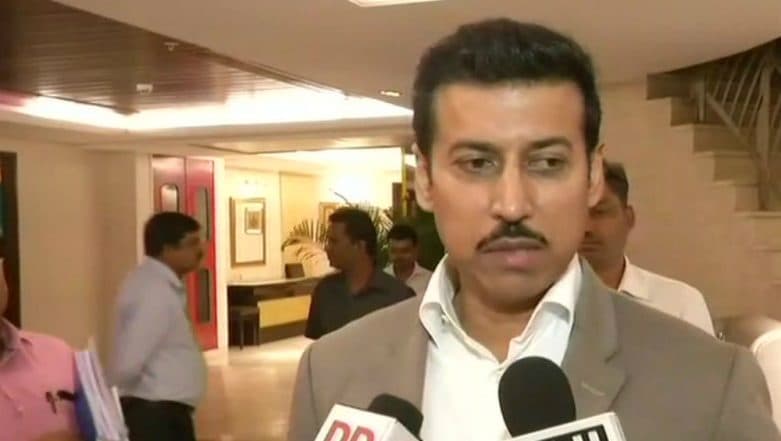 New Delhi, October 30: Information & Broadcasting (I&B) minister Rajyavardhan Rathore has announced a government job for the wife of Achyuta Nanda Sahu, the Doordarshan cameraperson who was killed by the Naxals on Tuesday, October 30, 2018. Two police personnel also died in the Naxal ambush in Dantewada, along with the Doordarshan cameraperson. The minister also said that Rs 10 lakh would be given as ex gratia by Doordarshan and Rs 5 lakh would be contributed to the cameraperson's family from the Journalist Welfare Fund of the Press Information Bureau. Doordarshan Cameraman, 2 Security Personnel Killed in Naxal Attack Ahead of Chhattisgarh Assembly Elections 2018.
Talking about the Naxal attack that took place today, around noon, Dantewada Superintendent of Police (SP) Abhishek Pallav broke down on camera. Speaking to news agency ANI, Abhishek Pallav said there would have been more casualties if the police officials who died had not confronted the Maoists who attacked the team.
The wreath-laying ceremony of two constables and the cameraperson was performed in the evening.
Check the pictures below.
#Chhattisgarh: Wreath-laying ceremony of Sub-Inspector Rudra Pratap, assistant constable Mangalu and Doordarshan cameraman Achutyanand Sahu who lost their lives in today's Dantewada Naxal attack. pic.twitter.com/Vj50I3c2eq

— ANI (@ANI) October 30, 2018
A team of Doordarshan was in Dantewada area for filming a documentary video, ahead of Chhattisgarh Assembly Elections 2018, when the Maoists attacked them. DD News in a tweet expressed their condolence and paid tribute to the cameraman who lost his life in the line of duty. "DD News had deputed a team to cover the Chhattisgarh polls, comprising cameraperson Achyuta Nanda Sahu, Dheeraj Kumar and M.M. Sharma. In a Naxal attack, Sahu was martyred. The entire DD News family salutes his service and stands by his family in this hour of grief."
"Strongly condemn the Naxal attack on @DDNewsLive crew in Dantewada. Deeply saddened by the demise of our cameraman Achyuta Nanda Sahu and two jawans of @crpfindia. These insurgents will NOT weaken our resolve. We WILL prevail" tweeted Rajyavardhan Rathore, condemning the attack.