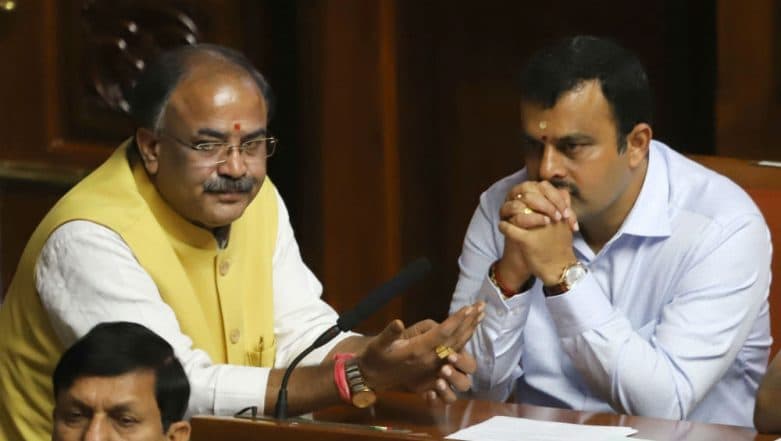 Bengaluru, July 23: Bharatiya Janata Party (BJP) MLA Arvind Limbavali on Monday broke down in Karnataka Assembly after a "fake" gay sex video of him went viral on social media. The gay sex clip allegedly showing Arvind Limbavali has been widely shared and the issue was being discussed in political circles over past 10 days. Alleging a political conspiracy behind the controversial video, Limbavali demanded a probe into it.
Prior to the debate on the trust vote, JD(S) MLA KM Shivalingegowda was speaking on the declining popularity of politicians in the state. When he mentioned the viral gay sex video in his speech, Limbavali volunteered to make a statement on the issue. "It is hard to even imagine such a situation where your family has been traumatised. Only I know what my children are facing because of this defamatory video," the BJP legislator said in tears. Karnataka Trust Vote Today: Can HD Kumaraswamy Prove Majority of JDS-Congress Government?
Even when Speaker KR Ramesh Kumar stopped Shivalingegowda to bring the "personal issue" in the Assembly, Limbavali himself intervened. "People are taking to devious ways to stop us. It could be someone from that side (referring to the ruling Congress-JDS coalition) or this side (his own party) or both. Please order a probe," Limbavali was quoted by TOI as saying. The Speaker, however, rejected his request and advised Limbavali not to get emotional. DK Shivakumar Alleges Horse Trading by BJP, Accuses HD Kumaraswamy of Being Lenient.
Two separate FIRs have been registered in this matter. Girish Bharadwaj, Limbavali's assistant, has filed a complaint with HAL police, while a local BJP leader filed a complaint about the same video with Marathahalli police. "Girish alleged in his complaint that Limbavali's political rivals created a morphed video to assassinate his character. The alleged video was posted on Facebook pages of Suddi Samachara and SR Srinivas Gubbi," a police officer said.