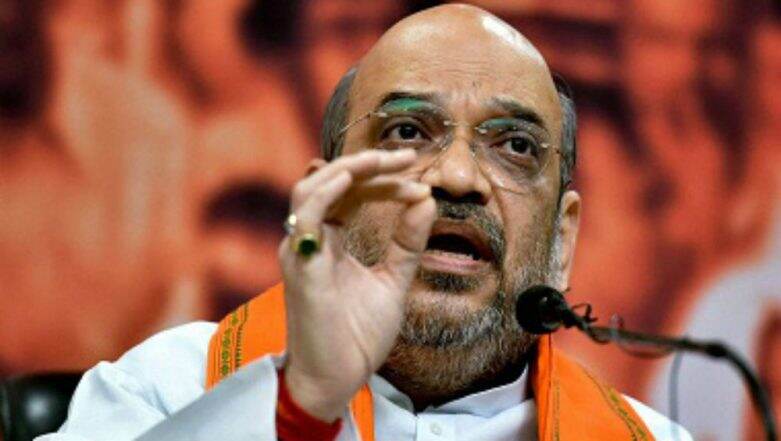 New Delhi, December 8: A day after the exit polls results, both the Congress and the Bharatiya Janata Party (BJP) leaders in the capital as well as the five states awaiting assembly elections results are holding crucial meetings. A meeting is underway between BJP President Amit Shah and BJP General Secretaries in Delhi, said reports. Exit Poll Results 2018: Poll Pundits Predict Congress to Win Rajasthan, Have Upper Hand in Madhya Pradesh And Chhattisgarh; TRS May Retain Telangana, Mixed Bag in Mizoram.
While the Congress, buoyed by the exit poll results giving an edge to the grand old party of India in major states like Rajasthan, Madhya Pradesh and Chhattisgarh in majority of exit polls, is having a meeting in New Delhi as well after the polls. Madhya Pradesh Assembly Elections 2018: Exit Polls Give Congress Edge Over BJP.
Madhya Pradesh chief minister Shivraj Singh Chouhan has called for a meeting with BJP leaders today, on Saturday evening, at his residence in Bhopal over the counting process of polls. Telangana Assembly Elections 2018 Exit Poll Results News Updates: TRS Set To Retain Power, KCR to be Back as CM.
Encouraged by the exit polls results on Friday, the Congress said that the polls are clearly suggesting people are endorsing it as an alternative and the BJP is on back foot. Chhattisgarh Assembly Elections 2018 Exit Poll Results News Updates: Exit Polls Divided Over Who Will Win State, Give Congress an Upper-Hand.
However, the Bharatiya Janata Party denied such claims and said the exit polls have been consistently under-projecting the BJP's tally in all elections since 2014. Rajasthan Assembly Elections 2018 Exit Poll Results: Exit Polls Predicts Win For Congress.
The exit polls Friday predicted a tight finish between the BJP and the Congress in Madhya Pradesh and Chhattisgarh, and a win for the opposition party in Rajasthan. Mizoram Assembly Elections 2018 Exit Poll Results: India Today-Axis Predicts Gives Edge to MNF, Congress Likely to Lose.
Senior Congress leader Sachin Pilot, who is also party's contender for the top post in Rajasthan, said "The anger was very palpable against the BJP in these elections and people were willing and happy to accept the blueprint given by the Congress. People want answers for questions which they have avoided for the last five years as price rise, farmers in distress, economy is collapsing."
"It is very easy to see that the BJP is in back foot in all these five state assembly polls and the Congress is giving an alternative which most people are endorsing and that is the take away from these exit polls," he said.