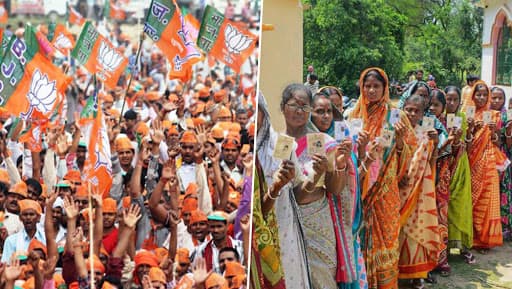 Jaunpur, May 12: With 21.75 per cent voter turnout recorded in Uttar Pradesh till 12 noon in the sixth phase of Lok Sabha Elections 2019, reports of clash emerged from Jaunpur when BJP supporters saw a man wiping his shoes with their party flag. Soon after the incident, supporters of BJP created a ruckus in the area.
According to the incident, a man was seen wiping his shoes with the BJP flag at a booth (no 369) in Shahganj in Jaunpur in Uttar Pradesh on Sunday morning. The party flag was lying near a tree when the man picked it up and wiped his shoes with it. Citing this, BJP supporters hurled abuses at the man. Uttar Pradesh Lok Sabha Elections 2019: Phase 6 Voting Underway in Sultanpur, Phulpur, Azamgarh & 11 Other Constituencies; 21.75% Turnout Till 12 pm 
Listening to the abuses and shouting, other BJP supporters gathered at the place and asked about the issue. Knowing this, they beat up the man. As the situation becoming out of hands, the police resorted to lathi-charge to disperse the mob. However, with instant action, polling was not disrupted at the polling station.
It is to be known that over 1.34 crore people are voting for 14 Lok Sabha seats, which would decide the fate of 177 candidates through 29,076 polling stations. The results of this phase too will be declared on May 23.