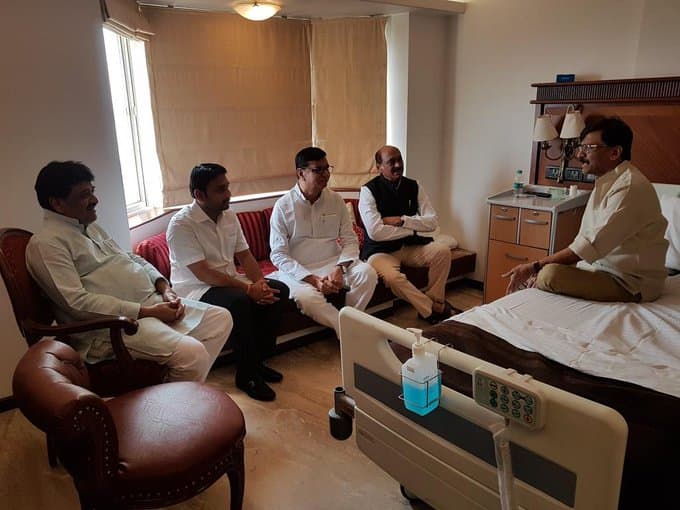 Mumbai, November 13: Cracks have appeared in Congress's Maharashtra unit as talks progressed over supporting the Shiv Sena to form government in the state. While many Congress leaders hailing from Maharashtra are of the view that the party must seize the opportunity to keep Bharatiya Janata Party (BJP) out of power, Congress's state working president Yashomati Thakur apparently said that the party's core ideology must be protected. Sharad Pawar's Call to Sonia Gandhi Delays Maharashtra Political Rejig, Shiv Sena's Fate Hangs in Balance.
"Congress is an ideology and this ideology must be protected," Yashomati Thakur tweeted in Marathi on Wednesday. According to reports, senior Congress leaders from Maharashtra like Ashok Chavan, Prithviraj Chavan, Balasaheb Thorat Manikrao Thakre and Rajani Pati want to form a government with the Shiv Sena. Congress Interim President Sonia Gandhi and some AICC leaders, including AK Antony, KC Venugopal, Shivraj Patil and Mukul Wasnik were against supporting the Shiv Sena on ideological ground. Maharashtra Government Formation Struggle: Shiv Sena Intensifies Efforts to From Alliance With NCP, Congress; Uddhav Thackeray Says 'Talks in Right Direction'.
Yashomati Thakur's Tweet:
काँग्रेस एक विचारधारा आहे आणि ती विचारधारा जपली गेली पाहिजे एवढा अट्टाहास आहे!

— Adv. Yashomati Thakur (@MLAYashomatiT) November 13, 2019
Ashok Chavan, Prithviraj Chavan and Balasaheb Thorat, however, told her to reconsider her position, insisting that the party should reap benefits following a fallout between the Shiv Sena and BJP. They also told Sonia Gandhi that a majority of legislators who "won on their own" want to be part of the government. At one point, Ashok Chavan questioned the premise that forming government with "communal" Sena would hurt the party with minorities, Times of India reported.
Soni Gandhi then softened her stand against supporting the Shiv Sena and Ahmed Patel, Mallikarjun Kharge and KC Venugopal to hold further discussion with Nationalist Congress Party (NCP) chief Sharad Pawar. "There were many issues that need to be discussed. Both parties have unanimously decided that first, we will discuss amongst us (Congress-NCP), then we will talk with Shiv Sena on a common minimum programme and others aspects before anything is finalised," Pawar and Patel said at a joint press conference following their meeting.