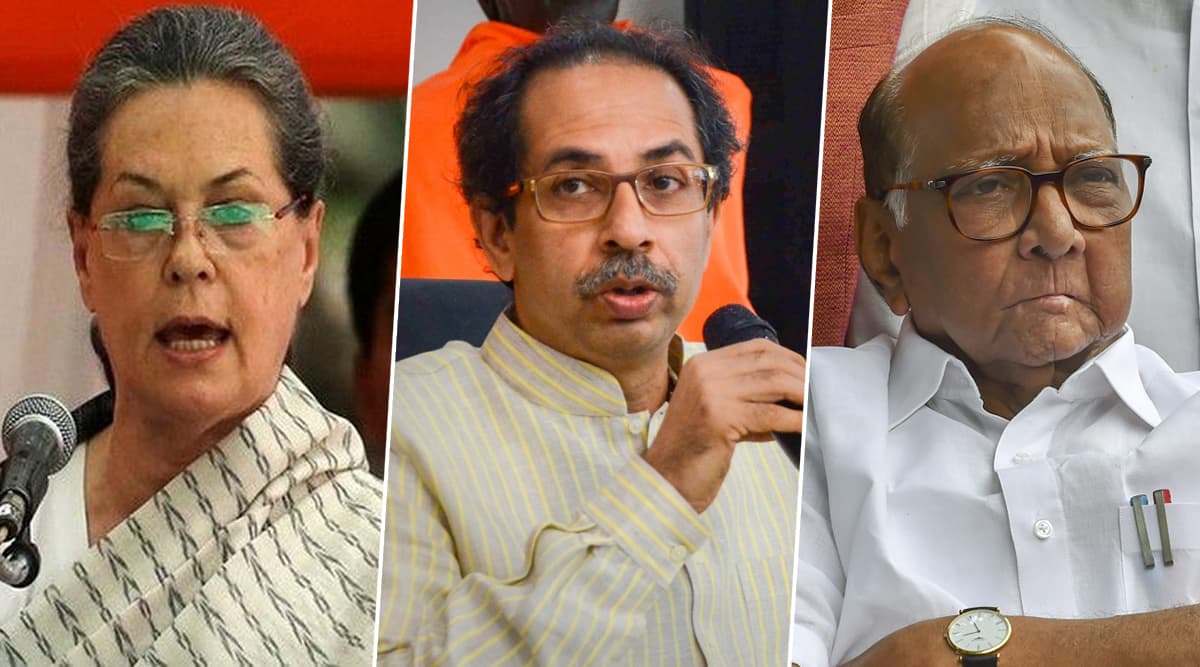 Mumbai, November 13: A day after the imposition of the President's Rule in Maharashtra, the political developments continue to take place at fast pace in the state. The Bharatiya Janata Party's (BJP's) warring ally Shiv Sena has intensified its efforts in forming an alliance with the Congress and the Nationalist Congress Party (NCP). The Shiv Sena Chief Uddhav Thackeray on Wednesday met Congress leaders to discuss the future strategy. Shiv Sena Alliance With Congress, NCP? Uddhav Thackeray Says 'Will Find A Way To Work Together In spite of Ideological Differences'.
Speaking to reporters, Thackeray said, "Discussions have started, whatever decision will be taken we will inform soon." Earlier in the day, the NCP named its five members for a joint committee to be formed with the Congress for deciding a 'common minimum programme' before their possible alliance with the Shiv Sena. President's Rule Imposed in Maharashtra by Ram Nath Kovind After Parties Fail to Form Government.
Uddhav Thackeray's Statement:
Uddhav Thackeray after meeting with Congress leaders: Discussions have started, whatever decision will be taken we will inform soon. #MaharashtraGovtFormation pic.twitter.com/YWkRm2ttPe

— ANI (@ANI) November 13, 2019
NCP leaders included in the committee are - legislature party head Ajit Pawar, its Maharashtra chief Jayant Patil, party veteran Chhagan Bhujbal, Mumbai unit president Nawab Malik and Leader of the Opposition in state Legislative Council Dhananjay Munde. Soon the Congress will also name its leaders for the purpose.
On Wednesday, the Shiv Sena again blamed the BJP for the political crisis in the state. The Thackeray-led party said that the situation could have been avoided if the BJP had kept its promise. In its mouthpiece "Saamna", Shiv Sena said, "The mandate has been given to both the parties. The policy that the two put together has got this mandate. They (BJP) were not ready to accept this, that is why we had to take this step to maintain the pride of the land of Maharashtra."
The BJP which emerged as the single largest party in the state failed to form the government. The BJP-Shev Sena alliance fell apart after the demand for equal power-sharing by the Thackeray-led party was rejected by the saffron party. The BJP bagged 105 seats, while the Shiv Sena managed to win 56.  The political stablemate erupted in the state as all political parties failed to achieve majority mark of 145 seats in the 288-member Maharashtra Assembly.