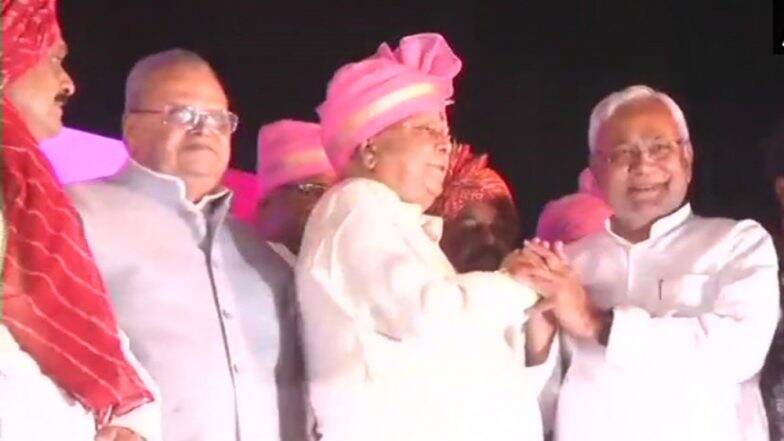 Patna, April 5: Rashtriya Janata Dal (RJD) supremo Lalu Prasad Yadav has claimed that Bihar Chief Minister and Janata Dal (United) chief Nitish Kumar wanted to quit the National Democratic Alliance (NDA) and rejoin the grand allaince. Lalu Prasad, in his forthcoming book 'Gopalganj to Raisina: My Political Journey', has said that Nitish Kumar sent JD(U) vice-president Prashant Kishor five times with the offer, TOI reports.
"Kishor seemed to indicate that if I were to assure in writing my party's support to JD(U), the latter would pull out of the BJP alliance and rejoin the Mahagathbandhan (grand alliance)," the former Bihar Chief Minister said. "Though I was not bitter with Nitish, I had lost trust in him completely. Moreover, I was not sure how the people who had voted for the grand alliance in 2015, and the other parties that had united against the BJP all over the country would react if I accepted Kishor's offer," he has said. Shahnawaz Hussain Not Contesting From Bhagalpur in Lok Sabha Elections 2019, Says 'Nitish Kumar's JD(U) Has Taken My Seat'.
While the JD(U) and the Bharatiya Janata Party (BJP), which leads the NDA, rejected Lalu Prasad's claims, Prashant Kishor neither denied nor confirmed it. "I'm not saying anything, not confirming anything. You can write whatever you want," Kishor told TOI. JD(U) General Secretary KC Tyagi categorically denied Lalu Prasad's claim. "I can say this in the capacity of one of the top functionary of the JD (U) that Nitish Kumar never wanted to get back to RJD after severing ties with it in 2017," Tyagi was quoted as saying.
Senior BJP leader and Bihar's Deputy Chief Minister, Sushil Kumar Modi, also rubbished Lalu Prasad's statements. "Lalu has made a bogus claim," he said. Kumar, who had joined the grand alliance ahead of the 2015 assembly polls, had become chief minister despite winning fewer seats than the RJD. Two years later, he quit the grand alliance and formed a new government with the support of the BJP.