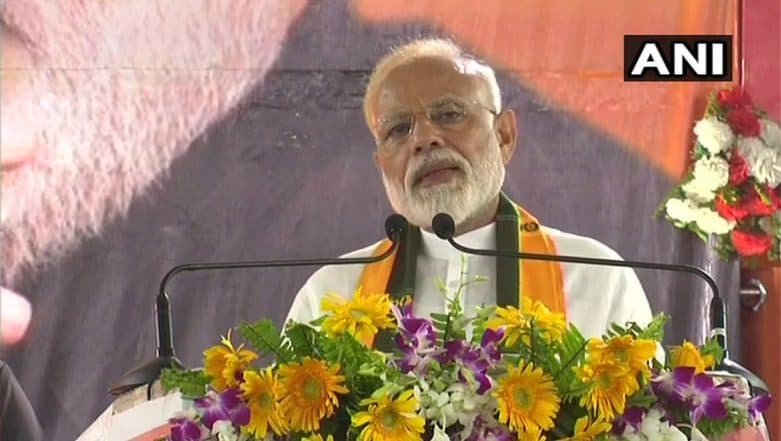 New Delhi, April 25: In reach out to the Varanasi voters a day before filing nominations from the seat, Prime Minister Narendra Modi on Thursday reiterated his guiding principle of "India First", while launching a  blistering attack against Pakistan. The PM vowed to further his crackdown against terror if granted another term.
"Whatever happens, for me, there is nothing bigger than national interest. Whether the crisis in Pulwama or the incident in Uri, I have only one mantra - 'India First'," Modi told the gathering of BJP supporters and cadres. PM Modi Performs Ganga Aarti at Dashashwamedh Ghat, Ends Mega Roadshow in Varanasi.
The Prime Minister added that India under his leadership has move away from the approach of "bearing" the terror assaults and "talking" with the perpetrators. His government, added Modi, has retaliated against the terrorists in the "language they understand".
Highlighting his approach in Pulwama, Modi said the forces have gunned down 42 terrorists in South Kashmir alone after the February 14 attack on the CRPF convoy.
Modi also claimed that his government has confined terrorism to only a small portion of Kashmir, while denying the extremists any opportunity to strike in any other part of the nation.
What Modi Said on Terrorism:
PM Modi in Varanasi: Pichle 5 varsho mein, Bharat mein kisi sheher, kisi pavitra sthaan ya mandir par koi aatanki hamla nahi ho saka hai. Itna bada Kumbh ka mela sukh shanti ke sath desh ne anubhav kiya. Aatankwaad ab J&K ke bahut thode se daayare mein simatt ke reh gaya hai. pic.twitter.com/yoWmhLV5kJ

— ANI UP (@ANINewsUP) April 25, 2019
Earlier in the day, Modi held a mega roadshow in Varanasi, the seat currently represented by him in Lok Sabha. Thousands of BJP cadres and supporters came out on the streets to catch a glimpse of the PM.
After ending the road show at Dashashwamedh Ghat, Modi performed the Ganga Aarti, where he was accompanied by Uttar Pradesh Chief Minister Yogi Adityanath, BJP president Amit Shah and party's UP unit chief Mahendra Nath Pandey.