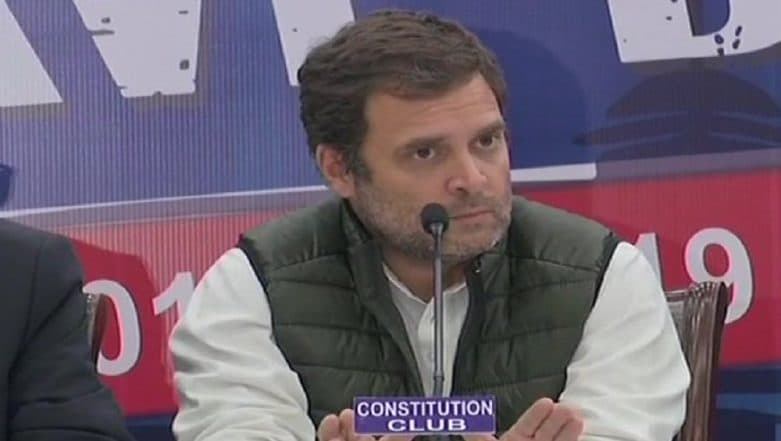 New Delhi, February 1: Dismissing the Narendra Modi government's outreach to the distressed agrarian class through its final Budget, Congress president Rahul Gandhi said the announcement of Rs 6,000 per annum is a "cruel joke" on farmers. Jeering the ruling BJP with statistics, the Gandhi scion said it would amount to nearly Rs 17 a day.
The Congress chief accused the BJP of "handing out pennies" to farmers, while opening up the treasures for the "cronies". He claimed that the agrarian sops announced today are "mere gimmicks" before the upcoming high-stake Lok Sabha polls. Budget 2019: Sops For Farmers + Tax Relief to Middle Class = Another Term For Narendra Modi?
"You can waive off Rs 3.5 lakh crore loan of 15 people but give only Rs 17 per day to farmers. What else is this, if not an insult? Election will be fought keeping in mind issue of farmers, unemployment and attacks on institutions, it'll also be on the issue of Rafale," he said.
Earlier in the day, Interim Finance Minister Piyush Goyal, while presenting the Budget 2019, rolled-out the Pradhan Mantri Kisan Samman Nidhi -- an income support policy which would provide Rs 6,000 annually to farmers with less than  hectares of land holdings. The amount will be credited through direct benefit transfer (DBT) in three installments, Goyal said.
Rs 75,000 crore has been allotted for the smooth implementation of the project, along with Rs 20,000 crore being accommodated into the revised estimates of the current fiscal. The scheme was unveiled with a back-dated schedule, as the date of implementation has been fixed as December 1, 2018.
Dismissing the populist measure, Rahul Gandhi said it is way below what is required to mitigate the agrarian distress. If the government considers this Budget as a surgical strike, he added, then they should be prepared for facing one from the electorate in the upcoming polls.
"There will be one surgical strike after another on the Modi government in the coming days," he added.
Gandhi also chaired a meeting called by the Congress at the Constitution Club, where leaders of other Opposition parties were also invited to discuss on the controversy involving the electronic voting machines. Following the meeting, it was decided that a joint delegation of the Opposition would approach the Election Commission on Monday, at 5:30pm, and raise the EVM issue.