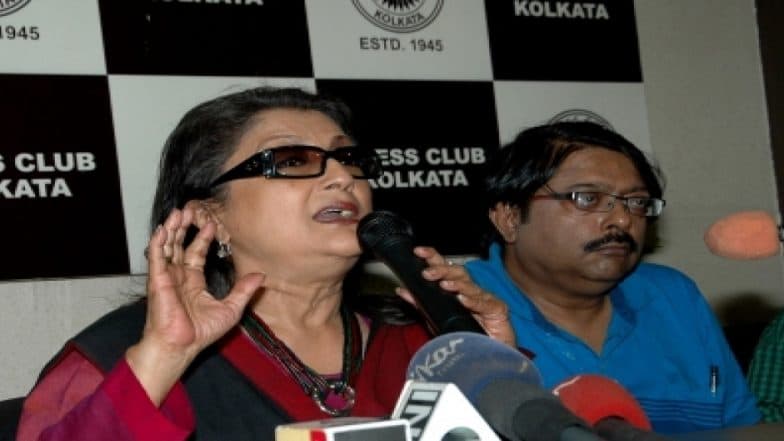 Kolkata, October 11: Facing the accusation of "selective outrage", filmmaker Aparna Sen on Friday broke her silence on the horrific murder of a Rashtriya Swayamsevak Sangh (RSS) worker in Murshidabad. Sen, who was signatory to an open letter to Prime Minister Narendra Modi against the "mob lynching" of minorities, voiced her concern today over the state of law and order in West Bengal. Asaduddin Owaisi Seeks Justice For Victims, Says 'I Oppose RSS Ideology, But it Can Never be Ground For Barbaric Violence'.
Sen, in a post on social media, said the murder of the RSS worker along with his pregnant wife and child has shamed entire "West Bengal". Only a speedy crackdown against the perpetrators would regain the people's faith in the state machinery, she said, calling Chief Minister Mamata Banerjee.
"Pregnant wife and child of RSS man slaughtered in our own West Bengal! Whatever the reason for such a gruesome act, shame on us! Madam CM! Please ensure the perpetrators are brought to justice! Irrespective of political inclinations, all citizens of WB are your responsibility. You are CM to all," Sen tweeted.
See Aparna Sen's Tweet Below:
The triple murder was reported on Tuesday, when Vijayadashami was being celebrated with much fervour across Bengal. The deceased RSS worker has been identified as Bandhu Gopal Pal.
The BJP and the RSS said though the primary school teacher Bandhu Gopal Pal was not their active member, but at times he participated in the weekly 'milan' programmes organised by the Sangh.
The 35-year-old teacher, his pregnant wife Beauty and 8-year-old son Angan were found lying in pools of blood in their house at Jiaganj in Murshidabad on Tuesday when the Durga Puja festivities were on.
The three were murdered by unidentified miscreants, police said on Wednesday. "What can be more heinous than this? RSS worker Bandhu Prakash Pal, his pregnant wife and their eight-year-old child were brutally killed in Murshidabad. How can law and order of a state be considered good when the life of a common man is not safe? What is happening 'didi' in your rule," BJP general secretary Kailash Vijayvargiya said.