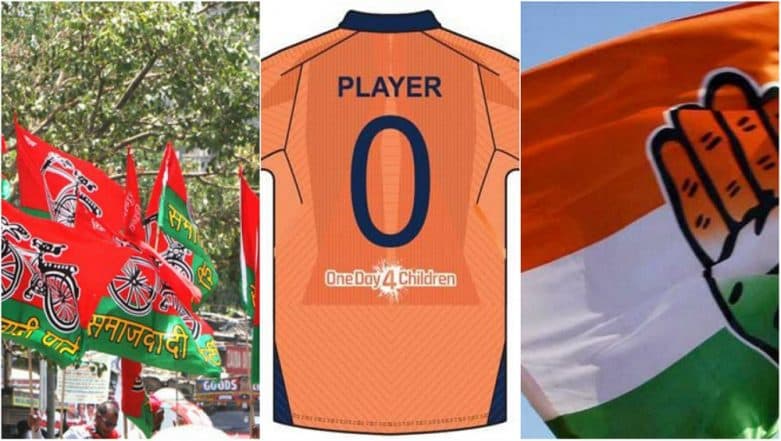 New Delhi, June 26: The orange jersey to be donned by Indian cricket team during their encounter against England on June 30 has sparked a row. Leaders of the Congress and Samajwadi Party have accused the government of directing the BCCI to choose the jersey as part of their "saffronisation" programme.
The issue was raised by Muslim legislators of both the parties in Maharashtra state assembly. SP MLA Abu Asim Azmi who the first to go public with his apprehension, asking why the government chose saffron as an alternative colour for the ICC Cricket World Cup 2019 match. Fans Come Out With Creative Team India Kit Designs and Colour Combinations; Check Out the Pics
"Modi ji wants to saffronise the entire country. A Muslim was the one who designed the Indian Tricolour. There are other colours in the Tricolour, why choose only orange? It will be better if their jersey is based on the Tricolour," Azmi said.
The point was reiterated by Congress MLA Mohammed Arif Naseem Khan, who accused the Centre of drawing cricket into its "saffron politics".
"For the last 5 years, this government wants to give another direction to this nation. They want to saffronise the nation and play saffron politics over everything," Khan said.
Watch Video of MA Naseem Khan Hitting Out at Centre:
Maharashtra Congress MLA MA Khan on being asked about Team India's alternate jersey: Yeh sarkaar har cheez ko alag nazar se dekhne aur dikhane ki koshish poore desh mein pichle panch saal se kar rahi hai. Yeh sarkaar bhagwakaran ki taraf iss desh ko le jane ka kaam kar rahi hai. pic.twitter.com/dlwoZALMqH

— ANI (@ANI) June 26, 2019
The International Cricket Council (ICC) had asked all teams to present two set of colours for the World Cup, with an aim to provide contrast to viewers in matches where the jerseys between the two sides appear to be matching.
According to ICC, colour options were given to BCCI and they chose what they felt went best with the colour combination. The whole idea is to be different as England also wears a same shade of blue as India. The design is taken from India's old T20 jersey which had orange in it.