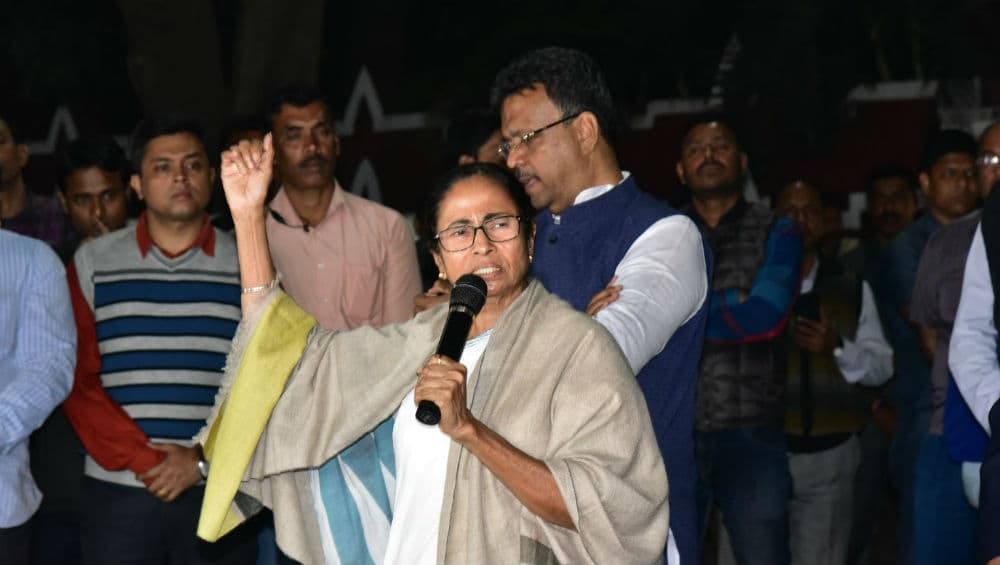 Kolkata, January 20: West Bengal Chief Mamata Banerjee on Tuesday announced that her government would follow Kerala and Punjab in passing an assembly resolution against the Citizenship Amendment Act (CAA). Banerjee, before departing for a visit to North Bengal and Darjeeling where she would be addressing anti-CAA programmes, said her government's resolution would also seek the withdrawal of the contentious citizenship law.
The CAA resolution would be issued in the next three to four days, Banerjee said, adding that the delay has been caused due to administrative reasons. The Trinamool Congress government, she pointed out, was the first to point resolution against the CAB (Citizenship Amendment Bill) before it was enacted as law and the proposed nationwide National Register of Citizenship (NRC), she said. Amarinder Singh Warns Against Silence Over CAA, Says Germans Regret Till Now For 'Not Speaking Against Adolf Hitler'.
The Trinamool supremo also marked her apprehensions against the National Population Register (NPR) updation -- which is being viewed by critics as a precursor to the NRC. Calling it a "dangerous game", Banerjee said her government would not allow the process to be implemented in the state.
"I will appeal to all North-Eastern states including Tripura, Assam, Manipur, and Arunachal that before taking any decision about NPR, they must see the law properly and I request them not to participate in this," the West Bengal CM said.
The Kerala government, which was the first to pass the resolution against CAA, has also moved the Supreme Court against the law. The state of Punjab followed suit, by passing a resolution against the citizenship law on Friday. Chief Minister Amarinder Singh, in a strongly-worded statement issued in the assembly, said what is unfolding in India is starkly similar to the Hitler-ruled "Nazi Germany of 1930s".