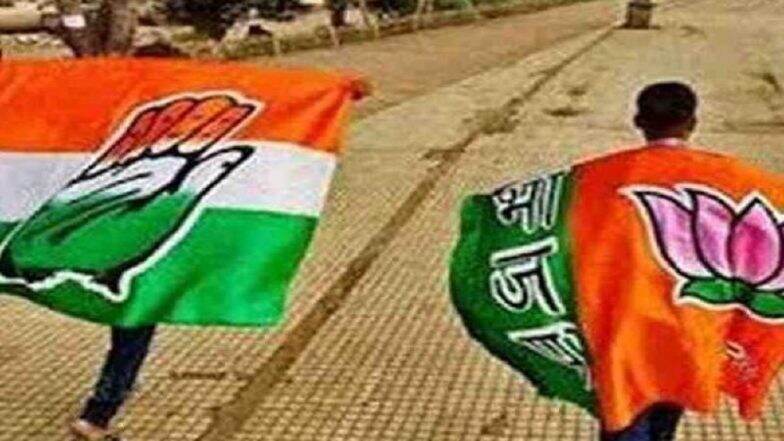 Mumbai, September 21: Will the Bharatiya Janata Party (BJP)-Shiv Sena be able to hold Maharashtra in Vidhan Sabha Elections 2019? Will the Congress-Nationalist Congress Party (NCP) alliance be able to dent the ruling government? Who will win Maharashtra Assembly elections 2019? ABP News-CVoter Opinion Poll has predicted that BJP-led NDA will come back to power with 46 percent of the people supporting it. Maharashtra Assembly Elections 2019 Dates & Schedule: Single-Phase Polls on October 21, Results on Oct 24, Says ECI.
Indian National Congress was the choice of 30 percent of the people. According to the opinion poll, the Congress-NCP alliance won't be able to dent BJP-Shiv Sena combine. In fact, the National Democratic Alliance (NDA) government will increase its seats from 185 to 205 seats, says ABP News Opinion Poll.
The Congress is also likely to gain some extra seats from 42 seats in 2014 elections to 55 seats this year. Other parties are likely to get 28 seats in total. The Maharashtra Legislative Assembly has 288 seats. Maharashtra Assembly Elections 2019: Full List of Constituencies With Current MLA Names and How BJP, Shiv Sena, Congress-NCP Fared in 2014.
Even if all parties decide to fight alone, the Bharatiya Janata Party remains the favourite option of people. If this happens, the BJP will get 144 seats while Shiv Sena will get 39 seats. The Congress will manage to get 21 seats, whereas NCP will get 20 seats. The remaining 64 seats will be occupied by other parties.
Meanwhile, the five-year term of Maharashtra Assembly will expire on November 9. Maharashtra will go to polls in a single-phase on October 21. The counting of votes will take place on October 24.