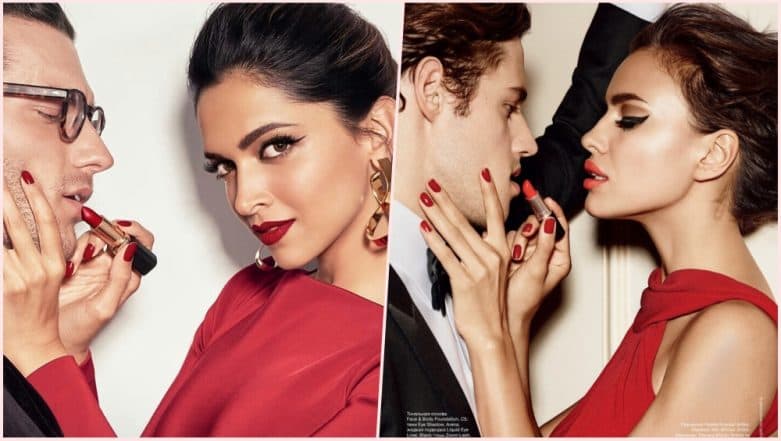 There's no such thing called an original idea. Creativity is borrowed and inspiration can come from anywhere, and everywhere. All one has to do is GOOGLE! And it looks like that's what the creative team behind Deepika Padukone's new ad campaign did. But unfortunately for them and the Bollywood actress, the result has come off as a rip-off -- a beautiful yet a lousy imitation. The brand purportedly, L'Oreal has Deepika Padukone as the face of their new red matte lipstick, and the ad campaign is blatantly copied from a 2013 photo shoot by the fashion magazine, Allure, featuring none other than hot Russian model, Irina Shayk! These pictures are a classic example of plagiarism and make the readers cringe at the lack of originality.
The first pictures of Deepika Padukone for the ad campaign of a popular cosmetic brand was released early in January and months later, we get to see the final ad. It shows the gorgeous 32-year old dressed in a wine-red outfit, wearing matte red lipstick in the same shade. Deepika is seen holding a lipstick and posing to apply it on the male model, Aurélien Muller.  Everything is sexy, gorgeous and alluring about Deepika Padukone's L'Oreal Paris photo shoot, except it's unoriginal and hence, boring!
Deepika Padukone For New Lipstick Ad
There's a thing about the Internet -- it does not forget. It didn't matter whether the original ad with Irina was five years old; all it took was some digging. Irina Shayk, one of the world's most successful models known for her ravishing beauty and goddamn hot body, is the person whose shoes poor Deepika had to fill, all thanks to the beauty brand's ad team who didn't put a thought into the campaign.
Irina had turned a muse for a celebrated fashion photographer, Giampaolo Sgura during 2013 photo shoot Allure Russia September 2013. It was an elaborate photo shoot with the sexy Russian model turning up the heat in a bold scarlet red backless dress that ran deep down to show off her bottom. However, our focus is on one of the pictures from the final shoot inspiring L'Oreal in the present day.
Irina Shayk for Allure Russia in 2013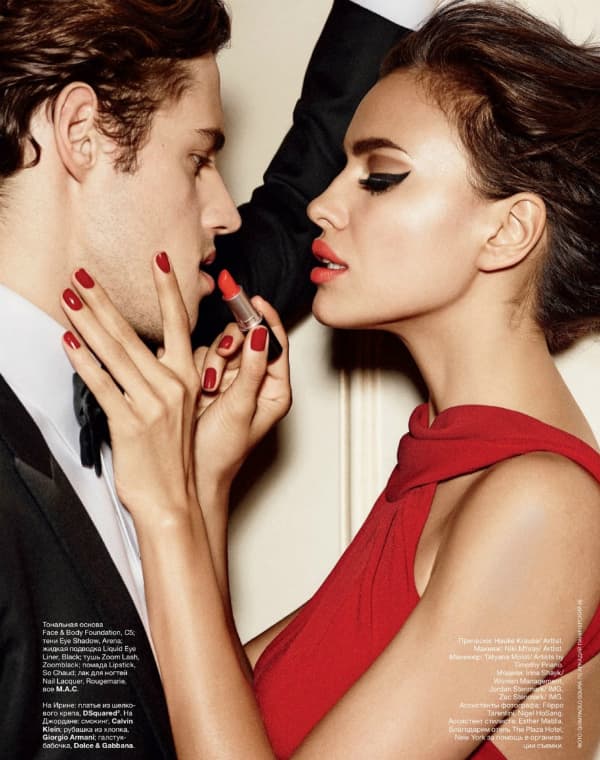 The photo has Irina posing to apply lipstick, a red-orange shade, to the male model. There's just a single stark difference between the two photo shoots – Irina is looking towards the model in Allure shoot while Deepika is looking away from her partner towards the camera for L'Oreal. Other than this, every single effing thing is the same! It is a pity the team did not think twice before making Deepika, a sensational figure in Indian and global cinema to replicate an old-classic.
We want to thank Diet Sabya, an anonymous Instagram handle once again outed a dirty copy in public. We would love to quote their caption for this unforgivable act of plagiarism, "Should we blame the supposed intern who did the referencing for this ad? @lorealindia #Gandi #artdirection Left: @deepikapadukone and French hottie, @aurelien_muller_official | Right: @irinashayk for @allure Russia, by @giampaolosgura in 2013"
We only feel bad for Deepika Padukone in this case, who has to face the brunt of hazardous copy act as she is the face of a brand. Honestly, it is high time brands focus on originality, especially in campaigns featuring Indian superstars, because they totally deserve to be the trendsetters and not be reduced to rip-off artists!