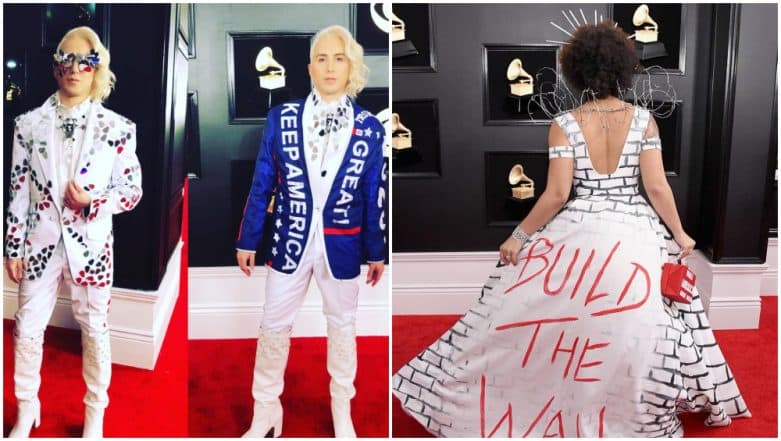 As always, the drama is never less at the Grammy awards each year. This year, artists Joy Villa and Ricky Rebel made their political statements straight with their outfits at the 61st Annual Grammy Awards. The duo were seen wearing outfits that gave out pro-trump messages. Singer Joy Villa who has previously also been vocal about being a supporter to President Donald Trump, this time went a notch higher when she decided to dress up as "The Wall"
Who is Joy Villa and why is she even relevant? #joyVilla #Grammys2019 #idiot #brainwashed pic.twitter.com/FLnIEu0c2P

— Patsy K. (@Politch3003) February 11, 2019
Villa's outfit at the red carpet was a gown that was designed representing the Border wall that the President has been contesting and even read in bold red, "Build the wall". If the dress made any less statement, Villa was accompanied by a small hand purse which read 'Make America Great Again'. The outfit was designed by DesiLee Allinger-Nelson of Desi Designs Couture. Grammy Awards 2019 LIVE UPDATES: Kylie Jenner Arrives With Boyfriend Travis Scott, Lilly Singh Graces the Ceremony
RICKY & I, ARE PROUD AMERICANS! We Love Our Great Nation, The USA, and Love Our President, Donald J Trump! Land of the Free, Because of the Brave! CREATE & EXPRESS YOURSELF! #fashion #fashionisfreedom #kagjacket #rickyrebel #proudlymadeintheusa #grammys2019 #kag #maga #usa ❤️🇺🇸 pic.twitter.com/wQIzHW72q3

— Andre Soriano (@andresoriano) February 10, 2019
Second to make a bold statement supporting the President was Ricky Rebel whose blue jacket was emblazoned with words 'Keep America Great'. The jacket also had 'Trump 2020' splashed over it. Rebel has been a vocal supporter of the President but has received ample of backlash for it especially since he has been an advocate of the LGBT rights. His outfit was designed by Andre Soriano who even Tweeted about expressing their support for the President. Grammy Awards 2019 Best Dressed: Miley Cyrus, Dua Lipa, Camila Cabello Take The Red Carpet By Storm!
Villa and Rebel have been facing a lot of backlash over social media for their red carpet appearances.