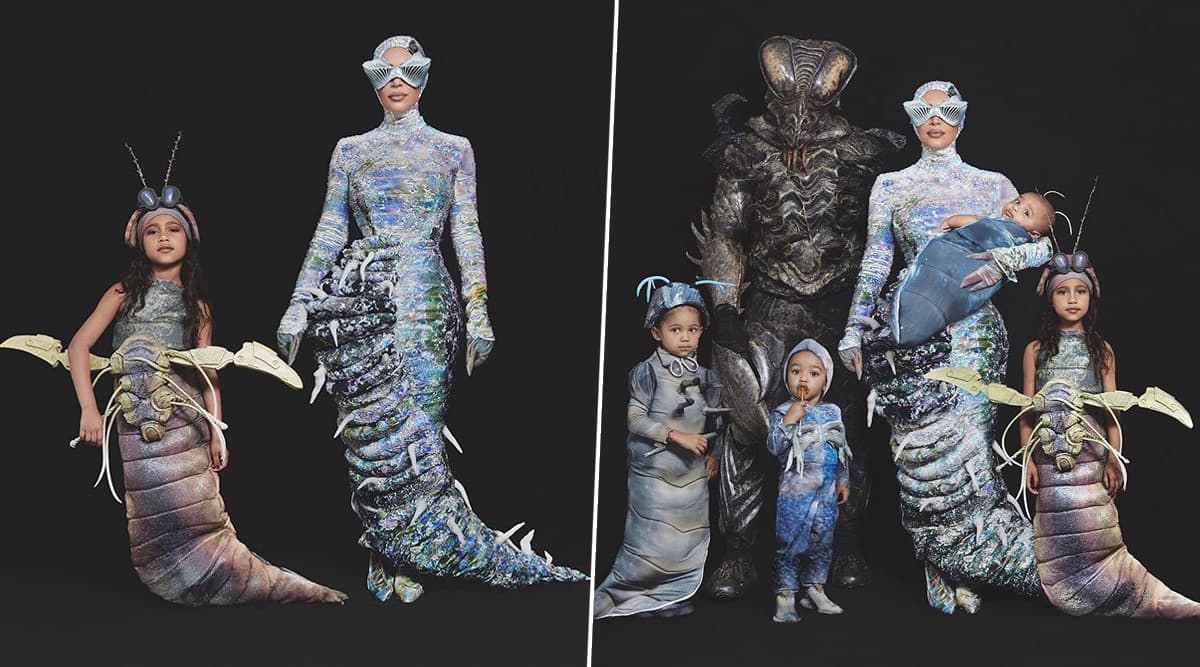 The observance of Halloween every year shows a side of all the stars that we have never seen before. The idea of dressing up in weirdest costumes has been experimented by the Kardashians too and they just can't seem to get enough. They took a little slimy route as the entire family dressed up as worms for their second look of Halloween 2019! Kim Kardashian shared a family picture with husband Kanye West and their four children North, Saint, Chicago and Psalm all of them as worms. From an earlier get up from Flintstones, they chose their second look to be slimy yet sexy worms. Kim shared the pictures of the "West Worms" on her social media. From Selena Quintanilla to Madonna, Iconic Celebs Kim Kardashian Turned Into for Halloween Over the Years!
The West Worms sees Kim and Kanye dressed in an elaborate costume, while the kids go for simple ones. The googly eyes and scaly costumes are a bit creepy, we agree. But with a little shine and sparkle, Kim adds the glam to bugs too. She even mentioned that her costume glowed. The children's costume have antennas with daughter North's dress having an extended bee attached in the front. So they really went all out to live the bugs life. Kim Kardashian West Look Book: From Bronzed Skin to Fluttery Lashes, Here's How to Get the Reality Star's Look!
Check Pics of Kardashians Dressed as West Worms:
Introducing the West Worms
View this post on Instagram
A Closer Look At the Bugs
View this post on Instagram
While we know how much Kim Kardashian enjoys dressing up, but looks like she loves complete transformations a bit too much. She herself donned three Halloween looks this year. Her first being Elle Woods, aka Reese Witherspoon's iconic character in Legally Blonde. For the second look, a family shoot this time, they turned up as Flintstones family. Saint and North becoming the titular family of Fred and Wilma Flinstone, Chicago as their daughter Pebbles, Kim became the perfect Betty Rubble and Kanye, the Dino.
Here's a Picture of Their Flintstones Get Up:
View this post on Instagram
Fans of the Kim K family have already loved the getup and left comments praising their innovative idea. In fact, Kim seems to be too attracted with the glow worms as she even posted a picture of herself in a sparkly silver outfit calling herself a glow-worm. One thing for sure, the Kardashians sure know how to be attractive as insects too.