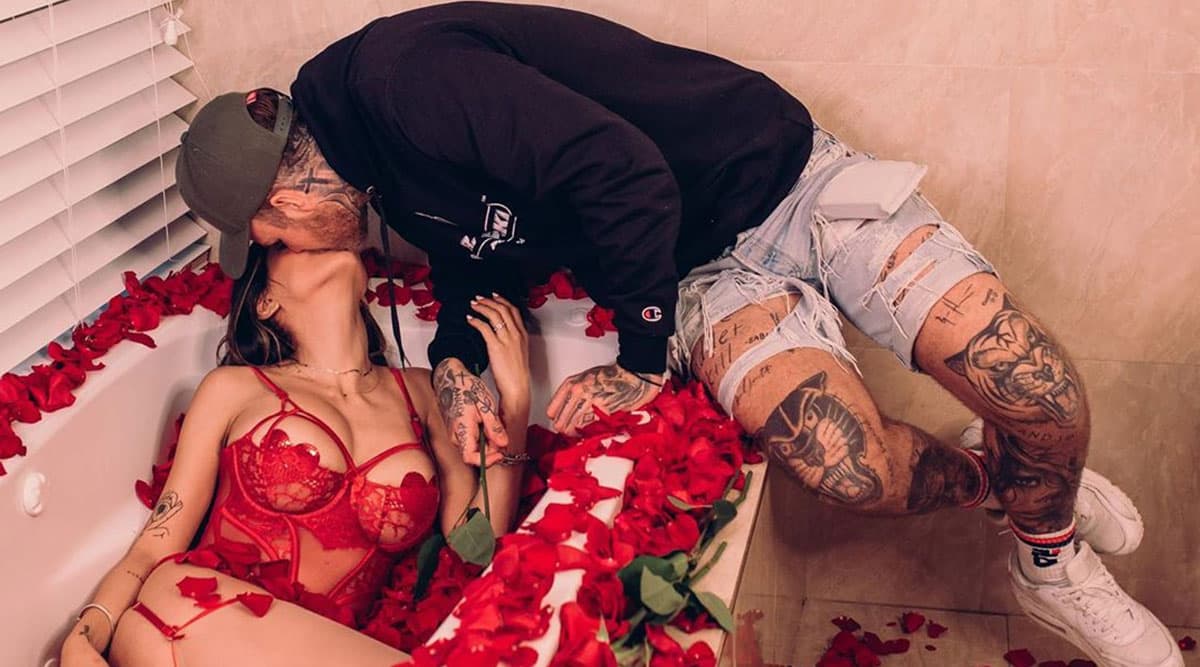 Mia Khalifa is one of the sexiest women celebs we know and her Instagram is proof. The sexy goddess, ended the new year with a super hot photo that is now breaking the internet. The XXX star turned sports presenter and webcam model, Mia Khalifa shared a photo of herself kissing Robert Sandberg in a red thong monokini in a bathtub full with red rose petals. You might think that how did this frame come up? Turns out, Khalifa was shooting in a bathroom while posing in the bathtub seductively when Robert Sandberg, her fiance crashed in, to ask how long the shoot was going to take because he had to poop! Yes, at least that's what the caption reads! A picture that almost looked like, a hot surprise from Robert Sandberg was actually created by accident, but the kiss was real. Mia Khalifa shared the picture on Instagram with a caption that explained the whole situation: "I'd lie and say he set this up to be romantic, but in reality, he crashed my shoot to ask when we were done in the bathroom cause he had to poop". Mia Khalifa's Hottest Pictures and Videos of 2019: Sexy Photos and Clips of the Former XXX Star To Welcome New Year 2020.
Mia Khalifa chose to post this photo end 2019. It is not just a super romantic photo but Mia Khalifa looks extremely sultry in the pic as well. You can see her wearing red, sheer lingerie with thongs and heart-shaped pasties on her breasts. She is holding a rose flower by its stem and is half-dipped in a bath-tub flooded with rose petals. View Pic:
Mia Khalifa is the hottest queen you will ever come across. Pornhub's year-in-review is proof. While this year was owned by Lana Rhoades, the XXX star who became the most searched for pornstar on Pornhub and racked up 345 million videos. On the second position, was Mia Khalifa, the forever favourite, Pornhub legend. Riley Reid was the third most searched, but the number of video views surpassed the others at a whopping 585 million.