Move over ankle or even knee-high boots, the sizzling hot thigh-high boots trend has taken over the globe. We saw 49-year-old Hollywood fashion icon Jennifer Lopez stepping out in Manhattan wearing a white shirt as a dress and a pair of denim Versace thigh-high boots as pants. Back home, it's 18-year-old Suhana Khan, the gorgeous daughter of Bollywood superstar Shah Rukh Khan showing us her love for multi-coloured over-the-knee boots in her first fashion shoot for Vogue India. Not just Suhana, Indian female celebrities, be it notable fashionistas Priyanka Chopra, Sonam Kapoor and Deepika Padukone or newbies such as Sara Ali Khan, all have given a big thumbs up to wearing these boots. Well, the thigh is the limit in their case! Jennifer Lopez Goes Pantless! Steps Out in Nothing but a Crisp White Shirt and Thigh-High Versace Denim Boots (See Pics).
1. Suhana Khan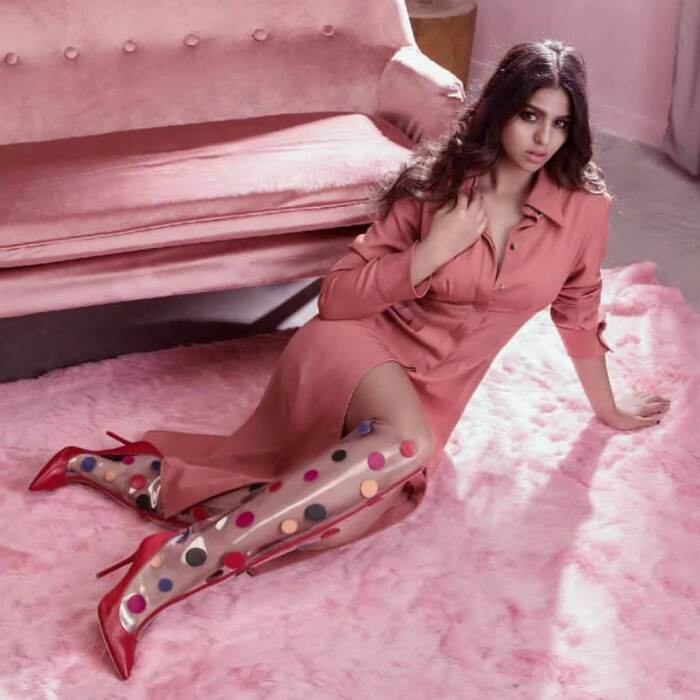 In her first-ever photo shoot, Suhana does a commendable job. Styled by Anaita Shroff Adajania, fashion director for Vogue India magazine, she has displayed a wide range of fashionable outfits and getups. What caught our eyes was the colourful polka dotted clear knee-high boots. It is not your regular boots, but a red pointy toe high heel and a transparent boot structure till Suhana's knees. It's a excellent spinoff to your fashionable rainboots. Suhana Khan's First Vogue Photoshoot Is Playful, Whimsical And A Total Knockout - Check Out The Shoot Pictures And Video Here!
2. Sara Ali Khan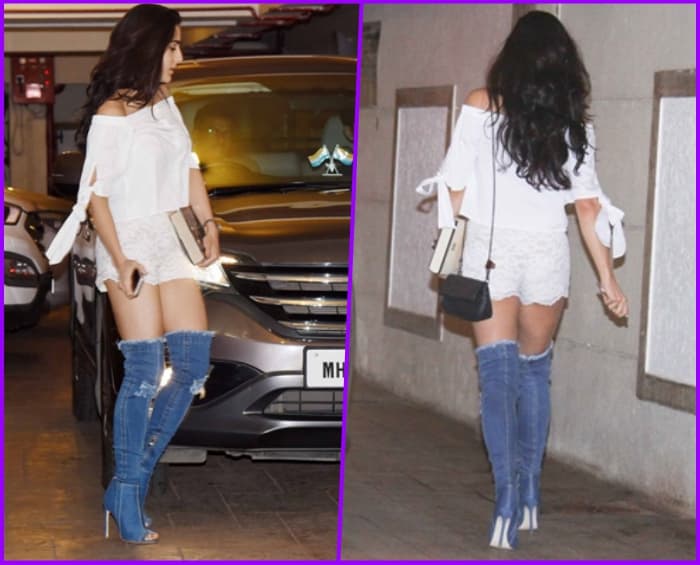 Thigh-high boots go perfectly with tiny shorts and dresses, and that's exactly what Sara Ali Khan did at her father and actor Saif Ali Khan's birthday last year. The actress who will be making her Bollywood debut with Kedarnath left us speechless when she stepped out wearing this thigh-high denim boots over her lace hot pants. After seeing Sara's open-toe distressed denim boots, every fashion-loving woman wanted to own one.
3. Priyanka Chopra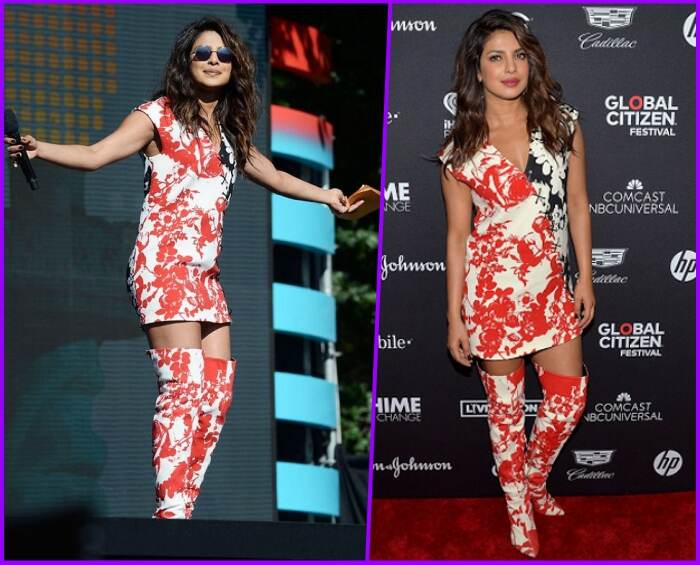 She is the ultimate fashion connoisseur, and her floral-printed thigh-high footwear is a good proof of it. Priyanka Chopra wore a red, white and black floral mini shift dress to attend the Global Citizen Festival in New York City's Central Park. The Indian actress paired her outfit with an over-the-knee boot in the same print to leave us thrilled with her fashionable outing.
4. Deepika Padukone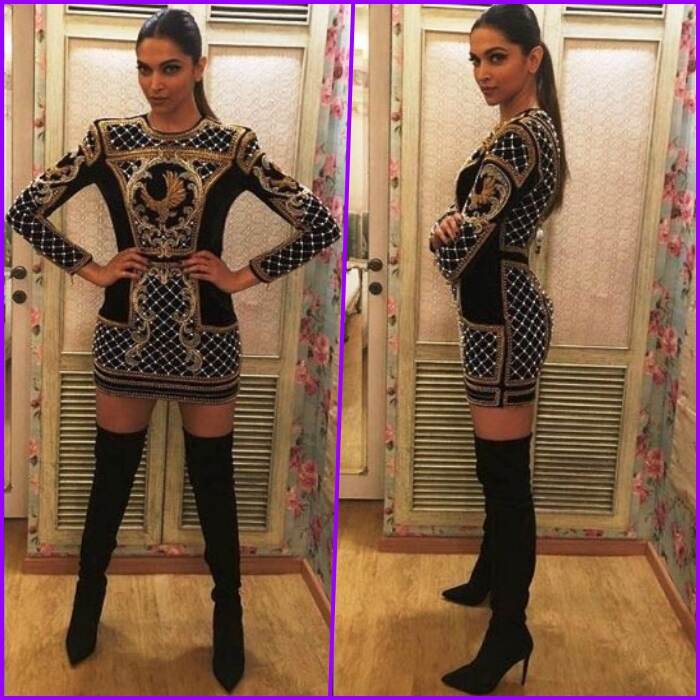 Unlike Priyanka, Deeps is not famous for taking much fashion risks. Fair enough, because the Padmaavat star's thigh-high boot moment fits in our bill of dressing it the safe way. The 32-year-old is seen wearing a pair of sexy black velvet boots over the Balmain x H&M dress, and we're completely swooning over her look.
5. Hina Khan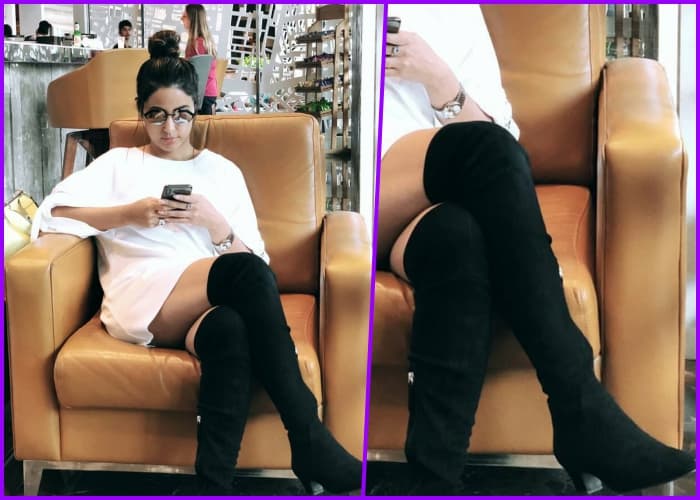 The rise of Hina Khan from being another television actress to a fashion icon is commendable. A lot of credit goes to her team of stylists for presenting the star in trendy attires. Like this one, a casual look where Hina has gone monochrome, wearing a baggy white tee over a pair of black thigh-high boot. It looks effortless and chic, something the fans look forward to in replicating in real lives.
6. Anushka Sharma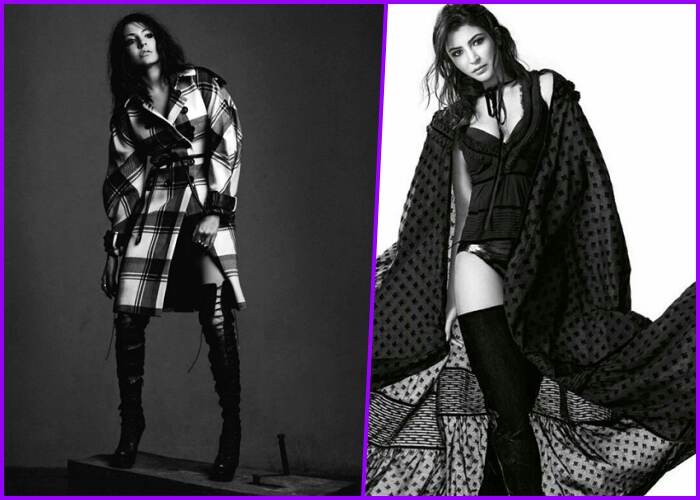 Undoubtedly, the boldest presentation of thigh-high boots is done by Anushka Sharma in this photo shoot for Vogue India magazine. The 30-year-old actress is seen flaunting lace-up thigh-high boots in one picture while she is seen wearing super thigh-high footwear over a monokini. Anushka looks hot and so does her exciting style to wear these fashionable boots.
While these were our picks, many, many female stars have rocked this footwear choice like a boss. Actresses like Sonam Kapoor, Jacqueline Fernandez and Katrina Kaif are often spotted swapping pants for these comfortable and highly-stylish boots. Let us know in the comments section, who according to you has had the best 'thigh-high boots moment'.