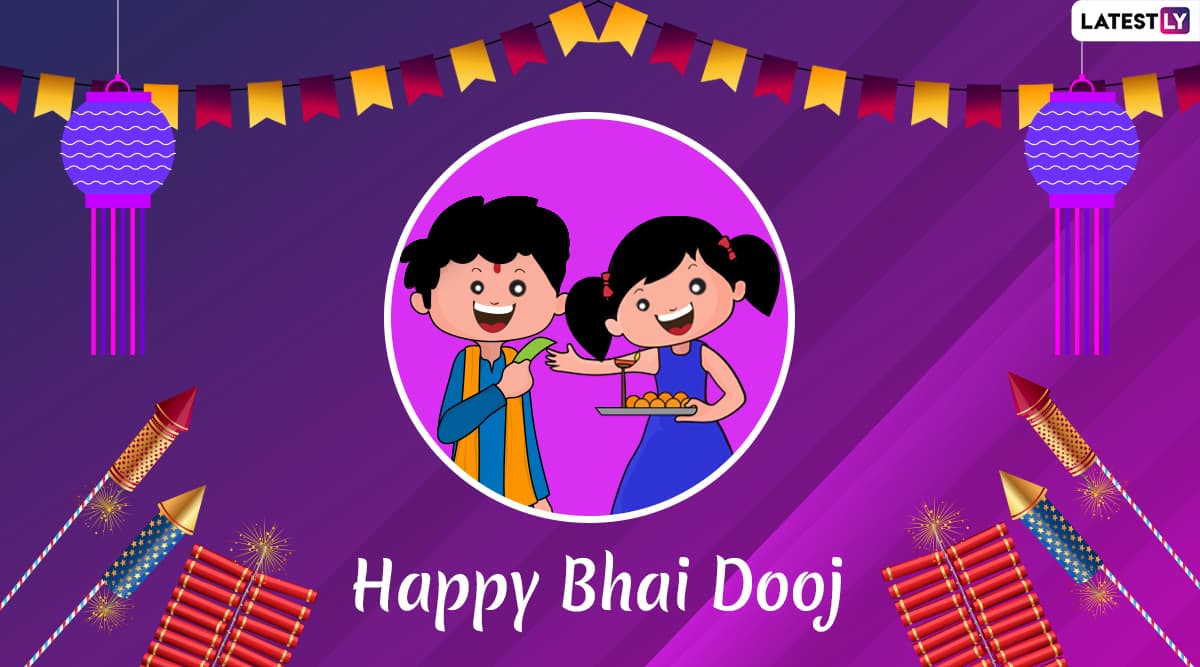 Bhai Dooj, which is regarded as one of the major festivals celebrated during the festive period of Diwali.  It is observed on the last day of Diwali festivities. Bhai Dooj 2019 date in India is October 29 (Tuesday). The festival of Bhai Dooj is also called as Bhau Beej, Bhatra Dwitiya, Bhai Dwitiya, and Bhatru Dwithiya by people in different parts of the world. In this article, we will look at Bhai Dooj 2019 date, significance, puja vidhi and other Frequently Asked Questions (FAQs) on the festival that celebrates the bond between brothers and sisters.
When is Bhai Dooj 2019?
Bhai Dooj, this year, will be celebrated on October 29, i.e., Tuesday. The festival, also known as Bhai Phonta and Bhai Phota, is celebrated on the second lunar day of Shukla Paksha (bright fortnight) in the month of Karthik of the Vikram Samvat Hindu Calendar. Bhai Dooj 2019: Heart-Warming Things About Brothers That Make You Grateful for Their Love.
What is the story and significance of Bhai Dooj 2019?
As per legend, it is said that Lord Krishna had visited his sister Subhadra after slaying the demon king, Narakasura. She gave him a rousing welcome with sweets, flowers, and also applied a 'tikka' on his forehead. This incident is said to be the origin of the Bhai Dooj festival. Diwali 2019 Calendar: Dates and Tithi for Dhanteras, Naraka Chaturdashi, Lakshmi Puja, Govardhan Puja and Bhai Dooj During 5-Day Hindu Festival.
The festival of Bhai Dooj is celebrated with much fun and frolic. The festivities on the day of Bhai Dooj, also known as Bhau Beej, are similar to that of Raksha Bandhan.
On the occasion of Bhai Dooj, fondly called as Bhai Tikka, sisters pray for their brothers' well-being and happy lives. They offer sweets, apply tikka (vermilion) on their foreheads, and wish them luck for their life ahead. As for brothers, they shower their sisters with gifts, chocolates and other valuable items.
What is the Shubh Mahurat for Bhai Dooj Pooja 2019?
Bhai Dooj 2019 Date – October 29, 2019, i.e. Tuesday

Bhai Beej 2019 Aparahna Time – 13:31 to 15:49 (1.31 PM to 3.49 PM)

Bhai Dooj Pooja Time – 2 hours 18 minutes

Dwitiya Tithi Begins – 06:13 AM on Oct 29, 2019

Dwitiya Tithi Ends – 03:48 AM on Oct 30, 2019
The festival of Bhai Dooj is called Bhai Tika in Nepal, Bhai Phonta in West Bengal, Bhau Beej or Bhav Beej in Maharashtra, and its other names include Bhatru Dviteea, Bhatri Ditya, and Bhagini Hastha Bhojanamu. The Bhai Dooj festival also marks the last day of festivities during the Diwali period, and hence, is celebrated with grand festivities. We, at LatestLY, wish you and your family a very 'Happy Bhai Dooj 2019'.