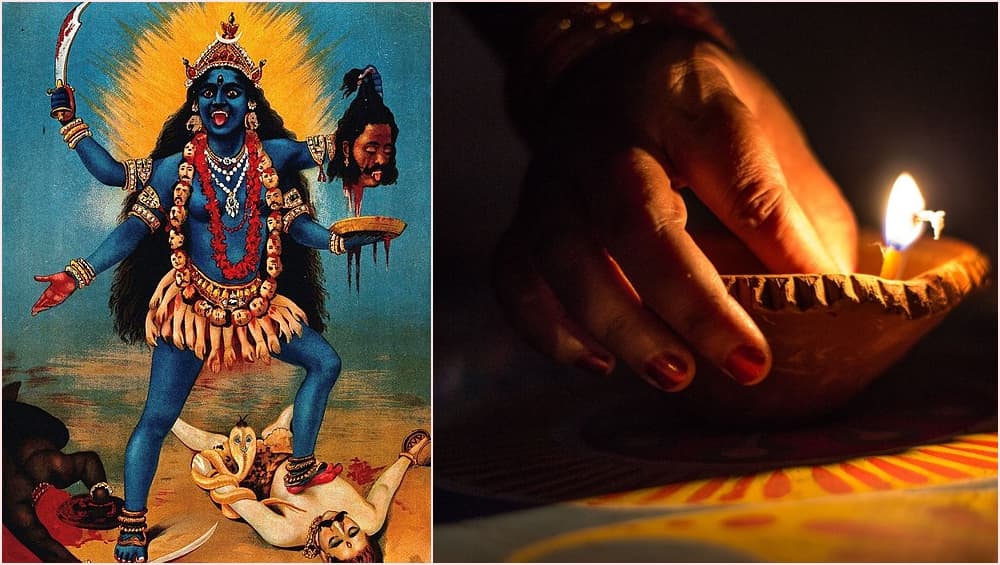 Did you know that India has its own Halloween? The spookiest festival of the west that we are so fascinated, probably thinking that we do not have our own. It turns out that our country observes its own eerie festival, that Bengalis love to call Bhoot Chaturdashi also known as the Naraka Chaturdashi or Kali Chaudas. The Bengali community people in our country celebrates the festival the day before Diwali or Kali Pujo. Bhoot Chaturdashi is all about warding off the evils. The spookiest festival is today, October 26, 2019. Here we bring you more about Naraka Chaturdashi. Below, in this article, find out Bhoot Chaturdashi 2019 date, tithi, shubh muhurat, Narak Chaturdashi puja vidhi and the significance of country's spooky festival ahead of Diwali. Naraka Chaturdashi Images & Choti Diwali 2019 Wishes: Roop Chaudas WhatsApp Stickers, Photos, Hike GIF Greetings, SMS and Messages to Send on Second Day of Deepavali. 
Bhoot Chaturdashi 2019 Date, Tithi and Shubh Muhurat
Naraka Chaturdashi 2019 is celebrated on the 14th day or Chaturdashi of the Krishna Pakhs of the Ashwin month in Hindu calendar. This year, Bhoot Chaturdashi falls on October 26, a day before Diwali and it is also known as Choti Diwali. According to Drik Panchang, the Chaturdashi Tithi will begin at 7:16 am on October 26 and will end at 3:53 am on October 27, 2019. The Abhyanga Snan Muhurat is between 5:34 am to 6:09 am on October 27, 2019.
Bhoot Chaturdashi Significance
Kali Chaudas, where Kali means dark (eternal) and Chaudas means fourteenth is observed on the 14th day of the dark half of Aaso month. Different parts of India, celebrates this day with different names. In West Bengal, people observes Bhoot Chaturdashi, the day before Kali Pujo is observed. It is believed that on the eve of this dark night soul of the deceased come down to visit their near ones. The fourteen forefathers of a family visit their living relatives. This is why, a total of 14 diyas are placed all around the house, to guide them homewards and also chase away the evil spirits. Every corner is lighted, placing an earthen lamp. Choti Diwali or Naraka Chaturdashi Puja Vidhi, Shubh Muhurat and Significance of Abhyang Snan. 
Bhoot Chaturdashi Puja Vidhi
Devotees take a bath early morning. And taking a dip in the holy rivers is considered auspicious on this day. Devotees are offered prasad of a sesame seed, ladoos and rice with ghee and sugar. They sing devotional songs dedicated to Maa Kali. It is said that on this day, it is significant to wash your hair while bathing and apply kajal to ward off the negative energies and evil spirits.
Now that you know, India has its own Halloween as well, why not celebrate it. Bhoot Chaturdashi might not include trick or treat for candies, but it does contain eating 14 kinds of leafy greens and lighting earthen lamps.