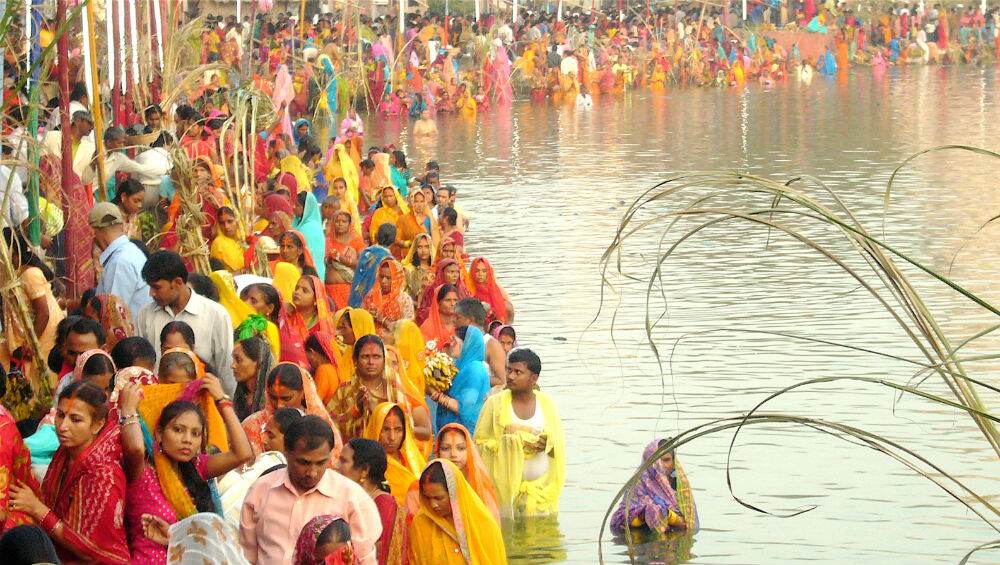 Chhath Puja is widely celebrated in UP and Bihar on the sixth day of Diwali. Also known as, Chhath Parv, the festival worships the Sun God and Chhathi Maiya (Goddess Chhathi). During Chhath, devotees who fast for over 36 hours without water, offer prayers standing at the river banks. The idea is to worship the sunset and sunrise, and to seek blessings. However, the rituals and fasting rules of the four-day festival are quite complicated. Also, the legends behind the whole celebration of Chhath Puja are quite popular. It is said that the stories date back to the famous Hindu epic Mahabharata. Here are two stories  or vrath katha that are related to Chhath Puja. Chhath Puja 2019 Date & Full Schedule: When is Nahay Khay, Lohanda and Kharna, Sandhya and Usha Arghya? Know Significance of Worshipping Chhathi Maiya & the Sun God
The Draupadi Story
This legend includes Panchali, also known as Draupadi, wife of the famous Pandavas. She was said to have great powers to cure diseases because she would worship the Sun God also known as Surya Dev. Since the sun has healing powers and forms the source of life, Draupadi the utter devotee of Surya Dev, had its celestial and divine energy. The prayers are offered to the Sun God for good health.
Karna, Surya Putra
Chhat Pooja vrat was said to be observed by King Karna as well. He was the son of Surya, also known as Surya Putra. The warrior Karna became king and attained powers through Surya Puja. After this, the Hindus began to worship Surya dev for courage, fame, health, wealth and prosperity.
Chhath Puja Katha
People who fast usually read and recite a katha (story) that is associated with the legends of Chhath puja. A king named Priyavrata and his wife, Malini had no children. Saddened by a childless life, the king chose to perform a sonishti yajna by Maharishi Kashyap that helped them conceive a baby. However after nine months, the queen gave birth to a dead son.  The king and queen were left in dismay and went into mourning. The king was extremely saddened and wanted to end his life. However, right before he was about to kill himself a beautiful goddess appeared before him. The goddess told the king that she was Chhathi Maiya and would offer people the good fortune of the son. She also said that she would fulfil all their wishes if they worshipped her with true sentiments. The king obeyed and was blessed with a healthy baby boy.
This festival is observed by a large number of people from Nepal as well. The person who keeps the fast is also known as Parvaitin that comes from Sanskrit parv, meaning 'occasion' or 'festival'. Although they are usually women, Chhath vrat is also kept by a huge number of men as well.