Happy Dussehra to all of you!  Today is the last day or the tenth day of Navaratri which is celebrated as Dussehra or Vijayadashmi. This auspicious day marks the supremacy of good over the evil forces. There are several mythological stories attached to the day of Dussehra. The festival of Navratri 2018 concludes on October 19, which is also the day Dusshera 2018 will be celebrated this year. The celebrations also differ from place to place. In several parts of the country, effigies of demon Ravana are burnt out, while in some parts, especially in Maharashtra, people meet and greet and exchange Sona leaves on the day.
According to mythological stories, on the day of Dussehra, Lord Rama emerged victorious over King of Lanka, Ravana, who had kidnapped Ram's wife Sita. So a lot of people burn effigies of Ravana, his brother Kumbhakarna. It also signifies with burning all our evil and bad thoughts, making way only for good and prosperity. Thanks to the technology, many people forward photos, GIF Images, WhatsApp messages, SMSes to their loved ones and family members, wishing for Happy Dussehra. If you have been looking for Dussehra wishes in Hindi, then let us help you out. Dussehra 2018 Greetings and Dasara HD Images: Best WhatsApp Messages & Status, SMS, GIF Images and Facebook Cover Photos to Wish Happy Dussehra!
Message reads: दशहरे की आपको, पूरे परिवार को बहुत-बहुत शुभकामनाएं एवं बधाई।
दशहरा असत्य पर सत्य की विजय है। आप भी हर पथ पर विजयी हों, यही भगवान से हमारी मंगल कामना है।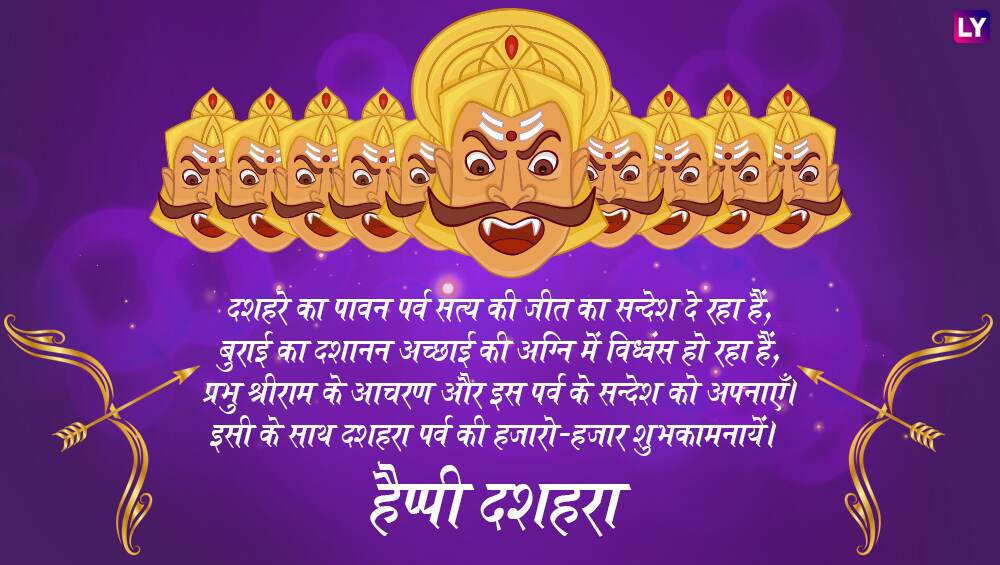 Message reads: दशहरे का पावन पर्व सत्य की जीत का सन्देश दे रहा हैं, बुराई का दशानन अच्छाई की अग्नि में विध्वंस हो रहा हैं, प्रभु श्रीराम के आचरण और इस पर्व के सन्देश को अपनाएँ।
इसी के साथ दशहरा पर्व की हजारो-हजार शुभकामनायें।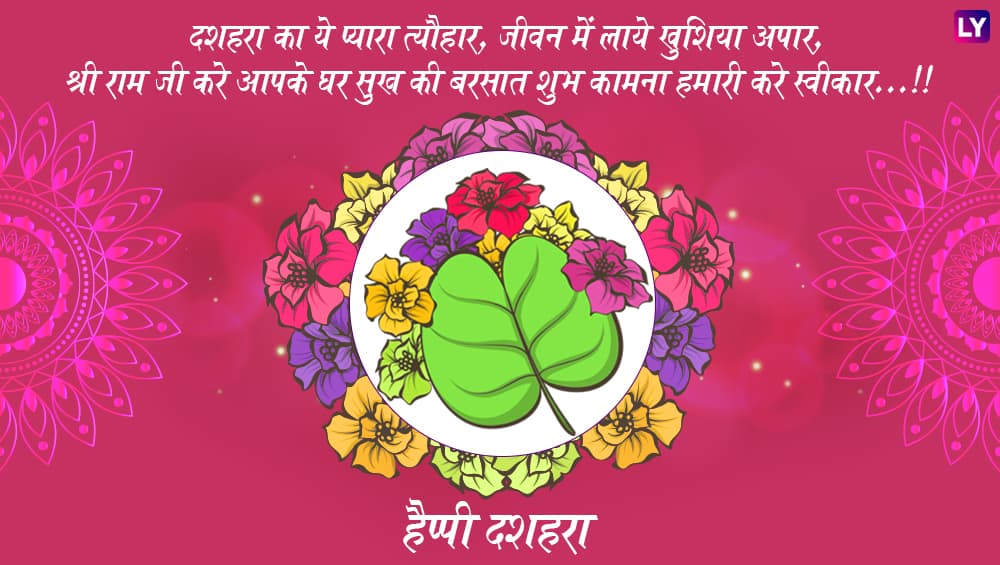 Message reads: दशहरा का ये प्यारा त्यौहार, जीवन में लाये खुशिया अपार,
श्री राम जी करे आपके घर सुख की बरसात, शुभ कामना हमारी करे स्वीकार…!!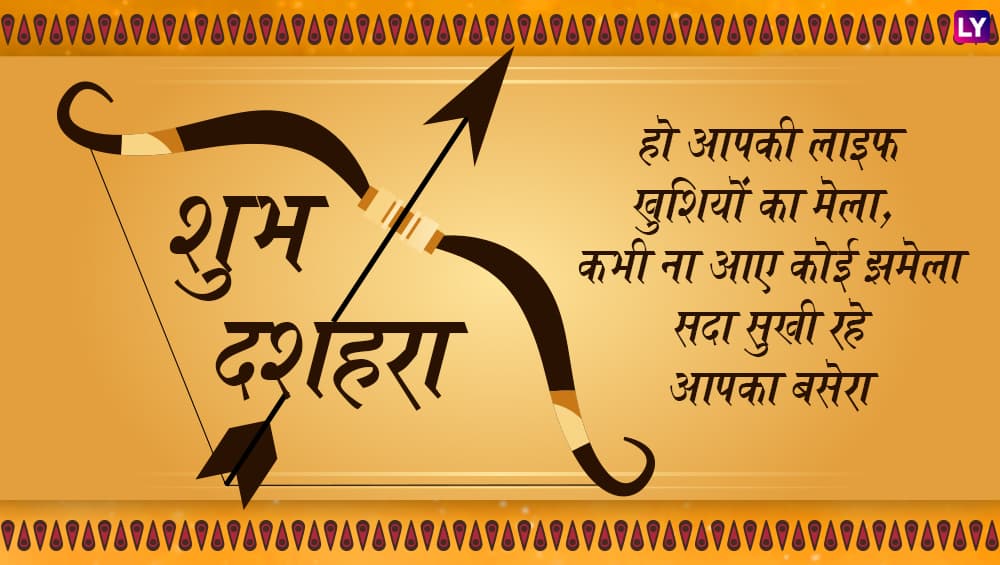 Message reads: हो आपकी लाइफ खुशियों का मेला, कभी ना आए कोई झमेला
सदा सुखी रहे आपका बसेरा, शुभ दशहरा!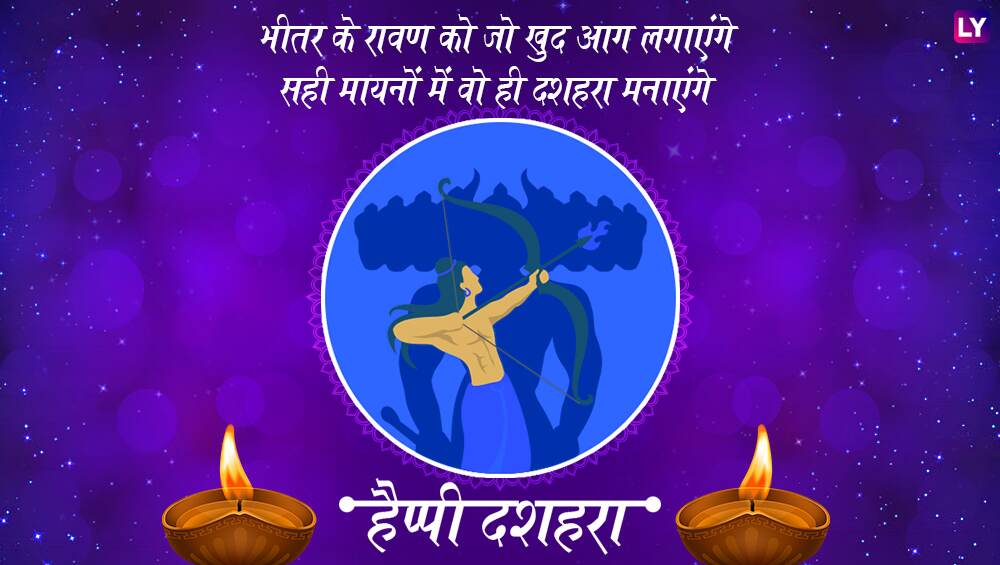 Message reads: भीतर के रावण को जो खुद आग लगाएंगे, सही मायनों में वो ही दशहरा मनाएंगे
हैप्पी दशहरा!
Happy Dussehra GIFs
We hope these messages help you in sending across your best wishes and greeting for Dussehra to your friends and family. The day marks the triumph of good over evil and we hope you too seek that victory from all the negativities that bound you, this festive day.