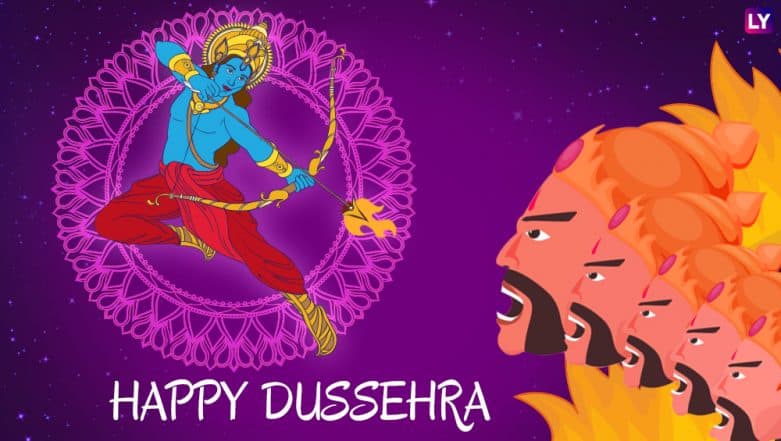 It is the time to celebrate the festival of Dussehra, the victory of good over evil. Dussehra which also known as Vijayadashami, Dasara, Dusshera or Dashain in various parts of India will be celebrated on October 19, 2018, Friday this year, marking the end of nine-day Navratri 2018 festival. One of the biggest Hindu festivals celebrated in India, Dussehra marks the victory of good over evil after Lord Rama restored Dharma in the world by killed tyrant Ravana, the demon king of Lanka. People join in celebrations and especially go to places to watch Ravan Dahan (burning of towering effigies of Ravan, Meghnath and Kumbhkaran). On the special occasion, here's Dussehra 2018 wishes, online Dussehra WhatsApp greetings, happy Dussehra GIF images download, Dasara HD images and wallpapers, Happy Dussehra cards, free Happy Dussehra greeting images, Happy Dussehra quotes, Dussehra wishes images. You can download and save it for free. Dussehra 2018 Date in India: When Will Vijayadashami Be Celebrated This Year & Shubh Muhurat of Ravan Dahan?
Shri Rama, the seventh avatar of Lord Vishnu was born as a human to eradicate the earth of the negative forces especially by killing the demon king, Ravana. The great Indian epic, Ramayana narrates the tale of Rama defeating Ravana in a long-battle after the tyrant king abducted Rama's wife, Sita. According to Hindu mythology, Rama prayed to Maa Durga for her blessings, and he emerged victorious on Vijayadashami, the same day Maa Durga killed buffalo demon Mahishasura. Vijayadashami is a combination of two words 'Vijaya means victory' and 'Dashami means tenth'. When is Dussehra 2018? Confusion Over Date - Vijay Dashmi on October 19, Public Holiday on October 18.
Ravan Dahan is a spectacular sight on Dussehra, which is widely celebrated in northern, central and western parts of the country. Huge effigies representing Ravana, his demon brother Kumbhkaran and son Meghnath are burned followed by bursting firecrackers. People travel to places to catch a glimpse of the exciting view. The images of Ravan Dahan, Dasara celebrations are quite popular to share on social media. But before that, we bring to you pictures of Ram and Ravan with text messages to wish family and friends a Happy Dussehra 2018. Here's Dussehra Wishes in English, Dussehra Wishes Images, Happy Dussehra 2018, Dussehra Wishes in Hindi, Happy Dussehra Quotes, Dussehra Wishes Lines, Happy Dussehra GIF Images Download and Happy Dussehra GIF Video Download.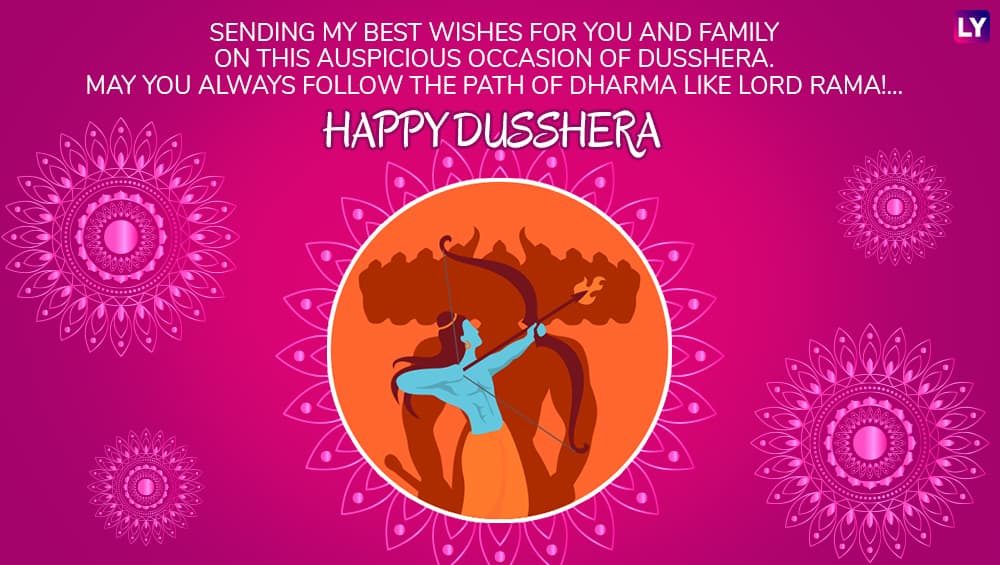 WhatsApp Message Reads: Sending My Best Wishes for You and Family on This Auspicious Occasion of Dusshera. May You Always Follow the Path of Dharma Like Lord Rama!… Happy Dusshera, Stay Blessed.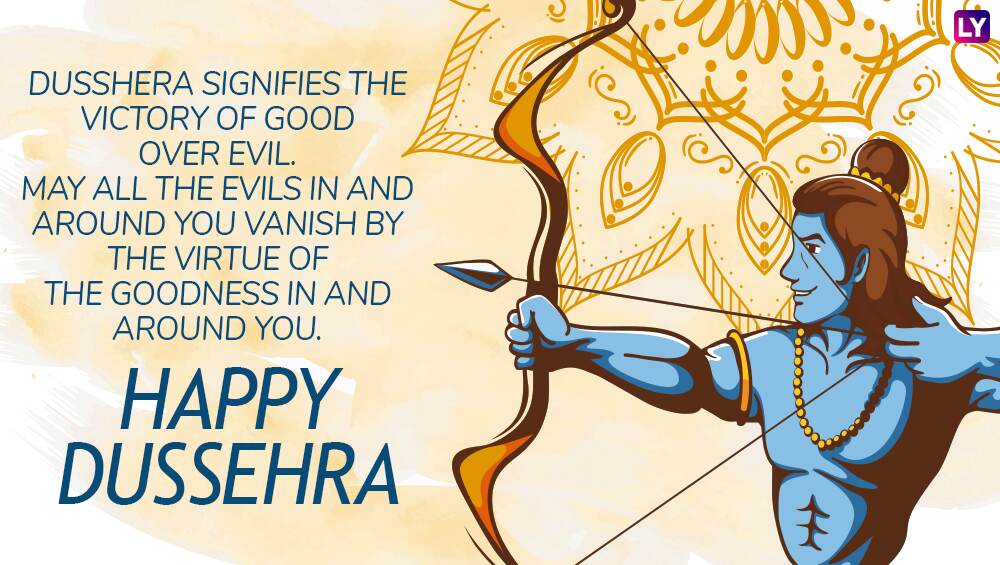 WhatsApp Message Reads: Dusshera Signifies the Victory of Good Over Evil. May All the Evils in and Around You Vanish by the Virtue of the Goodness in and Around You. Happy Dussehra  2018.
WhatsApp Message Reads: May Lord Rama Keep Lighting Your Path of Success and May You Achieve Victory in Every Phase of Life. Jay Shree Ram. Happy Dusshera 2018.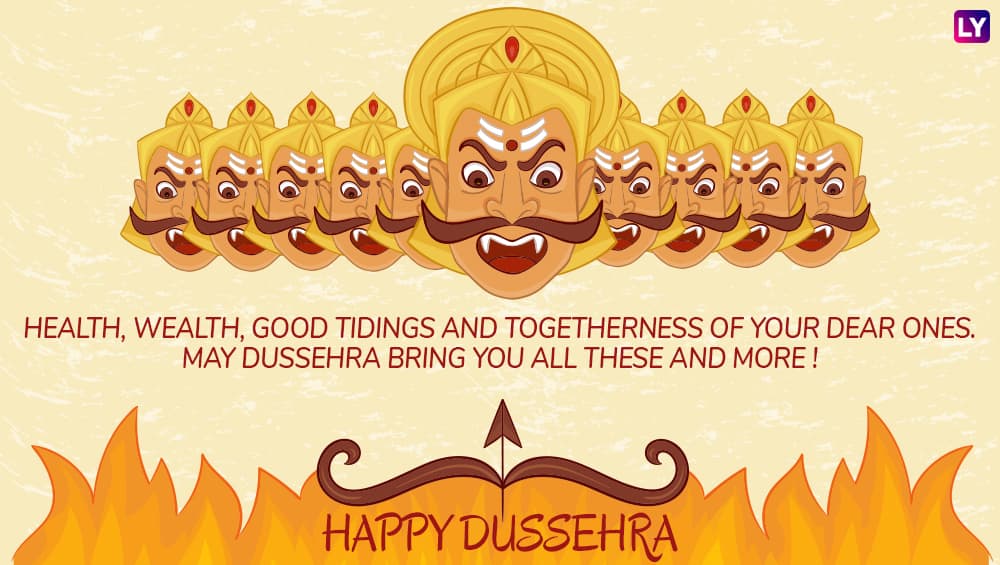 WhatsApp Message Reads: Health, Wealth, Good Tidings and Togetherness of Your Dear Ones. May Dussehra Bring You All These and More! Happy Dussehra 2018.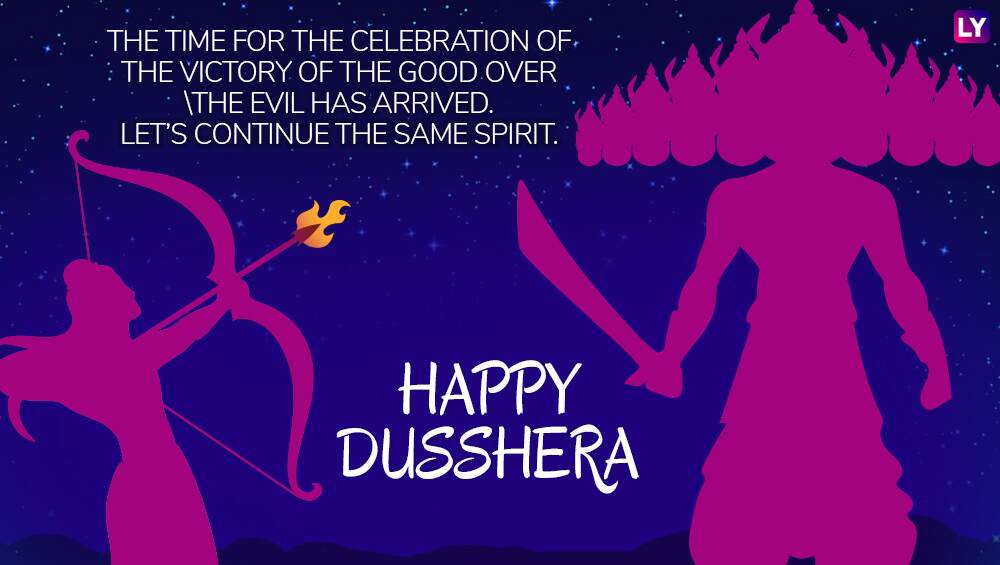 WhatsApp Message Reads: The Time for the Celebration of the Victory of the Good Over the Evil Has Arrived. Let's Continue the Same Spirit. Happy Dusshera 2018.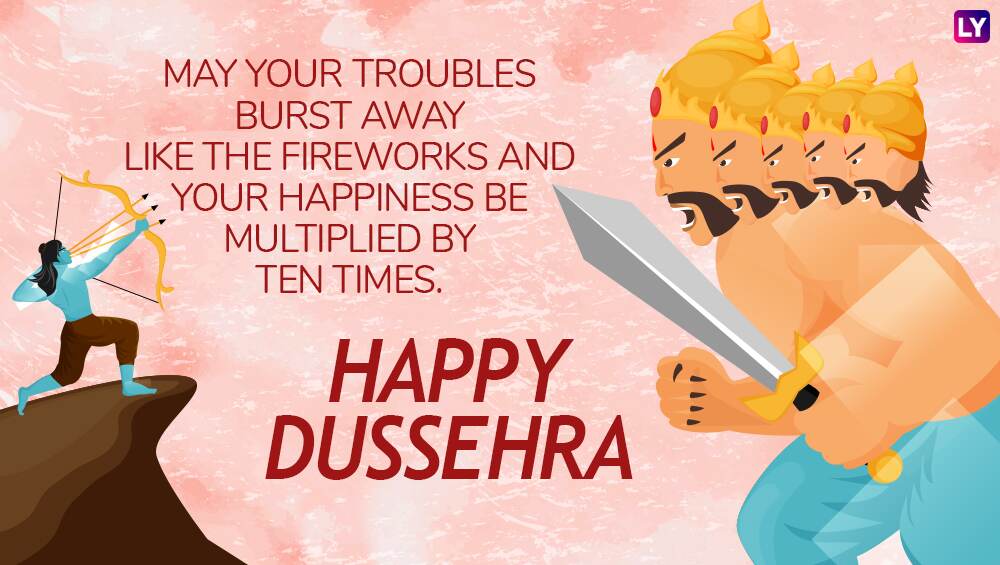 WhatsApp Message Reads: May Your Troubles Burst Away Like the Fireworks and Your Happiness Be Multiplied by Ten Times. Happy Dussehra 2018.
WhatsApp Message Reads: May Your Life Take a New Turn This Dussehra. Let Only Positive and Happy Thoughts Surround You and All Negative and Brooding Ones Burn Along With the Effigy of Ravana.
WhatsApp Message Reads: A Time for Celebration, a Time for Victory of Good Over Evil, a Time When World Sees an Example of the Power of Good. Let Us Continue the Same "True" spirit. Happy Dussehra!!
We have grown up hearing stories about Rama's triumph over Ravana in the battle of Good vs Evil. We all excitedly look forward to Dussehra and join in celebrations every year. However, this Dussehra 2018, let us celebrate the festival by burning down the negativities, be it personal traits or social evils. We wish all our readers a very Happy Dussehra 2018 and we hope the year brings to you all the happiness, prosperity and personal growth.