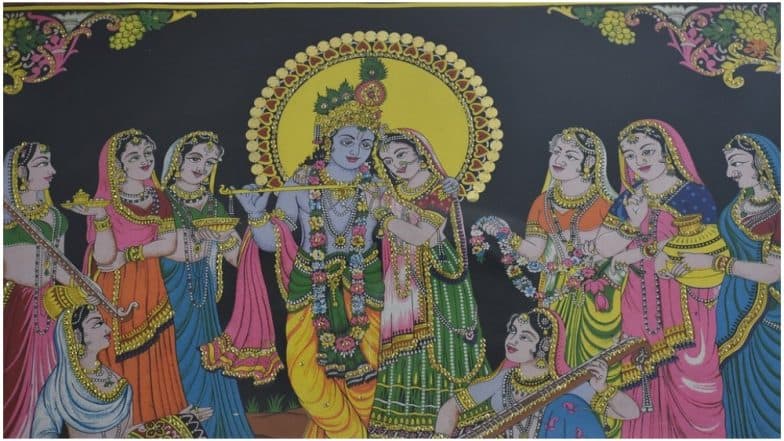 Diwali, the Hindu festival of lights is being celebrated with much joy and enthusiasm in the country. The main day of Diwali is followed by Govardhan Puja on November 8th this year. Goverdhan Puja, Annakut or Annakoot is a day celebrated after the main day of Diwali dedicated to Lord Krishna. Special prayers and feasts are organised in temples on this day. The temple town of Vrindavan in Uttar Pradesh witnesses large-scale celebrations and events including the reading of Hindu scriptures.
The day draws significance from the mountain Govardhan situated in Vrindavan. According to Hindu mythology, Lord Krishan lifted Govardhan hill to save villagers from mighty floods. The day is remembered of the time when Lord Krishna saved Virdhavan from Lord Indra's curse, according to Hindu mythologies. Devotees also refer to Govardhan Puja as Annakut Puja. Happy Dhanteras 2018 Wishes: WhatsApp Messages, GIF Images, SMS, Facebook Status & Cover Photos to Greet on This Auspicious Occasion.
Goverdhan Puja Significance
Food is an integral part of Govardhan Puja where devotees prepare 56 dishes, also known as Chappan Bhog. According to Hindu legends, farmers of Vridhavan had to offer lavish meals to Indra, God of Rain to bless them with good rain and harvest. Although the farmers were poor they did not have any other means and had to compulsorily make the offering. Lord Krishna found the practice very cruel and told farmers to stop offering lavish meals to Indra. He also promised them that he will take care of their needs.
Farmers agreed to the plan but Lord Indra was furious on seeing what Krishna made the farmers do. He then triggered heavy rains in Vrindavan leading to floods. The villagers ran to Krishna for help who told them to go to Govardhan hill. When people reached the top, he lifted the whole hill on his little finger. While storm and rains continued to raise water levels, Krishna held the people of Vrindavan on Govardhan hill for seven days. Finally, on the eighth day, the rains came to an end.
Govardhan Puja offering
View this post on Instagram
People then decided to offer Krishna food as he had eaten anything for the past seven days. As Krishna eats eight meals in a day, they decided to make it up for all of it. The food generally included in the Chappan Bhog are different types of dry fruits, sweets, drinks, rice, spices, milk products pickles, vegetables, fruits and namkeen.
Chappan Bhog is also offered to Lord Krishna on Janmashtami, which is believed to be his birthday. As the festival holds a special place in the hearts of people of Vrindavan they create small hills of cow dung and decorate it with flowers. They worship it representing and showing love towards Krishna who showed mercy on them.