Children's Day is celebrated with fun and frolic across India on November 14 every year. Children's Day, also known as Bal Diwas is observed in remembrance of India's first Prime Minister, Pandit Jawaharlal Nehru. This year, Children's Day 2019 festivities would commemorate Pandit Nehru's 130th birth anniversary. He was fondly called as 'Chacha Nehru' by kids. People share Children's Day or Bal Diwas 2019 greetings and wishes in Hindi on WhatsApp, Facebook, Instagram, Snapchat, Hike and other social messaging apps. It is nice to convey one's feelings to loved ones, to the loving kids, telling them how special they are and their importance. In this article, you will find a lovely collection of Happy Bal Diwas 2019 wishes, Happy Children's Day 2019 wishes, Children's Day greetings, Children's Day 2019 messages in Hindi, Children's Day WhatsApp Stickers, and more. Children's Day Images & HD Wallpapers For Free Download Online: Wish Happy Bal Diwas 2019 With WhatsApp Stickers and Hike GIF Greetings.
Individuals can also send Hindi Children's Day 2019 (Bal Diwas) greetings through WhatsApp messages, Facebook statuses, Instagram posts, Snapchat stories, Hike messages among other things to their kids, friends, family, relatives, and other peer members. Also, individuals can also send Bal Divas 2019 greetings in Hindi through text messages, picture messages, GIFs, and videos as well. (Yes, they are still in trend!) Recently, WhatsApp had launched a new feature on its app, i.e. 'Stickers', which is used comprehensively by people these days to convey their wishes.
If you are looking for new and latest 2019 Bal Divas wishes in Hindi, then your search should end here. We at LatestLY bring you some of the top 2019 Bal Divas messages and greetings which you can send to your loved ones and dear ones on this auspicious day of Children's Day 2019.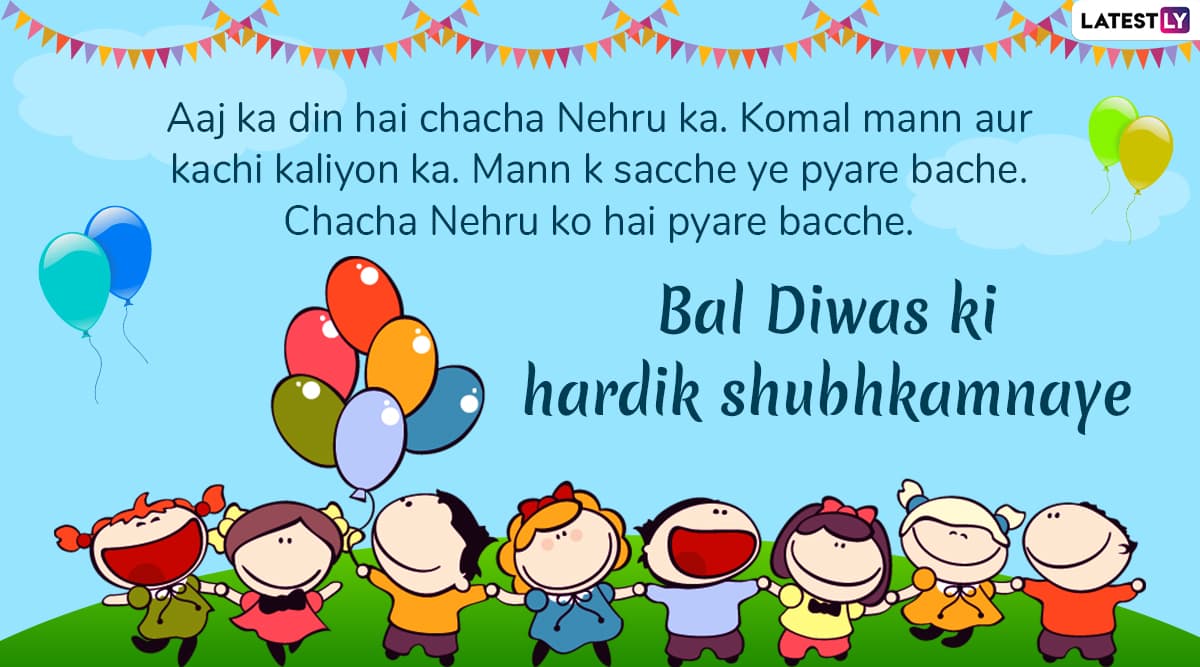 WhatsApp Message Reads: Aaj Ka Din Hai Chacha Nehru Ka. Komal Mann Aur Kachi Kaliyon Ka. Mann K Sacche Ye Pyare Bache. Chacha Nehru Ko Hai Pyare Bacchae. Bal Diwas Ki Hardik Shubhkamnaye.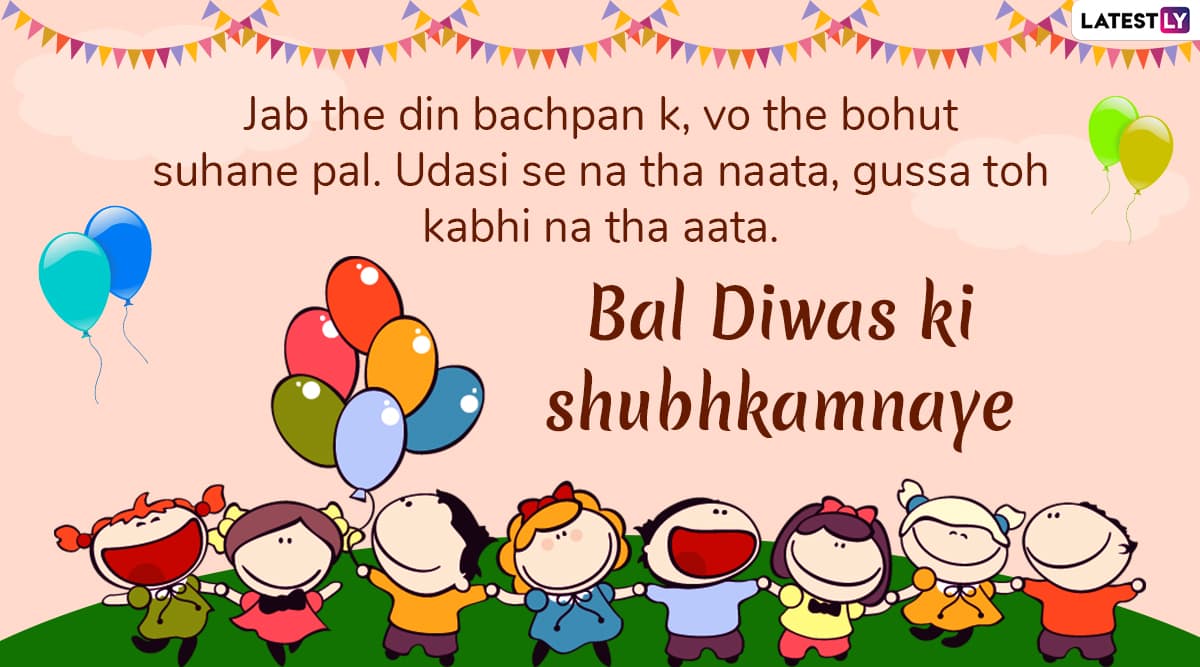 WhatsApp Message Reads: Jab the Din Bachpan K, Vo the Bohut Suhane Pal. Udasi Se Na tha Naata, Gussa Toh Kabhi Na Tha Aata. Bal Diwas Ki Shubhkamnaye.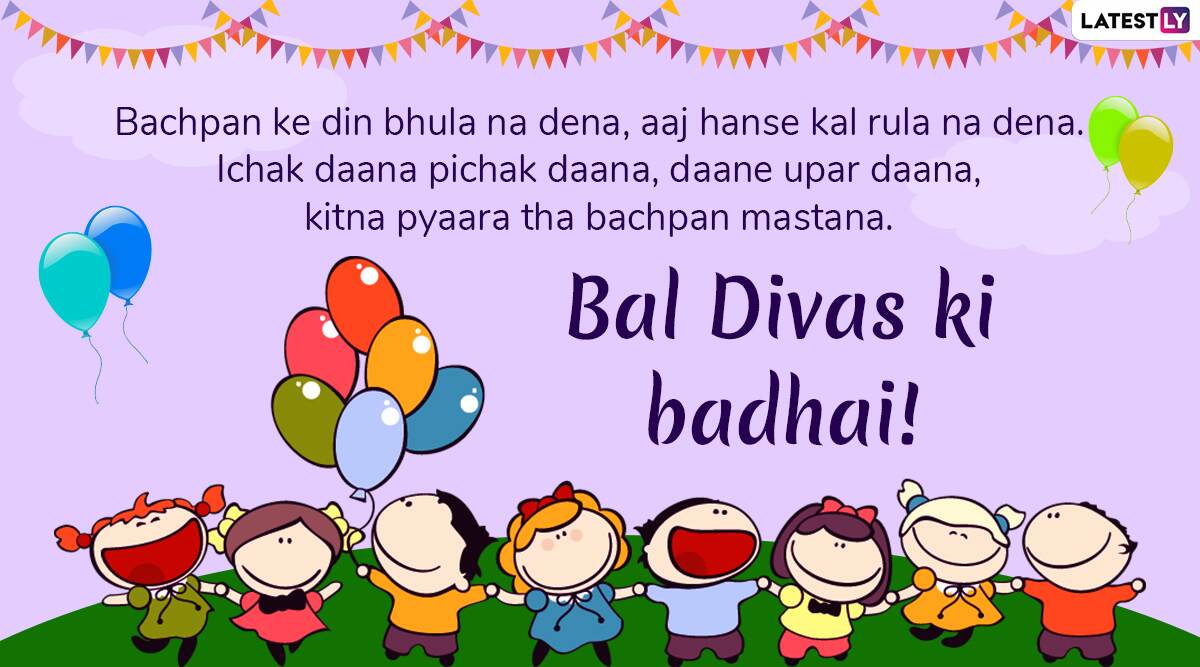 WhatsApp Message Reads: Bachpan Ke Din Bhula Na Dena, Aaj Hanse Kal Rula Na Dena. Ichak Daana Pichak Daana, Daane Upar Daana, Kitna Pyaara tha Bachpan Mastana. Bal Divas Ki Badhai!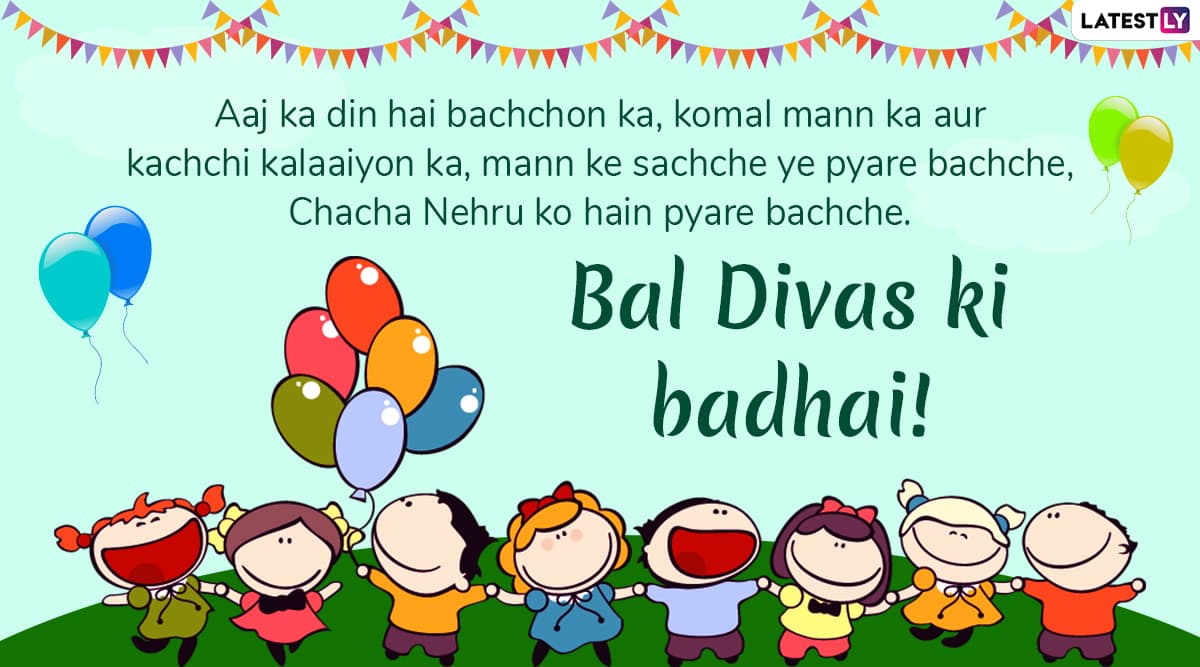 WhatsApp Message Reads: Aaj Ka Din Hai Bachchon Ka, Komal Mann Ka Aur Kachchi Kalaaiyon Ka, Mann Ke Sachche Ye Pyare Bachche, Chacha Nehru Ko Hain Pyare Bachche. Bal Divas Ki Badhai!
How To Children's Day 2019 WhatsApp Stickers Online?
Apart from above wishes and images, if you wish to send colourful WhatsApp Stickers and messages, then head to the Play Store app. You can download lovely Children's Day 2019 stickers for WhatsApp by clicking HERE.
Happy Children's Day 2019 Wishes: Messages, Quotes and Images to Send Greetings of Bal Divas
People not only send  Bal Diwas greetings but also organise programs, competitions, plays, and other co-curricular activities are organised for children at schools, colleges, and even housing societies. As the jubilatory day nears, we at LatestLY, wish you a very 'Happy Children's Day 2019!' Bal Diwas Ki Hardik Shubhkamnayen!