Happy Basant Panchami 2020 Wishes and Sarawati Puja Greetings in Hindi: The festival of Vasant Panchami is also known as Basant Panchami in several parts of India, which will be celebrated on both January 29 and 30 till as certain period as per shubh muhurat this year. The day witnesses worshipping of Goddess Saraswati, hence, the festival is also called Saraswati Puja. It is celebrated across India, with people of different communities be it Hindu, Sikh, or Jain. The occasion sees several wishes and greetings in different languages, especially Hindi, being shared amongst all. If you are searching for the best and amazing Hindi Vasant Panchami, or say Basant Panchami, messages, you have landed at the right article. We bring you a collection of Saraswati Puja 2020 wishes, Saraswati Puja messages in Hindi, Basant Panchami greetings, Happy Saraswati Puja WhatsApp Stickers and more.  Happy Basant Panchami 2020 Wishes and Saraswati Puja Greetings: WhatsApp Stickers, Messages, Images, Quotes and SMS to Send on the Festival Day.
On Basant Panchami, people chant special prayers to Goddess Saraswati and offer palms to the poor and needy. The festival is also known as the harvesting festival. The sport of kite-flying is quite synonymous with Vasant Panchami. People go hammer and tongs flying kites, singing folk songs, and dancing to ethnic tunes on this day. The atmosphere is quite amazing and full of life. The observance of Vasant Panchami also marks the countdown for Holi, which is celebrated 40 days after this festival. Saraswati Puja 2020 Wishes in Bengali: WhatsApp Stickers, Telegram Messages, GIFs and Greetings and SMS to Send on Basant Panchami.
People can send the latest Hindi Vasant Panchami wishes and greetings 2020 via WhatsApp messages, Instagram posts, Facebook statuses, Snapchat stories, Hike messages among other popular social messaging platforms. It is a nice gesture to reconnect with your family and friends on this day and send them positive vibes in the form of these fabulous festive greetings.
If you are looking for the best collection of Hindi Vasant Panchami wishes and greetings to send to your friends, family, relatives etc. you can find them here below. We at LatestLY bring you some of the top trending Basant Panchami 2020 messages in Hindi which you will love to share with your loved ones.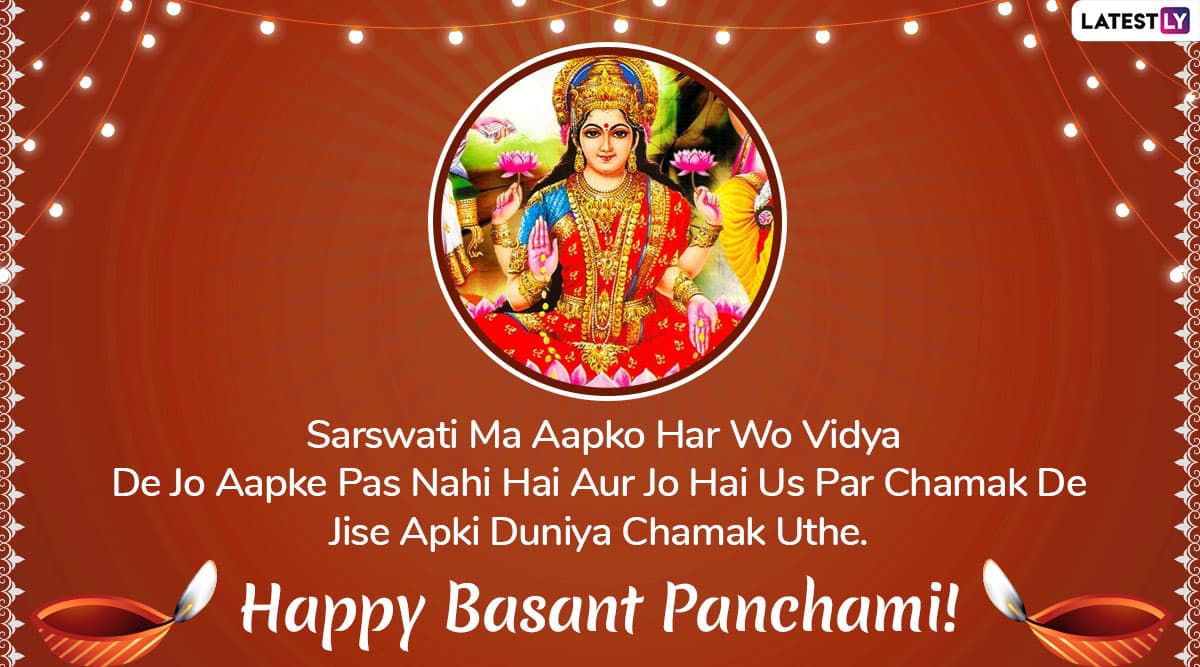 WhatsApp Message Reads: Sarswati Ma Aapko Har Wo Vidya De Jo Aapke Pas Nahi Hai Aur Jo Hai Us Par Chamak De Jise Apki Duniya Chamak Uthe. Happy Basant Panchami!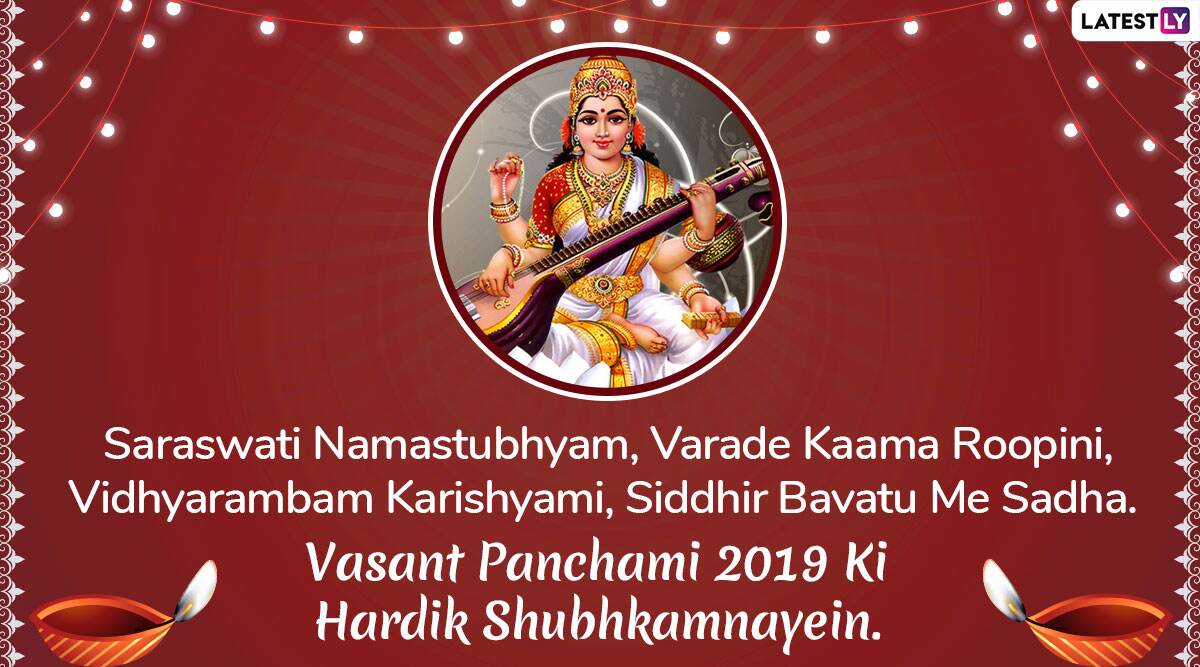 WhatsApp Message Reads: Saraswati Namastubhyam, Varade Kaama Roopini, Vidhyarambam Karishyami, Siddhir Bavatu Me Sadha. Vasant Panchami 2019 Ki Hardik Shubhkamnayein.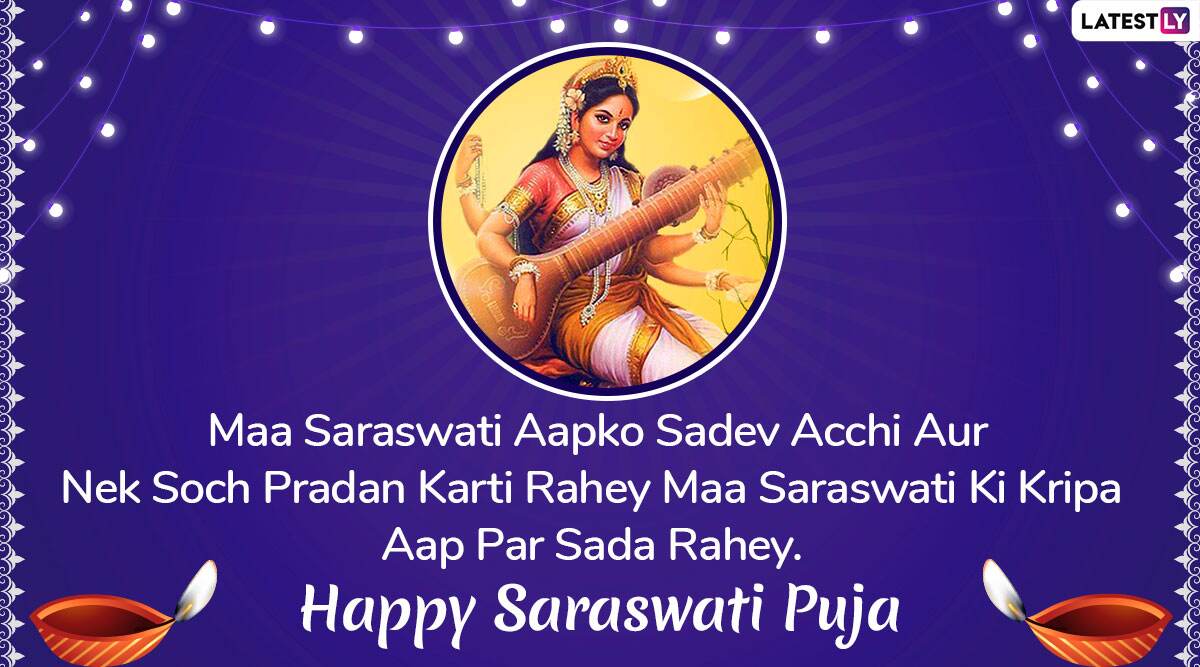 WhatsApp Message Reads: Maa Saraswati Aapko Sadev Acchi Aur Nek Soch Pradan Karti Rahey Maa Saraswati Ki Kripa Aap Par Sada Rahey. Happy Saraswati Puja.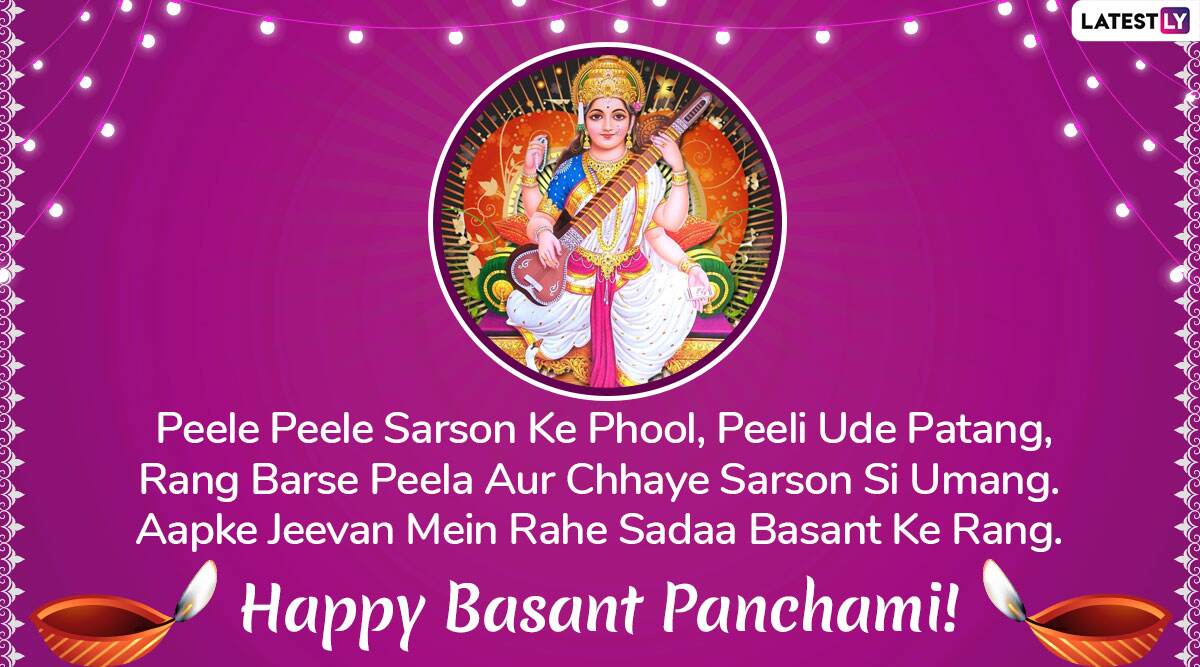 WhatsApp Message Reads: Peele Peele Sarson Ke Phool, Peeli Ude Patang, Rang Barse Peela Aur Chhaye Sarson Si Umang. Aapke Jeevan Mein Rahe Sadaa Basant Ke Rang. Happy Basant Panchami!
People observe Vasant Panchami with grand-scale celebrations and grandeur festivities. The festival is celebrated nationwide by different names by different communities. It marks the end of the winter solstice and the celebrations are all about welcoming the spring season.
How to Download Saraswati Puja WhatsApp Stickers Online?
Also, people can share the newest Basant Panchami messages in Hindi through text messages, HD pictures, SMSes, picture messages, GIFs, and even videos too. You can send across the Vasant Panchami greetings and wishes by downloading a variety of WhatsApp stickers and Hike stickers on your mobile phone too. HERE is the link to download from the Play Store app. We wish you a very Happy Saraswati Puja and Basant Panchami 2020.
(The above story first appeared on LatestLY on Jan 30, 2020 07:47 AM IST. For more news and updates on politics, world, sports, entertainment and lifestyle, log on to our website latestly.com).