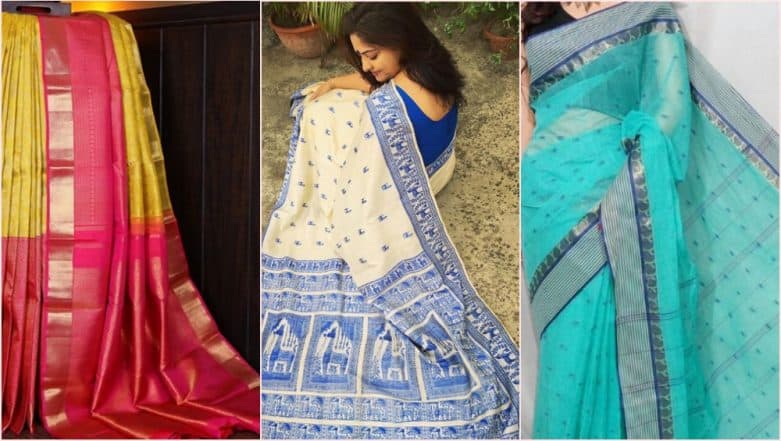 Every year, on August 7, Indians celebrate National Handloom Day. The reason August 7 was chosen, as it was the day when the Swadeshi Movement was started in 1905. Swadeshi Movement observed our rich indigenous fabrics, weavers and the country's artisans. Handlooms not only upheld the aesthetic and cultural pattern, but speak volumes of the labour that artisans put in, while making each one a stand-out choice. Each region has its own handloom techniques that are used to weave many unique fabrics. And sarees are a great example, showcasing it. From the northeastern states, popular Muga Silk to West Bengal's eccentric Tant, saree lovers must own these eight types of Indian Handloom Sarees. Date And Significance of the Day to Honour Handloom Weavers, Generate Awareness And Mark the 1905 Swadesh Movement. 
1. Tant Saree
View this post on Instagram
In extreme weather, all you need is a comfort, yet elegant cotton saree and Tant is the best choice to pick. The term "Tant" in Bengali means a handloom. Using the finest and light cotton threads, Tant sarees woven on a loom to produce soft and airy fabrics. The bottom designs of the sarees that are made of silk threaded work make them stand out and different from other cotton sarees.
2. Kantha Saree
View this post on Instagram
Odisha and West Bengal are the two states which are extremely popular to produce Kantha Saree. Kantha which means "stitch" is a beautiful embroidery technique that involves running the stitch throughout the saree. Themes of flowers, birds and even geometrical patterns giving it a unique touch and this is why at least a handful of Kantha sarees must be placed in your wardrobe.
3. Muga Silk Saree
View this post on Instagram
Muga Silk Saree is extremely popular, now across the world, after north-eastern states' variant handloom culture have been appreciated by top designers. And Muga Silk Saree is one of them. A dazzling traditional Mekhala Chador woven in Muga silk is native in Assam. The most significant pattern of Muga Silk, is its golden bright hue, because of which it is also known as Golden Silk. Muga in Assamese, means "yellow," and the fabric is superior in many aspects.
4. Kanjeevaram Saree
View this post on Instagram
Kanjeevaram Sarees, hailed from the town of Kanchipuram in Tamil Nadu, this fabric has earned an extraordinary status for their superior quality weaves. Rich and the most elegant pattern, Kanchipuram Sarees is another must-have for Indian women. Whether it is bridal wear or just a festive moment, Kanjeevaram Saree is just the right choice to pick on any occasion.
5. Baluchari Saree
View this post on Instagram
Baluchari Saree is another popular fabric from West Bengal that bong women love to drape in. The region of Murshidabad is the main centre for Baluchari sarees, which has a history of 500 years old. Magnificent right? And so is its design. This fabric mostly comes in bright colours and represent happiness. Bengalis mostly prefer to wear Baluchari saree in important events such as pujo, weddings, etc.
6. Paithani Sarees
View this post on Instagram
A hand-stitched silk saree from the town of Paithan, Aurangabad, is an effortless royal choice for every woman on any occasion. Popular for its series of effect with square oblique borders and distant colours across the length and breadth of the sarees, everything screams rich and grandeur.
These are the top six handloom sarees from across India, that a saree lover in you deserves to own. Besides, there are also Sambalpuri and Chikankari sarees that makes yet another elegant choice for regular events. Pick your favourite, drape them and add some light accessories to complement the color, you are amazingly great to stun the world with the graceful fabrics.