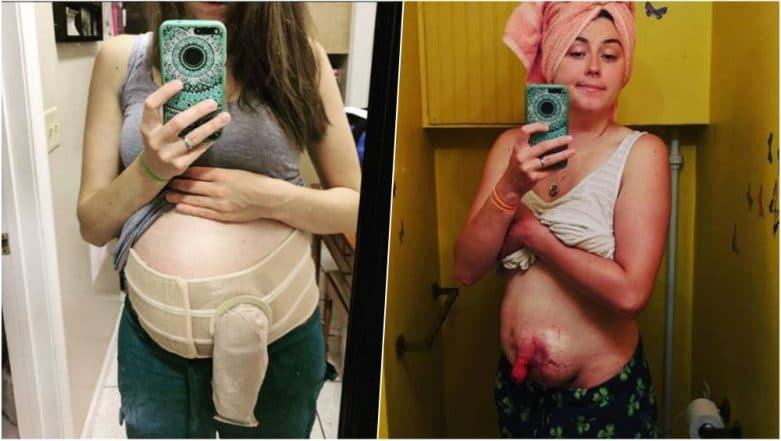 The Newhaven, Connecticut-based MRI technologist Sophie Green, 29, developed relentless rectal bleeding during her first pregnancy due to an inflammatory bowel disease, ulcerative colitis, that causes long-lasting inflammation and ulcers in the digestive tract. After the birth, doctors tried to suppress it with medication, but she was eventually forced to have her colon removed and have a stoma bag attached to hold her waste. But within two weeks of the operation, the opening in her stomach where the stoma bag was attached had gone purple. Tests revealed that she had contracted pyoderma gangrenosum, a condition that eats away at the surrounding skin.
The doctors eventually brought it under control but fell short of curing it. Sophie didn't let it get in her way and conceived once again with her husband Tim. Although the second pregnancy – constantly battling a flesh-eating infection was arduous, Sophie claims that it was all worth it as she shares her story in a bid to rally for more research into pregnancy and digestive conditions. Sophie had lived abdominal pain since she was 16. At 24, shortly after getting married to Tim Stevens, she was diagnosed with ulcerative colitis that caused diarrhoea, constipation, cramps and fatigue. But with a strict diet and oral steroids prescribed by the doctors kept the symptoms at bay.
Sophie with Stoma Bag During Her Second Pregnancy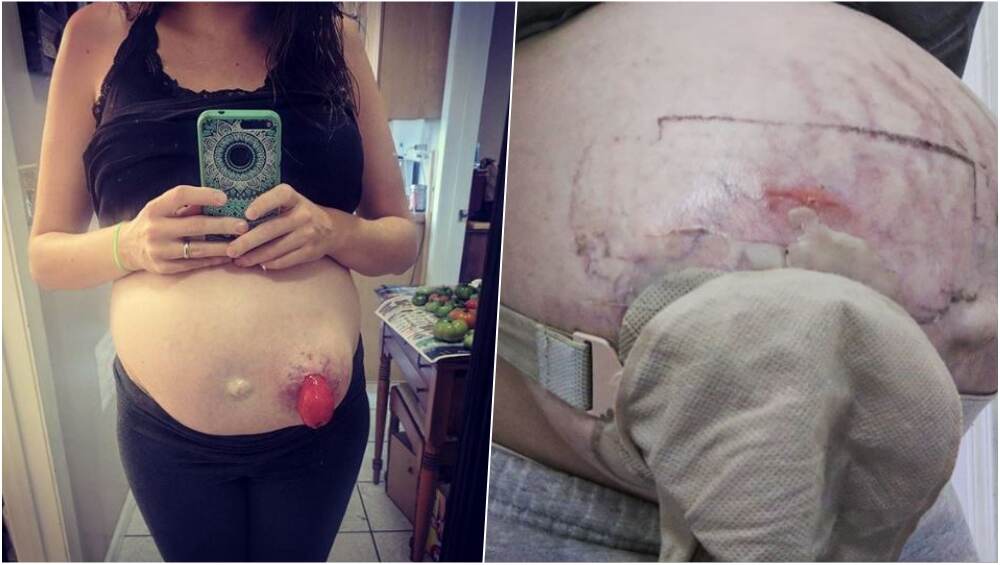 When she became pregnant with her first child in January 2014, all her digestive issues banished, and her pregnancy started great. "I felt amazing. I thought maybe pregnancy had cured me," Sophie says. But at 13 weeks that changed. She developed severe rectal bleeding which persisted for three months. Doctors placed her on steroids to stop her from losing worrying amounts of blood. In 2016, doctors said the only viable way to end her pain would be to perform a total colectomy to remove her entire colon and had a stoma bag attached to her intestines.
Sophie sensed an immediate relief and her pain was gone. However, a couple of weeks after her operation, nurses noticed an infection around the stoma where the skin had turned purple. After doctors checked it over, Sophie was diagnosed with pyoderma gangrenosum, an auto-immune disease that eats away at the affected area of skin and forms ulcers. Doctors tried to stop the disease from spreading with steroid injections allowing Sophie and her husband to try for their second baby.
In January 2018, Sophie gave birth to healthy son, but she struggled with her flesh-eating infection towards the end of the pregnancy. "My pyoderma gangrenosum was extremely painful towards the end of my second pregnancy. At 39 weeks we went in for an induction relieve the pressure off my skin as the ulcers were steadily getting worse," said Sophie. "I wish that I could say that after giving birth my skin cleared up like we all hoped, but it hasn't. It's gotten steadily worse. My body keeps tearing into itself with no though of stopping. Trying not to give into the general discomfort of pregnancy with the added pain of a wound on my belly was very difficult."
Sophie shared her journey on Instagram to reach out to other sufferers and to show the candid truths of having a stoma. "Stomas and pyoderma gangrenosum aren't understood by society very well. Pyoderma gangrenosum isn't a common condition and isn't very well understood even by the medical community," said Sophie. "My condition has made me appreciate life so much more. When you have bad days, you realise how good the good days really are."