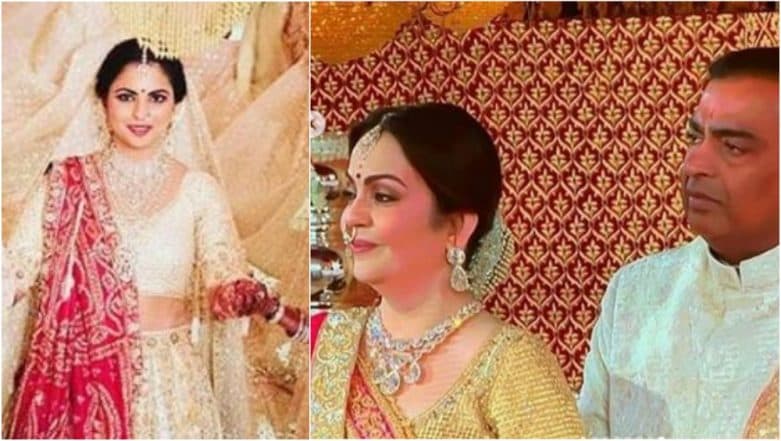 The big fat Indian wedding of Mukesh Ambani's daughter Isha Ambani and Anand Piramal took place on December 12 at Antillia, Ambani residence in Mumbai. Isha Ambani looked like an Indian princess as she adorned a golden lehenga with a red dupatta. During the marriage ceremony, Mukesh Ambani became emotional when the legendary actor Amitabh Bachchan recited how a father feels when he gives away his daughter. Marriages are especially soul-stirring for the bride's parents as they give the hand of their daughter to her husband and leaves the house and go. Like every other father at their daughter's wedding, Mukesh Ambani couldn't help but cry when the rituals were taking place. Isha Ambani and Anand Piramal Make for a Gorgeous Couple in These First Pictures From Their Wedding Ceremony.
In Hindu weddings, 'Kanyadaan' is an important ritual as the literal translation means – Kanya – maiden and Daan – donation. It means on her wedding day, the father of the bride presents his daughter's hand to the groom, entrusting him with her future well-being. The father also takes a solemn promise from the groom that he will keep his daughter happy. Reciting the meaning and feeling attached to the ritual at Isha and Anand's wedding, Amitabh Bachchan in his powerful voice explains how Mukesh Ambani as a father would be feeling. Watch emotional video, when Mukesh Ambani got sentimental at Isha's wedding. Anant And Akash Ambani Riding Horses At Isha And Anand Piramal's Wedding Ceremony Oozes Royalty (View Pics of Ambani Brothers From Antilia).
Emotional Video of Mukesh Ambani Crying at Isha's Wedding Ceremony
View this post on Instagram
Amitabh Bachchan says, "It is an extremely emotional moment when the father of the bride hands her over to the groom to nurture and be nurtured for life. It also marks the goodwill he creates to the groom's family." To make the occasion special for Ambani's and Piramal's, the guest list included B-town biggies, politicians like Mamata Banerjee and Pranab Mukherjee and industrialists. The wedding ceremony is indeed an emotional moment for everyone. Watching Mukesh Ambani crying at his daughter's wedding is one of the most emotional video we have seen today.