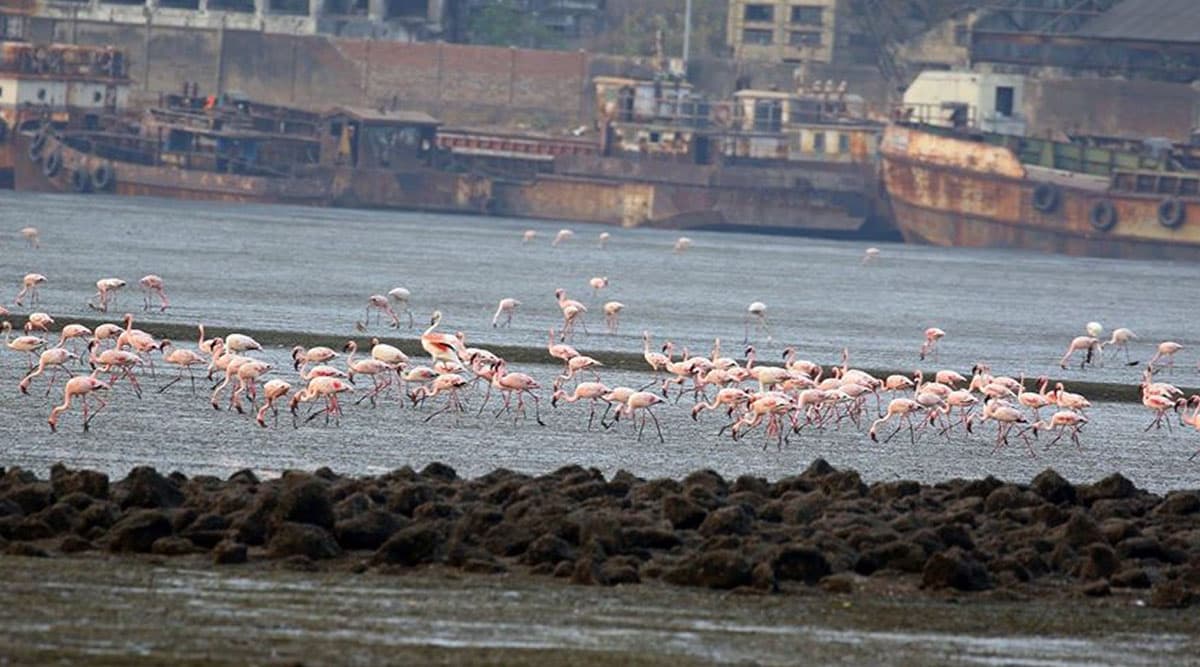 The city of Mumbai is currently experiencing pleasant weather with dipping temperatures. From the start of the year 2020, the city is turning a little colder and with winter, the city sees the arrival of migratory flamingo birds. This year too, the pink-feathered birds have arrived in the city's marshy regions and one can go bird spotting to see a lot of them at once. The Brihanmumbai Municipal Corporation has shared a picture of these Flamingos, informing citizens that the migratory guests have arrived. If you too want to see these beautiful birds and observe a bit of their habitat we tell you some spots where you can see them. A picture of the flock of Flamingos flying captured by a photographer has been shared by BMC this morning.
Flamingos are tall birds, which have long, graceful necks, large wings and short tails. They are about 90 to 150 cm (3 to 5 feet) tall. When they fly they leave a beautiful sight with their pink feathers, rosy appearance wading through the skies. It is an even delightful sight if they hunt for a fish from the waters. Flamingo Walks on Runway Slowing Down an Airplane at Spanish Island; Funny Video Goes Viral.
Here's a Picture of Flamingos Spotted in Mumbai:
FEATHER UPDATE! Make way for the Flamingoes! Every winter our pink-feathered friends migrate down to the marshlands of Mumbai. Indeed a spectacle for the bird enthusiasts. Thank you, Reflection thru my lenses & Vidyasagar Hariharan for this beauty.#MyBeautifulMumbaiClicked https://t.co/MYL75RSfVz pic.twitter.com/XPDccykCMH

— माझी Mumbai, आपली BMC (@mybmc) January 4, 2020
Places to See Flamingos in Mumbai
Thane Creek
One can spot over thousands of flamingos at this creek in Thane. There is a Coastal Marine Biodiversity Centre in Airoli near Thane where visitors can book Flamingo watching tours. They can take you within the mangrove stretch from where you can enjoy the birds closely.
Sewri Jetty
Another popular spot for flamingo spottings in Mumbai is the Sewri Jetty. The flamingos can be seen here in plenty of numbers. The birds are here till the arrival of the rainy season so you can definitely catch the sight of them. Sewri area is the easiest way to spot them in the city. Here also there are several Flamingo sighting tours which will take you a little inside into the marshy regions to watch closely.
The best time to enjoy the spectacle of these beautiful pink-feathered birds is to head out early in the morning. Carry binoculars and long camera lenses so that you can see even the farthest of birds closely and get nice pictures.