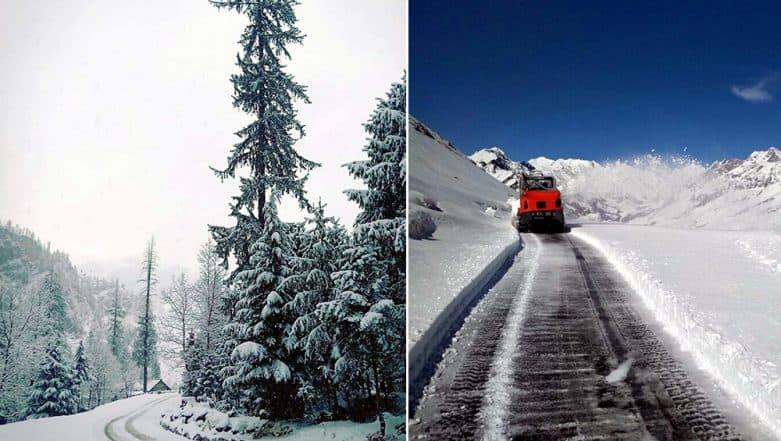 Snow has laid a white carpet in the northern states of India including Himachal Pradesh, Jammu and Kashmir and parts of Uttarakhand. The iconic Dal Lake in Srinagar has frozen as the temperatures have dropped below average. While today it was sunny in most parts of Himachal Pradesh, Shimla experienced cold waves at 1.8 degrees Celsius, the season's lowest. Tourists are flooding the picturesque locations as snow continues to shower on the hills. The world famous lake was partially frozen last week as Srinagar recorded the season's coldest night on Sunday at minus 5.6 degrees Celsius.
The Lake was earlier completely frozen in 1965 when a Jeep crossed the ice from one end to another. In 1986 too, the lake drew a lot of attraction when it flooded completely. Locals and tourists even played cricket and ice hockey on the surface. Record-breaking cold weather hit Kashmir painting the valley in white. Mercury went done considerably in Leh located in Ladakh. As cold wave conditions prevailed in the Ladakh region, a 40-day harsh winter period locally called Chillai-Kalan began on Friday. Snowfall in Himachal Pradesh Photos: Winter in Himalayan Shanag Village and Spectacular Images of Snow-Capped Mountains.
Check out pictures of the beautiful snow laden roads in Manali
Roads to the Himalayas!
View this post on Instagram
Dal Lake beginning to freeze
View this post on Instagram
A frozen Dal Lake
View this post on Instagram
A normal snowy day in Jammu and Kashmir
View this post on Instagram
Bus ride after a fresh snowfall
View this post on Instagram
Serenity
View this post on Instagram
When the sun shines in Kashmir
View this post on Instagram
According to the Met office's forecast, long sunny yet chilly days are in store for Shimla. Places like Narkanda, Kufri, Dharamsala, Palampur, Manali and Dalhousie are also experiencing sunny weather. Meanwhile, Manali and Shimla's Ridge are wrapped in snow. People celebrating holidays have already arrived in these regions with upcoming Christmas.