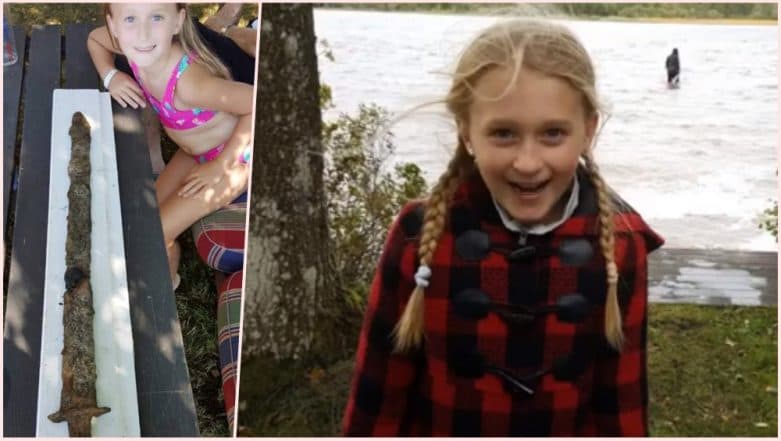 Recently, a young girl in Sweden was appearing in the headlines after she found a sword when swimming in a lake. The experts later announced it to be about 1,500 years old! The 8-year-old girl Saga Vanecek, pulled the 33-inch sword, held it up in the air and was dubbed as the 'Queen of Sweden'. Vanecek found one of its kind swords on July 15 while playing in Vidostern lake in southern Sweden, but she became the talk globally, in recent times. Well, the little girl reflected her story in an "Experience" column for The Guardian. 1,300-Year-Old Mysterious Texts of 'Love Spell' on Ancient Egyptian Papyrus Decoded by French Lecturer. 
Vanecek told in the column, that it began because her father asked her to put a float in the lake near the cabin where they vacationed in the summer. He asked her to be quick so that he could watch soccer. She recalled, "Daddy told me to get a buoy from the cabin: he said the water level in the lake was very shallow and we had to warn any boats that might come along because it was dangerous. He said it had been the hottest summer for 260 years.I waded into the water and it was very soft on my skin and refreshing, a little bit cool but not too cold. It was a nice feeling because the sun was shining and I was very hot. Daddy was begging me to rush so he could watch the World Cup final, but I like to take my time about things so I ignored him." 50,000-Year-Old Mummified Ice Age Wolf Pup & Caribou Calf Discovered by Yukon Miners. 
Soon, she found the sword, she was naturally happy and felt like a 'warrior'. At first, she did not want to give it to anyone. But like a good girl, Vanecek knew that it would be best to share the gift that she had found with others. The archaeologists were called, and they began to search for other artefacts in the lake. They discovered a brooch and an 18-century coin. "I had to give the sword to the local museum – Daddy explained that it's part of history and important to share it with others. I felt "boo" that it's gone away, but "yay" that other people will get to see it. I'm going to try to raise some money to make a replica sword that I can keep," said the 8-year-old.
The sword will soon be on display for all to see. And Vanecek does not really feel like the Queen, and that is fine with her, because she is only eight. "I am not a lady – I'm only eight – but it's true I found a sword in the lake. I wouldn't mind being queen for a day, but when I grow up I want to be a vet. Or an actor in Paris," Vanecek said further.