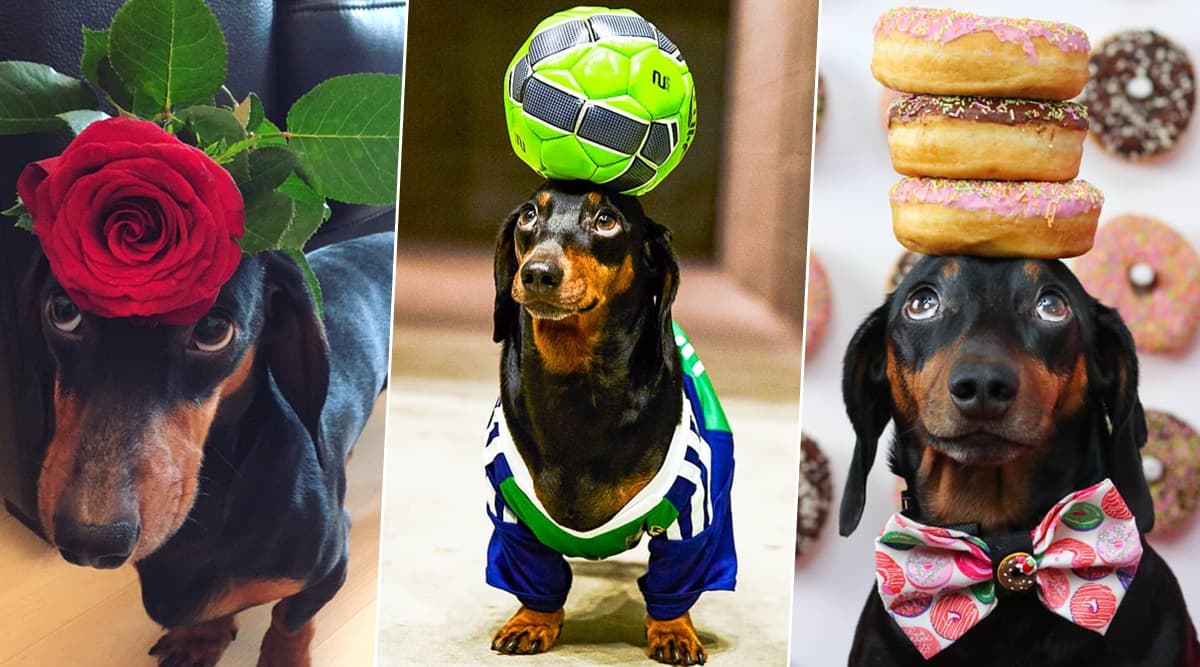 Nobody can ignore an adorable dog and especially when it can balance objects on his head. Harlso's Instagram account (harlso_the_balancing_hound) is full of pictures where he can be seen perfectly balancing things on his head; quite a talent, right? Harlso the Dachshund has become so popular for his unique talent that he appeared on This Morning where he entertained viewers by balancing an array of objects on his head. Harlso's human, Paul Lavery was surprised when he discovered that his pet could balance things on his head without dropping. He discovered about his talent after jokingly placing a toy on his head only too see him holding it perfectly. Paul rightly calls Harlso's rare skill as a "hidden talent". BTS Member V's Adorable Dog Video Has Left All Fans Going Awww... Watch Cute Video of Tannie.
With colourful bowties and innocent eyes, going through pictures of this dog will simply melt your heart. (BTW, he has 300 bowties!) He has balanced a globe, a glass of water, doughnuts, toys, a slice of pizza, macaroons, corn, flowers and many other things. French Bulldog Looks a Little Too Adorable Dressed As 'Chucky' (Watch Viral Video)
Pictures of Harlso Balancing Objects On His Head:
View this post on Instagram
A Cactus!
View this post on Instagram
A Stack of Doughnuts!
View this post on Instagram
So Adorable!
View this post on Instagram
Now, That's Real Talent!
View this post on Instagram
Even If It's A Vegetable:
View this post on Instagram
The Best Way to Give Someone a Rose!
View this post on Instagram
Then they started creating multiple social media handles for their dog and it quickly garnered the internet's attention. Pictures also show Harlso balancing  Toblerone, eggplant and even a slice of watermelon! For his unique talent, Harlso won a 2019 Webby Award and also entered the Guinness World Records' for 'Amazing Animals'. The dog also won Northern Ireland's Social Media Personality of the Year – where he competed humans.
Talking about his dog, Paul told Fox News, "We got him five years ago and we just fell in love with him at first sight and brought him home. For us, we didn't know he knew any tricks, we tried teaching him to sit, lie down, roll over and he wasn't interested." Harlso lives with Paul Lavery and his partner Jen Scott in Belfast, Ireland. He added, "When he was about two years old I sat a chicken toy on his head and he just sat there looking at it really still. I called Jen down and said, 'Jen! Harlso has a hidden talent!'"