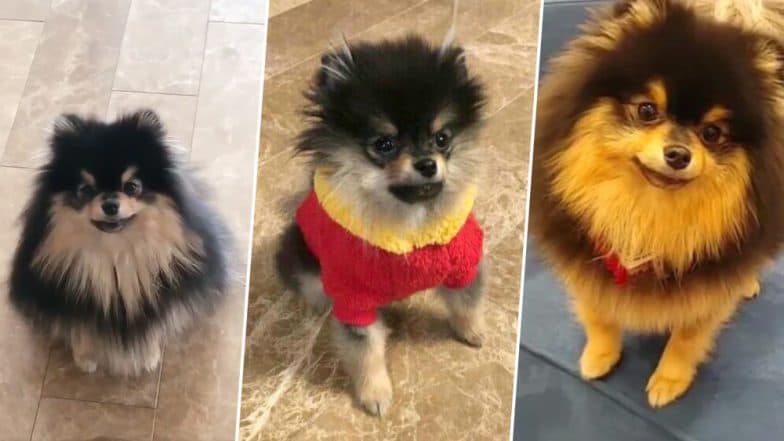 BTS or the Bangtan Boys, a popular South Korean boy band has garnered enough fan following around the world. But other than admiring the seven boys, fans have found a new adoration. A new video of BTS member V's dog was shared on social media and since then fans can't help but be swooned over by the black Pomeranian pup. Yeontan who is more commonly known by its nickname Tannie has garnered too many fans in just a day. V himself posted a video of Tannie on his twitter account showing some of his skills and it is going viral. Grammys 2019 BTS: K-Pop Band In Matching Suits Is Going Viral For Their Entertaining Videos From The Award Show.
Well, dog videos always have an audience. Any dog whatever it does, if it obeys its master or not is still adorable. But Tannie is a good boy and in the video, he can be seen obeying all the commands of V. It is indeed an adorable dog with a very nice fur and it looks like its smiling too. This video has made it probably the most popular dog on Twitter within a day. In fact, it actually became a worldwide trend on the platform. Meet Remus, a Dog Which Responds to Harry Potter Spells! Watch Cute Video.
Check Video of BTS Member V's Yannie Posted on Twitter
엄마표 샌드위치에 제정신아닌 탄 pic.twitter.com/WyH56sO4T3

— 방탄소년단 (@BTS_twt) February 26, 2019
The boop on the nose or the handshake, Tannie is indeed adorable right? The video has got over a million likes and over 3 lakh retweets. Tannie instantly became a favourite pupper for people on the internet. Fans were also sharing other cute pictures and videos of Tannie.
Cutest puppy with the sweetest dad #Tannie #Taehyung @BTS_twt pic.twitter.com/ZQ6jlst4U0

— #TaeOurHappyPill 💜 (@KTHdatabase) February 26, 2019
Well, we too cannot help but swoon over this furry baby. Tannie has been a part of the BTS family since December 2017 but with this video, he has indeed become a worldwide sensation.