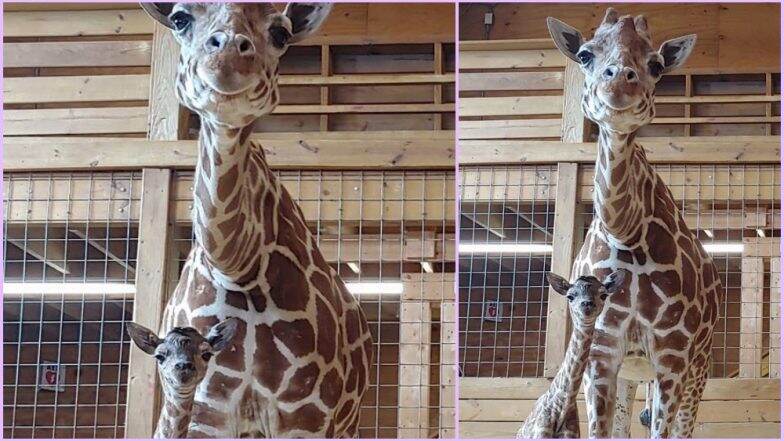 Internet's beloved April the Giraffe gave birth to her fifth calf, a boy on March 16 as the entire world tuned in to watch live streaming of the miraculous moment. April gave birth to the baby boy, who is yet to be named at the Animal Adventure Park in Harpursville, New York. According to the wildlife, more than 3 lakhs viewers watched as April gave birth and stayed on to watch the newborn get on its feet and nurse. The Adventure Park's YouTube channel is still running the live streaming for April's humongous fans to continue watching the beautiful nurture and bond of the duo. World's Tallest Animal Subspecies Nubian & Kordofan Giraffes Now in 'Critically Endangered' List. 
The baby arrived less than two hours after the zookeepers announced through Facebook that April was in labour. A naming contest for the new calf will be organised soon. April's fans will be able to see the little one face to face when the Animal Adventure Park will open for the season on May 1, 2019.
Welcome to the World Baby Boy!
Watch the Live Streaming Here
April drew more than 232 million YouTube live views during seven weeks in 2017 before she gave birth to Tajiri. Zoo officials reported that big brother Tajiri is also on his way to start a family of his own. The park welcomed an adult female giraffe, named Johari in January.