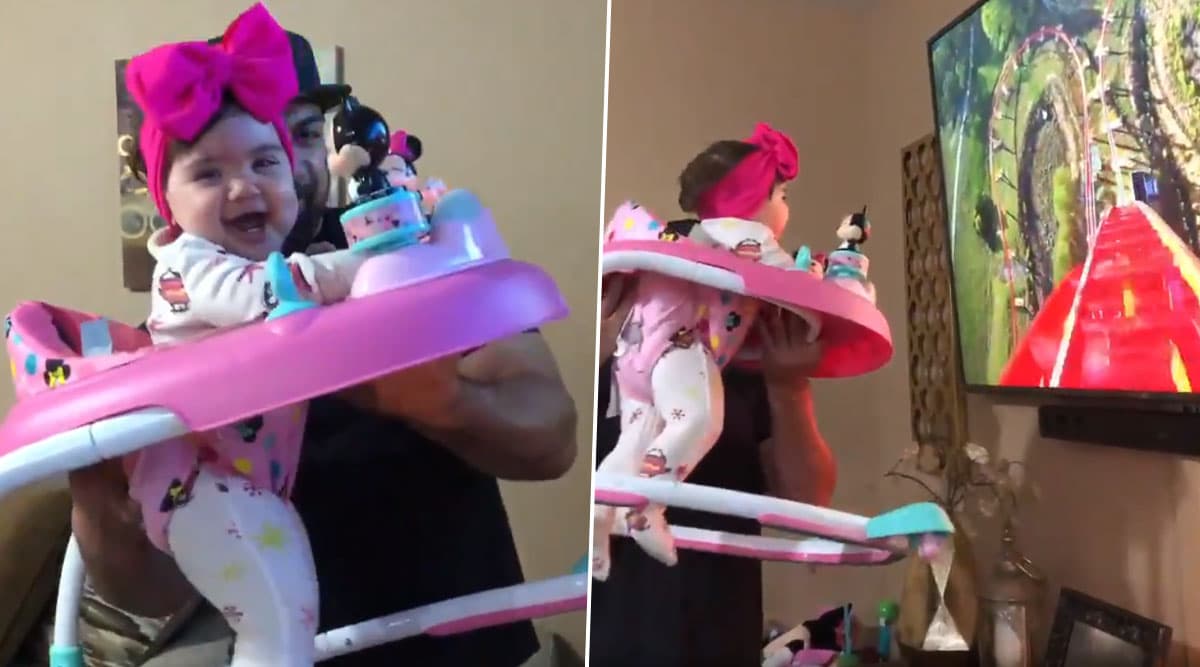 Leave babies with their daddies and they are sure to have the most adventurous times of their life. Kids start feeling they can do the most impossible thing when with their fathers. From flying to jumping, videos of babies and dads having the time of their lives have gone viral multiple times in the past. Recently, a similar video of a baby girl going around on a 'virtual' roller coaster had gone viral on social media platforms. We are not sure if the baby knows it's a fake roller coaster or thinks she is actually going up and down the ride. Son Gives Mr Bean Cut-Out To Father as Christmas Gift, He Now Scares His Wife With It (View Funny Pics)
A Twitter user shared the video with the caption, "When your not old enough to get on a roller coaster." The baby girl can be seen giggling continuously as if roller coasters are her favourites. And as the video went viral, Twitter users said that he should receive the 'Best Dad' award. Father And Toddler's Gibberish Conversation Goes Viral; Social Media is Watching the 'Funny' Video on Loop.
Father Takes Daughter on a Fake Roller Coaster Ride:
When your not old enough to get on a roller coaster 🎢👨‍👧💓 pic.twitter.com/NO4p3Wj7xJ

— NancyGza (@glamourbynancy) January 19, 2020
In the clip, baby Nicole is seen kicking her legs in the air inside the walker. Her father is holding her in front of a huge television screen which has a roller-caster path on it. He shakes her walker making her feel she is on the walker. Her laugh and smile are enough to explain her excitement. As the video was shared widely, people commented on the clip saying how they have attempted similar things with their children. Some of them also posted video clips of funny things they attempted with their babies.