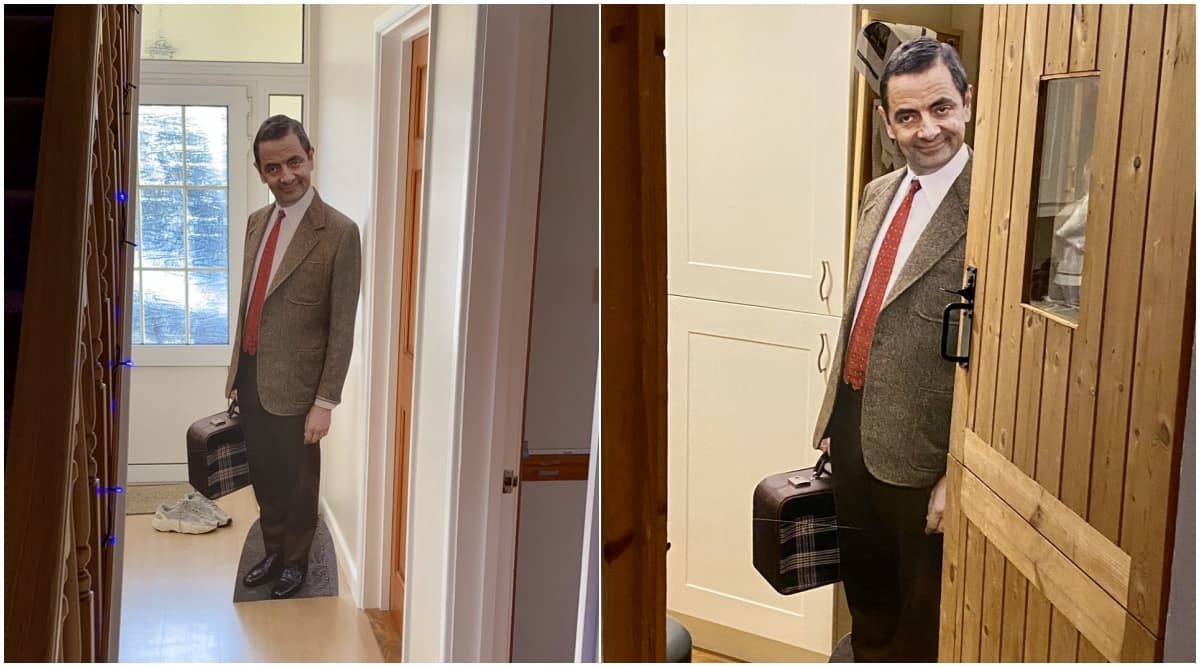 Christmas 2019 may have passed but the festive cheer is still on. The festival of Christmas is a time for family bonding and bringing in lovely presents for one another. But a son's choice of gift for his father, is turning out to be trouble for his mom. Twitter user Harry decided to get innovative with his gift and brought in a big cut out of Mr Bean. His father has really loved it and now uses it to scare his wife, by placing the cut-out in different places in his house. Harry has taken pictures of the cut-out which his dad placed at different spots and uploaded them on Twitter. Netizens are in love with it and the tweet is now going viral. Post-Christmas Day 2019: People Take to Twitter to Share Christmas Box Gifts They Recieved As Holiday Cheers, View Pics.
We all love watching Mr Bean, his unusual wit and the way he does his daily tasks. Actor Rowan Atkinson has created a lasting impression of this character who gives such varied expressions. But watching at a huge cut-out of him standing in the middle of the house or in the corridor can get freaky. So when a father got it as a Christmas gift, he decided to mess up with his wife.
Check Pics of Mr Bean Cut Out as Christmas Gift:
Gave my Dad Mr Bean cut out for Christmas and he's been moving it around the house to scare my Mum pic.twitter.com/lV1hznf4L8

— Harry (@wroetoshaw) December 25, 2019
People love such quirky things and this tweet has got all the love, with over 5 lakh likes and 87,000 retweets! Check some of the reactions of netizens.
What a Legend
Legend

— bwiskeb (@payetthesnake) December 25, 2019
Ur dad is a LEGEND

— Ahmed ✨Stream Paintings Freestyle ✨ (@minters_mash) December 25, 2019
Mr Bean Approves
— Scott Cooper (@scotty8692) December 25, 2019
Put in The Wardrobe Next
put it in the wardrobe she'll love that

— chloe (@cdrawsthings) December 25, 2019
Or Next to Her in Bed?
I beg he wakes up early tomorrow and replaces his place on the bed with him

— Ahmed ✨Stream Paintings Freestyle ✨ (@minters_mash) December 25, 2019
What a Smart Move
thats so smart

— 𝘾𝙝𝙚𝙡𝙨 🍯STREAM MERRY MERRY CHRISTMAS (@w2sxix) December 25, 2019
Haha! It is so funny, right? In the comments, some others mentioned that they have done it with other cut-outs. We are sure the mum would be irritated more than scared of this silliness.