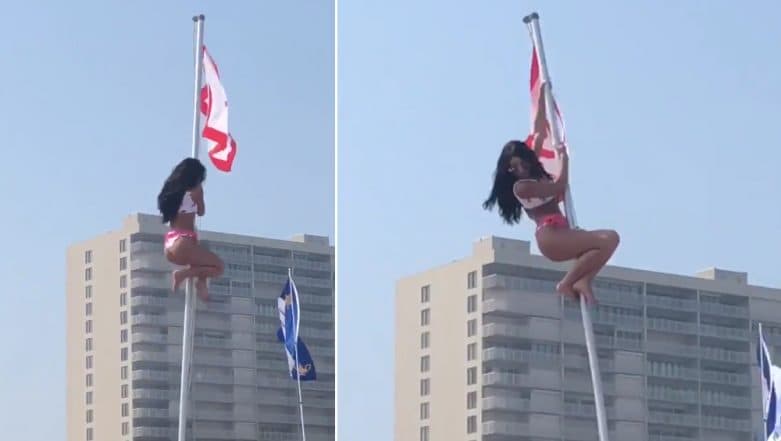 Hundreds of students had gathered together in South Padre Island, Texas celebrating their spring break, when one of them met with an accident. Celebrations went terribly wrong as a female college student climbed up a metal pole in a bikini. A video going viral on social media shows the woman pushing herself up the flagpole with her bare hands as the crowd cheers. People can be seen capturing her stunt on phone cameras as she continues to go up the pole. In between, she can be seen looking at the crowd, swinging on it.
However, the fun moment did not last long; as soon as she climbed a little towards the tapering end of the pole, it toppled over and she fell down. People can be seen exclaiming in shock on seeing the sudden fall. Reportedly, it was a strong gust of wind that made the pole swing wildly and coupled by her weight it came to the ground. She escaped without any serious injuries and is doing fine. The video went viral on social media with people expressing their shocking on seeing her fall to the ground. American Grandmother Posing on Iceberg Tossed by The Wind to Sea; Her 'Misadventure' Pictures Go Viral.
Watch the video here:
SHE NEEDS SOME MILK pic.twitter.com/9EZgTS3Kp3

— keegan burkhardt (@keeegan99) March 17, 2019
Another video of the same incident:
saw this from a different angle on snap and I was shook pic.twitter.com/bT1jFYNtwZ

— suwop 💎 (@Itssarahh_24) March 18, 2019
Back on her feet!
Update: she survived.. she said the sand was not as soft as what she thought it would be and her back hurts really bad LOL pic.twitter.com/symynCtywv

— keegan burkhardt (@keeegan99) March 17, 2019
We are pretty sure she is going to stay away from poles for a long time or think a thousand times before climbing one. We hope she recovers completely soon! Meanwhile, South Padre Island Spring Break is quite popular where thousands of college students arrive for their vacations. World popular artists perform at the beach party which is completely devoted to merrymaking.