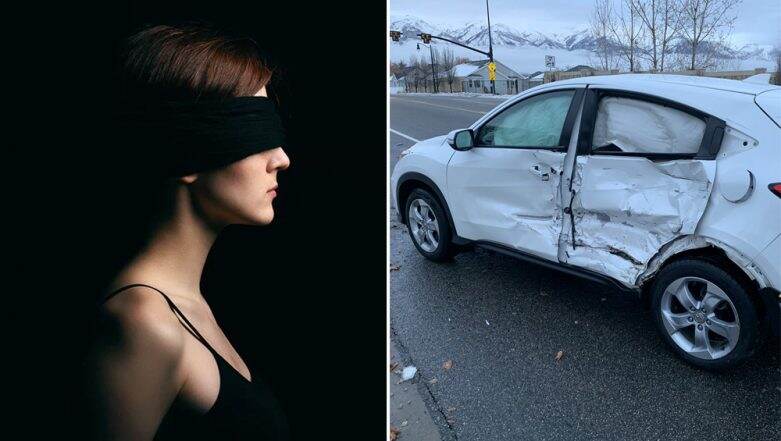 Pop culture can leave a big influence on the viewers and most of it is not healthy. Inspired by the Netflix movie Bird Box, a new social media challenge is being done by the netizens, which means performing certain tasks while you are blindfolded. The dangerous challenge has now reported its first accident, with a teenager in Utah crashing her car while she was doing the Bird Box challenge. The 17-year-old girl was accompanied by her friend, while they were driving on the streets and bumped into a pickup truck. Although there were no injuries, the cars have been damaged. The Layton Police Department has urged the people not to follow this crazy challenge. Netflix Warns Viewers Against Viral #BirdBoxChallenge; Urges People Not to 'End Up Hospital Due to Memes'.
The Layton Police Department tweeted the pictures of the cars that were involved in the crash. The smaller car, which was driven by the teenagers has its one side entirely crushed. It is a matter of luck, that there were no serious injuries. "It's just inexcusable to do something as dangerous as this, not only to yourself but everyone else on the road," police Travis Lyman was quoted to a news report. Hilarious Bird Box Memes Go Viral Even As Netflix Scrambles to Stop The Dangerous #BirdBoxChallenge.
Watch Pictures of Car Crash Accident by Teenager Doing the Bird Box Challenge
Bird Box Challenge while driving...predictable result. This happened on Monday as a result of the driver covering her eyes while driving on Layton Parkway. Luckily no injuries. pic.twitter.com/4DvYzrmDA2

— Layton Police (@laytonpolice) January 11, 2019
The film Bird Box has Sandra Bullock in the lead role. The plot shows the family along with the mother and children tying a blindfold to avoid seeing a mysterious creature or force. The movie became a great hit on Netflix and people wanted to replicate the experience. Netflix too issued a warning to not try out such stunts but these girls clearly didn't realise the danger of risking their lives.