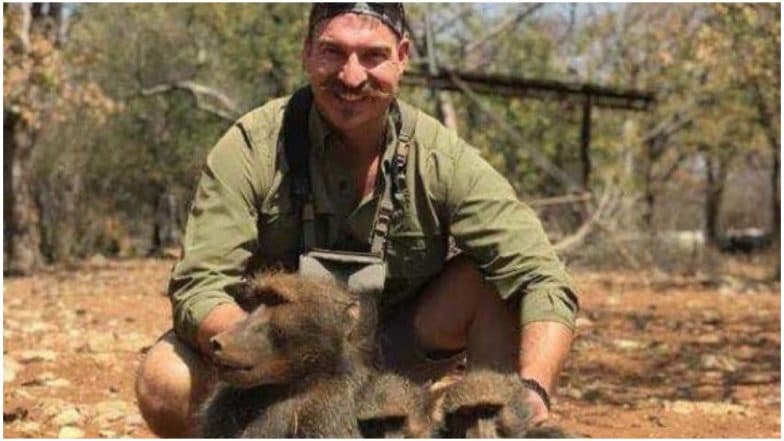 Idaho Fish and Game Commissioner Blake Fischer has come under fire for boasting about hunting baboons in Africa. He has reportedly agreed to step down for sharing photos with a family of baboons that he shot dead. In mid-Septemeber, Fischer sent emails to more than 100 friends and colleagues detailing his hunting trip to Namibia. The incident led to talks about the need to ban trophy hunting.
According to CNN, Fischer attached 12 pictures of himself and his wife standing next to dead animals including a waterbuck, leopard, giraffe, oryx and a group of four dead baboons. Some of Fischer's colleagues were unhappy with the mails following which he was asked to resign. Following which, people took to social media expressing outrage sparking debates on trophy hunting yet again. US Female Hunter Trophy Kill 'Rare' Black Giraffe and Sharing Pictures of Her 'Dream Hunt' Sparks Outrage on Social Media.
According to the report, in the mail he wrote to his colleagues, Fischer wrote, "The first day she wanted to watch me, and 'get a feel' of Africa. So I shot a whole family of baboons. I think she got the idea quick." One of the animals in the photo appears to be a young baboon, bloodied and propped up on a larger one." He concluded saying, "After we left all of the animals in Africa that were still alive we [sic] pretty happy we were on a plane headed home!"
Here are the pictures:
Blake Fischer, Idaho's WILDLIFE OFFICIAL, has shot at least 14 wild animals (some of them on the brink of extinction). It is not surprising that we are entering a man-made sixth mass extinction event if we allocate wildlife officials who take pleasure in killing them. pic.twitter.com/jpF62ulVhl

— Bella Lack 🌱 (@BellaLack) October 15, 2018
Fred Trevey, who was a Fish and Game commissioner from 2007 to 2015, wrote in an email asked him to resign "to shield the commission as an institution and hunting as a legitimate tool of wildlife management from the harm that is sure to come". Governor Butch Otter also demanded his resignation Monday. Giraffes May Be The Next Specie To Be Endangered If Humans Do Not Take Immediate Steps
Following which, he agreed to step down and in a mail said, "I recently made some poor judgments that resulted in sharing photos of a hunt in which I did not display an appropriate level of sportsmanship and respect for the animals I harvested."
Fischer also said that he has not done anything illegal or unethical. Idaho Statesman quoted him as saying, "I didn't do anything illegal. I didn't do anything unethical. I didn't do anything immoral. I look at the way Idaho's Fish and Game statute says we're supposed to manage all animals for Idaho, and any surplus of animals we have we manage through hunting, fishing and trapping. Africa does the same thing."