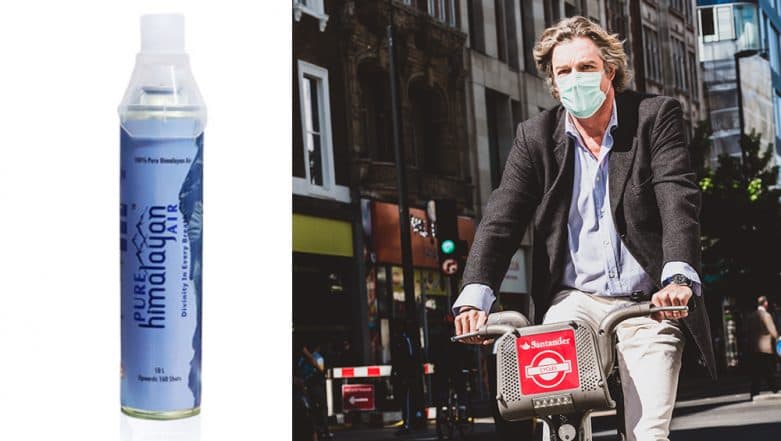 Air pollution has become a huge problem to cater to in the entire nation today. The quality of air is degrading day by day and people are really escaping the city life to get some fresh air. But soon you can buy fresh air. What have we come to really? But yes, in the age of online shopping, one can buy fresh bottled air in India. Pure Himalayan Air company is selling fresh air at Rs 550 per bottle of 10 litres online. This shows the extent of environmental degradation everywhere. Fresh Air on Sale! Compressed New Zealand Air Sold at Auckland Airport. 
The initiative was actually a social experiment carried on by Gas Authority of India Limited in Delhi in the year 2016. The air quality index in the capital has been an issue of major concern. They started a campaign "Air Seller" Youtube video proposing an idea to sell packaged air. But the experiment has become a reality with time. While breathing fresh air is one's birthright, it has now become a product. From one bottle of 10 litres a person can inhale approximately 160 times. One can order it from Himalayan Pure Air's website.
Clean air has been a booming market in China ever since the idea originated. The trend has come to India. But this is not the first time clean air is being sold to Indians. Canada-based start-up was selling canned air to Indian subcontinent from 2016. Other companies realised there is a market for clean air and started creating the products. China Builds 330 Feet Tall 'World's Biggest Air Purifier'. 
Know More About Pure Himalayan Air and Packaging
The Pure Himalayan Air company mentions on their website, they visit the pristine regions of the Himalayas to capture the purest air. They use high standards of cold press compression to fill the bottles with air. To capture the air they use medical equipment and ensure the good quality is maintained. The containers are packed and shipped to anywhere in the world. So what people receive as the end product is actually the air that is at the higher altitude on the Himalayas. "Our canned air is mountain sourced and a combination of oxygen, nitrogen, forms of carbon and other naturally found elements," reads the website.
It may sound shocking or even funny, but that's the stark reality of things in the country, or rather the world. A basic right to have clean air is turned into a luxurious product, so much so, that it is being provided even in some malls and restaurants. What is your view on selling fresh air? Do let us know your views in the comment section.