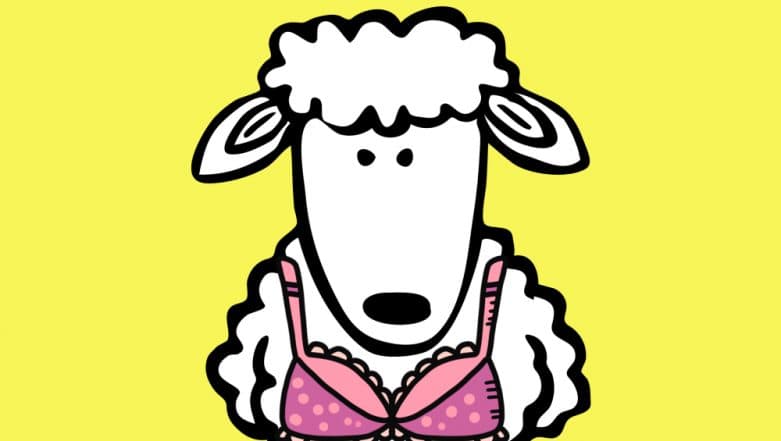 Move away from the most common nursery rhyme Baa Baa Black Sheep, because here comes Bra Bra White Sheep! Well, what? Yes, there is a sheep named Barbara, from Barnards Farm in Wymondham, Norwich which has to wear a DD cup bra for extra support so she can feed her twin lambs. A Norfolk ewe is a new mother and has got droopy udders because of which she cannot feed her new babies comfortably. The owners then came up with an idea and decided to use a discarded DD-cup bra from a neighbour to use it on their sheep. Cow Wearing a Bra, What Did We Just See in This Pic? British Farmer's Invention is Too Crazy!
Shepherd David Cross and his wife Kathryn have to take good care of their farm animals and because of Barbara's old age, they have to extra careful with her newborn lambs. Talking about the bra, Kathryn was quoted to Metro UK, "The ewe is an older girl, perfectly fit and healthy but when her udder bagged up with milk it was nearly dragging on the ground." Her husband David was joking about a bra for the sheep when their neighbour was throwing out an old 44DD size bra. Donkeys Wearing Fashionable Pants Are a New Trend? Watch Pics!
View Picture of Barbara The Sheep Wearing a Bra for Udder Support:
Wonder-braaaaaa! Meet the Norfolk sheep which wears DD-cup lingerie https://t.co/Mu9RLl9QYL

— NFU East Anglia (@NFUEastAnglia) April 12, 2019
Doesn't it look a bit funny? The little lambs were a bit confused at first but with some guidance, they were used to it. "David cut two well-positioned holes for the teats to poke through, the straps went round the legs and it fastened up on her back. The ewe was totally unphased by the whole experience," Kathryn told. But we hope Barbara feels comfortable in the new support.