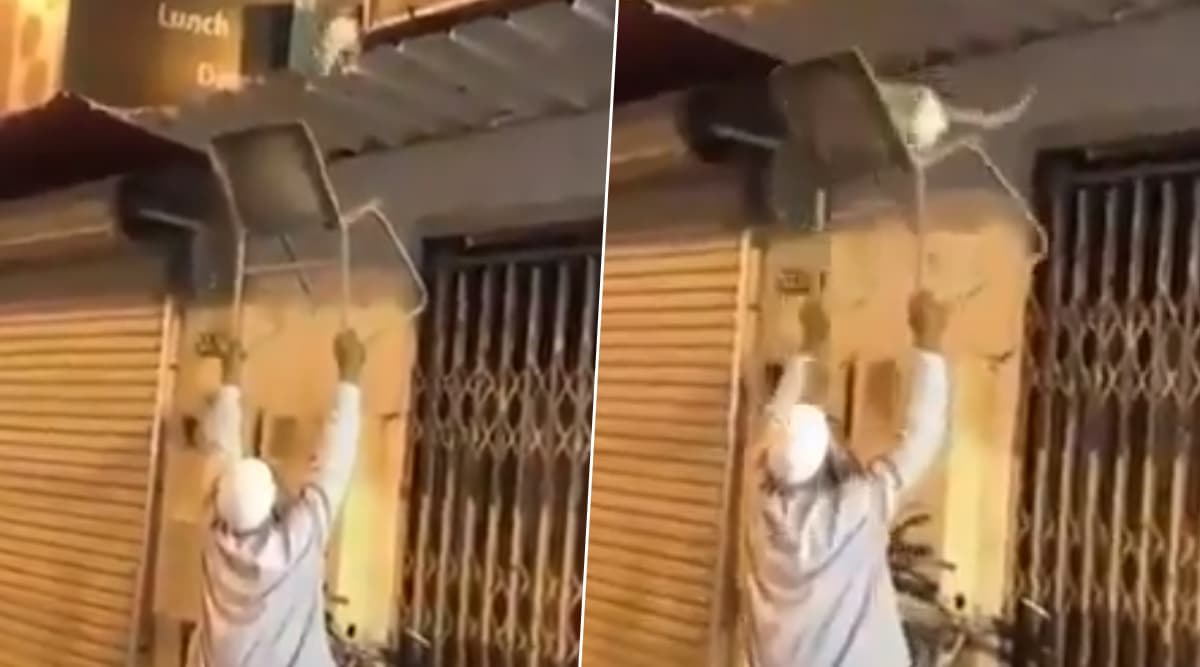 This is the purr-fect video at the start of New Year 2020. An elderly man is captured helping a cat who is stuck at the rooftop of a shop. The feline was unable to find a way to get down. It was the way how this man helped the cat to get down that is winning the internet. Uploaded late night on January 1, 2020, the clip at the time of writing this, so far has received more than 88K views and the count is likely to increase. The adorable clip is winning hearts! Comments have flooded in with netizens praising the man and his smart thinking to rescue the cat and guide it to get down, making it one of the recent viral footage making rounds on the internet. Cat's Tail is Shaved For Surgery, Netizens Say it Looks Like a Penis. 
The 16-second clip shows the cat stuck on the rooftop, with a puzzled face to find out a way to get down. The man took his chair atop, providing a way for the feline to jump onto it and run to its future adventures. It is like one of those rare heartwarming moments. Thanks to social media, that we are blessed with such beautiful videos often paving the way to the hearts of internet users. Cat Knocks on Owner's Door in Britain and Patiently Waits Outside to Let in.
Watch the Viral Video:
Chachaji won the internet today ♥️ pic.twitter.com/SoYW1xKLQI

— Zulkarnain Banday🍁 (@ZulkarnainAli_) January 1, 2020
Cat videos are the current big thing, running on the internet. With us hitting the new decade, it seems the cuteness of these lovely felines are going to continue and rule the hearts of all of us. We just started 2020 and already have too many viral moments making rounds. Let us wait and see what this year have in store for us, in terms of viral sensations.