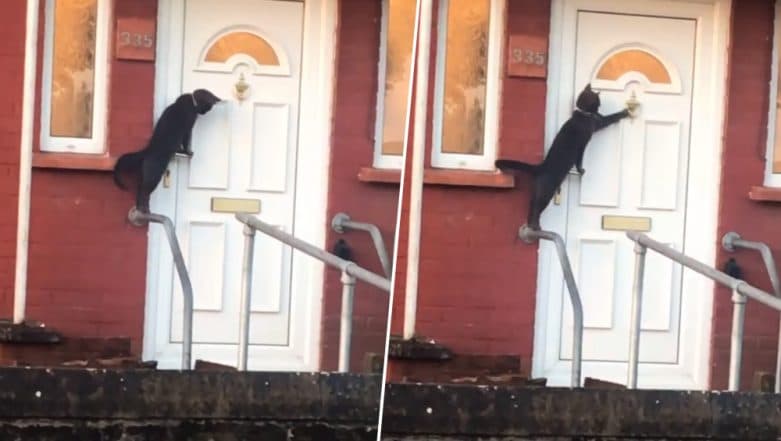 Cats are known to be sneaky and acting according to their own will. Compared to dogs, they are considered to be less obedient and go out on their walks and come back too. So watching a feline patiently outside the house after knocking the door to get in, is indeed surprising. Among the many cat videos that are on the internet, a new video from Britain's neighbourhood is going viral. It shows a pet cat knocking the door and waiting for its owner to let it in. The video was shared on Facebook and is going viral. People are calling it the politest cat. Cute Video of Cat Raises Concerns of 'Drinking Problem' on Twitter and the Reactions Are Hilarious.
The footage was captured in Cardiff in Britain by Sheekilah Jones, who too could not believe what she saw. It shows a black feline standing on its hind legs on the railing beside the door and knocking the bell on the door with its paws. It then waits patiently so that someone can let it in. A rare for a cat to be seen so polite, because they are rather known to show a mean streak. Watch These Funny Cat Videos and Super Cute Kitten Pictures to Bring a Big Smile On Your Face.
Watch Video of Cat Knocking on Owner's Door:
The video has become too viral, with more than a million views and 34,000 plus comments. It has captured hearts of not just cat lovers but even others on the internet. Another similar video that became viral a few days ago was a cat opening a bathroom door and escaped from the house. Well, cats are intelligent creatures and this video also shows that some of them can be too patient as well.