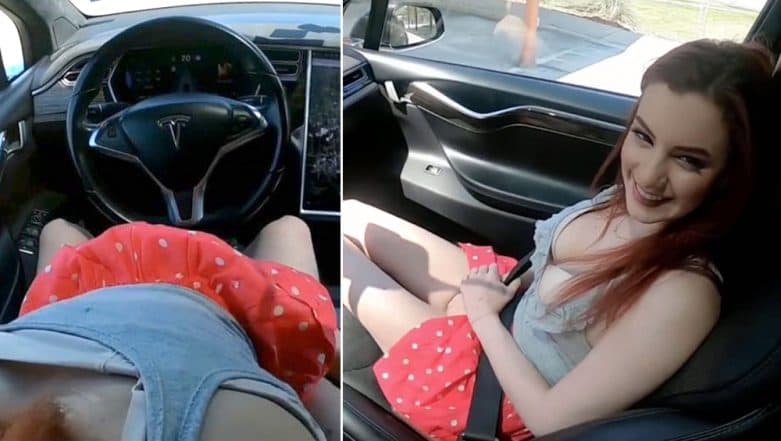 Tesla sex searches have surged after an adult XXX film actress Taylor Jackson also now popular as Tesla Taylor, 19 had sex in a driverless moving Tesla X and made a XXX porn video of her tinder date "cum in her" in a moving self-drive Tesla. The video received over 2 million views and the pornography video became so popular that it also made Elon Musk tweet about it. The XXX Footage of the couple having sex in Tesla's Model X has been circulating on the popular porn website since the end of April. The video has intrigued various Pornhub users to search for similar self-driving sex videos. Tesla Raising Price of Its Full Self-Driving Option From May 1.
Pornhub took on to Twitter to share a screenshot from the video with a caption: "Reporting you to Elon for not having two hands on the wheel with autopilot enabled," the tweet caught Tesla founder Elon Musk's attention who then replied "Turns out there's more ways to use Autopilot than we imagined" and also, "Shoulda seen it coming …" (Don't know it was a sex pun though.) Riteish Deshmukh is Proud Owner of Tesla X Courtesy Wifey Genelia D'Souza.
Screenshot shared by Pornhub of the couple having sex in Tesla on Instagram:
Take a look at Elon Musks tweet on the couple having sex in moving driverless Tesla
Turns out there's more ways to use Autopilot than we imagined

— Elon Musk (@elonmusk) May 9, 2019
Tesla Taylor shared a graph of Tesla searches surging after her porn video in the driverless car:
View this post on Instagram
Watch Video of Taylor having sex in a Tesla on AUTOPILOT:
Tesla's latest X model is an upgrade to electric cars that have an "autopilot mode" and it allows the vehicle to steer and brake for you.
Take a look at Tesla Model X Launch Full Unveiling Event by Elon Musk
However, this billionaire Elon Musk's firm still asks drivers to keep both hands on the wheel at all times.